The Easiest Cinnamon Rolls require lots of sugar, but do not require yeast. If you love warm and soft cinnamon rolls, make this recipe today!
One of my favorite breakfast treats is a warm cinnamon roll. We've had trouble finding the pre-made kind at the grocery store, so I decided to make my own for Easter morning. Many recipes require yeast, but I found an easy yeast-free recipe!
I looked at a few yeast free recipes before making my own batch. The cold butter is a must have for the dough, and I used a bit more milk than most recipes required. I also froze my rolled dough for five minutes to make it easier to cut. The melted butter in the pie dish makes a huge impact on how the rolls taste.
The Easiest Cinnamon Rolls … Ever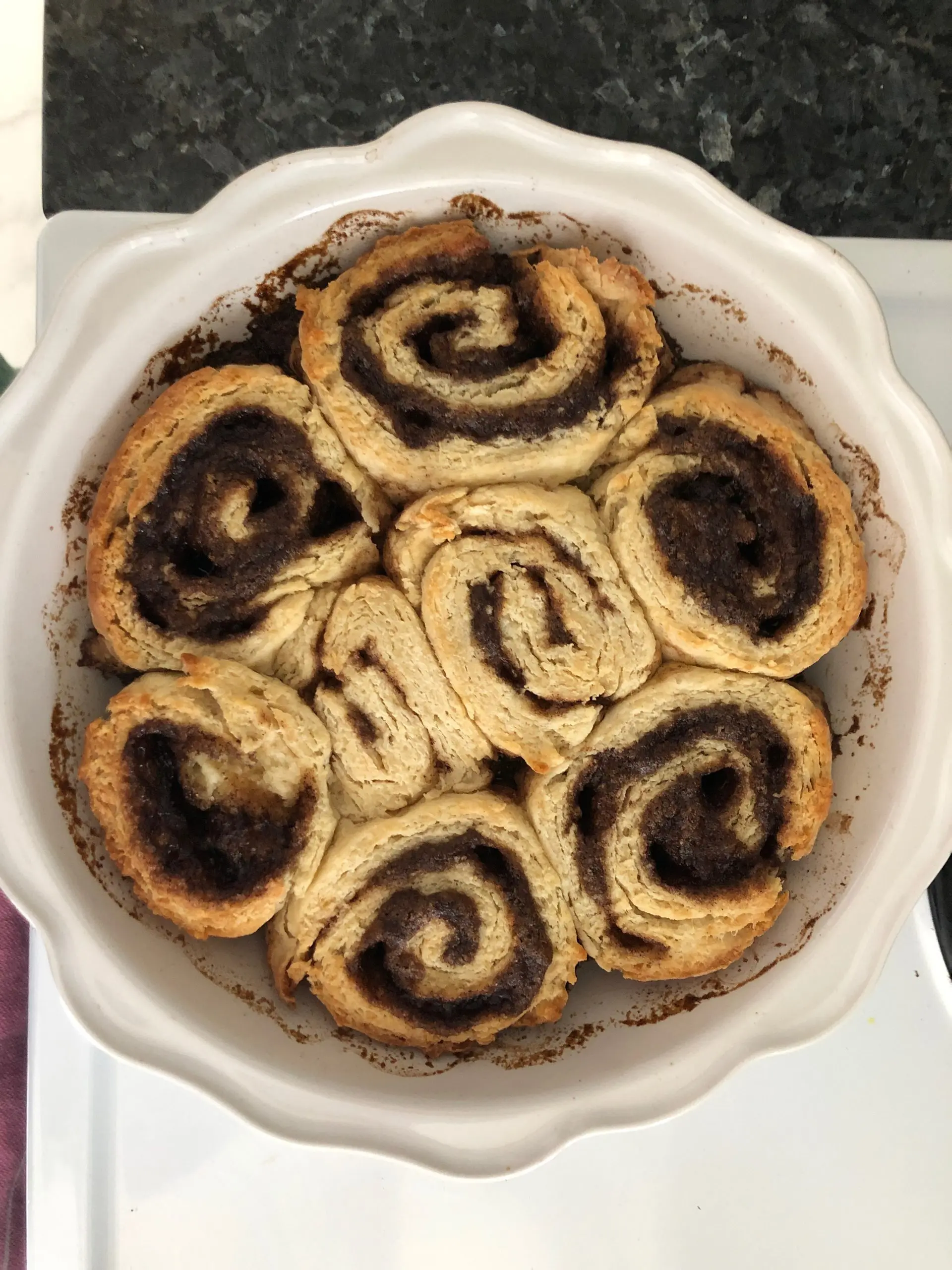 My family devoured these Cinnamon Rolls in just one sitting. They are light and sweet, and the sugar/butter filling crystallizes to make a soft surprise. Even though I placed buttercream frosting on the table for the rolls, it was not needed! An alternative to frosting is jelly or a powdered sugar glaze.
Easiest Cinnamon Rolls (Yeast Free)
The most delicious breakfast are the Easiest Cinnamon Rolls made without yeast. The cinnamon rolls are so soft and sweet that they don't need icing.
Ingredients
Dough
2

cups

all purpose flour

3

tbsp

white sugar

1

tbsp

baking power

1

tsp

salt

5

tbsp

cold butter

plus 2tbsp butter

3/4

cup

milk

plus extra

wax paper
Filling
2/3

cup

brown sugar

3

tbsp

white sugar

1

tbsp

cinnamon

5

tbsp

melted butter

1

tsp

vanilla extract
Instructions
Combine flour, sugar, baking powder, and salt in a large bowl.

Cut cold butter into the dry mix using a pastry cutter or fork and knife.

Slowly add milk and mix until all ingredients are combined into a ball/pile.

Place the dough on a floured surface. Roll the dough into a ball – if it is too dry, add a bit of milk. If it is too wet – add more flour.

Sprinkle flour on top of the ball of dough. Place a large piece of wax paper on top of the dough and use a rolling pin to roll out the dough. Roll dough to create roughly a 10 x 12" rectangle.

Make your filling in a mixing bowl by combining brown sugar, white sugar, and cinnamon. Stir in melted butter and vanilla to create a paste.

Remove the wax paper from the top of the dough. Carefully lift the dough and place it on top of the wax paper.

Use a spatula to spread the filling over the dough, leaving 1/2" of space around the perimeter of the dough.

Use the wax paper to carefully roll the dough tightly into a log. Place in the freezer for 5 minutes.

Place 2 Tbsp of butter into a 9" pie pan and set it in your preheating oven for a few minutes until the butter has melted. Remove from oven once melted.

Remove the dough log from the freezer. Cut the log, spacing your cuts about 1" apart, and place each roll in the baking dish.

Bake on 375F for 28-30 minutes (beginning to lightly brown around edges).
Notes
The Easiest Cinnamon Rolls Recipe is made without yeast! These soft and sweet cinnamon rolls do not require frosting.