Easter Brunch is one of my favorite meals of the year because you can serve a mixture of breakfast and lunch items, as well as sweet and savory. Every Easter I make brunch at home for the family before we head to my parents for Easter dinner. From cinnamon rolls to loaded baked potato scones, here are some of my favorite things to make for Easter Brunch.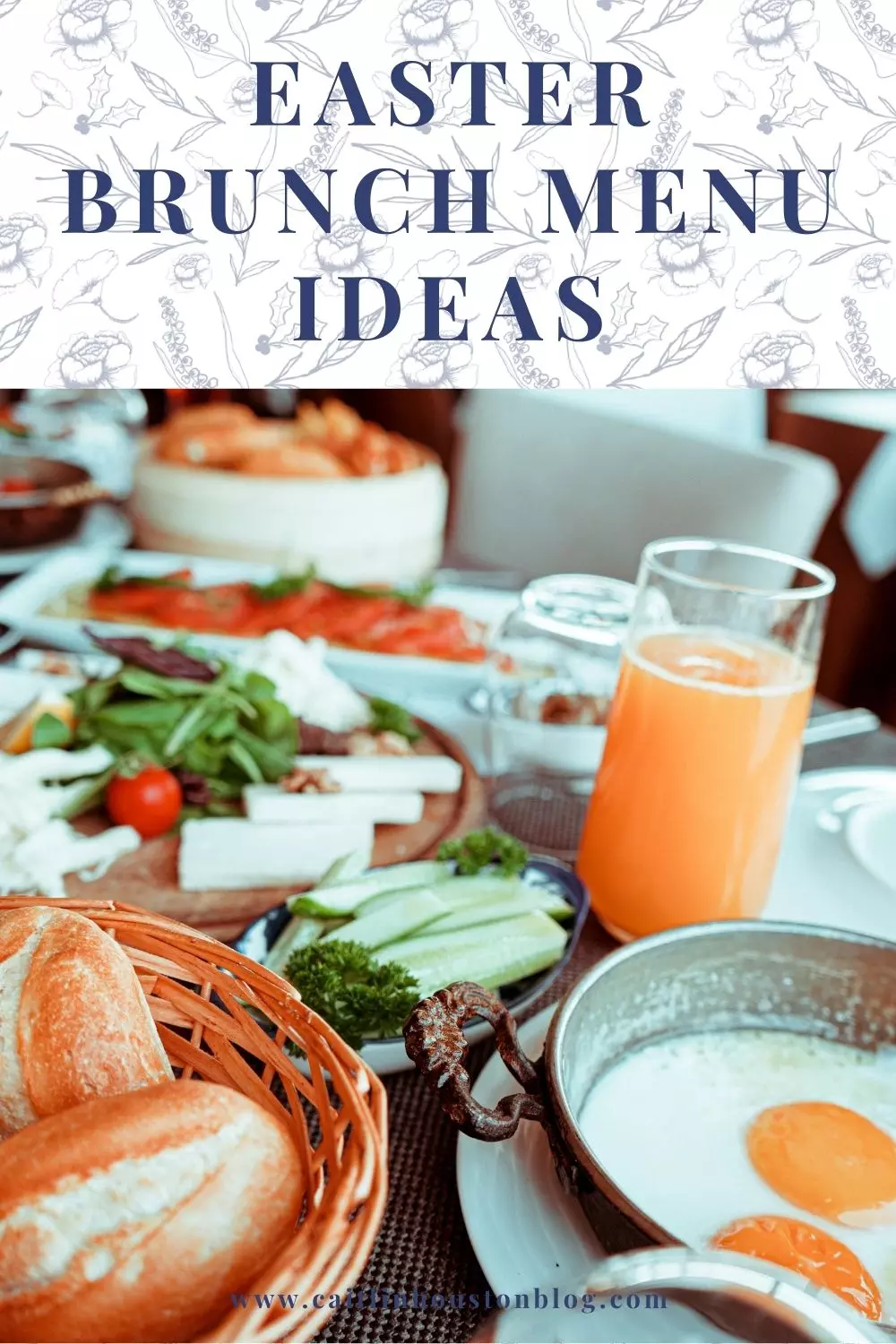 Easter Brunch Ideas
Inspired by the breakfast served at The Gilded Hotel in Newport, I'd love to make Loaded Baked Potato Breakfast Scones for Easter Brunch. The savory scone was served alongside a baked egg and light salad (grilled peach, prosciutto, mozzarella, and arugula), but for our brunch I'll be making the scones alone.
A perfect egg dish is a Mini Frittata Brunch Bar. Offering a variety of mix-ins for frittatas baked in a muffin tin is satisfying for an guest who likes eggs. Two of my siblings and my Mom are vegetarians, so egg frittatas with fresh herbs and vegetables are a great option. My Mom always makes a quiche when we have brunch, and this is a versatile dish as well. One other option for vegetarians at brunch is a Meatless Tater Tot Casserole . For guests that eat meat, why not add ham and broccoli instead.
Brunch Board
A Charcuterie Board is a popular Easter Brunch Menu idea because you can please a variety of guests – those that eat meat and those that do not. It is important to consider not everyone wants to eat eggs for brunch! For a DIY Charcuterie Board, the options are endless – a combination of fresh spreads, fruits, vegetables, cheeses, and meats are required. My fall charcuterie board tutorial is a great starting point if you've never made one!
Another spread for brunch that is sure to please everyone is a bagel bar. My sister hosted a brunch for my brother in law with the most delicious bagel bar – she had a variety of bagel flavors, cream cheese, lox, capers, onions, avocado, tomatoes, olives, and more. If you have guests who like sweet toppings for their bagel, why not offer fresh fruit, jelly, peanut butter, or even Nutella?
For the sweet loving guests at brunch, a french toast overnight bake is an easy and delicious option. We know for sure that a french toast bake will be on the Easter Brunch Menu since my sister's mother-in-law is bringing one. I've also made a Strawberry Stuffed French Toast Bake in the past that my in-laws loved for brunch one morning.
Cinnamon rolls are a perfect Easter brunch menu item. These are the Easiest Yeast Free Cinnamon Rolls with a homemade filling. They are so sweet you don't need frosting – but you can always drizzle my homemade frosting recipe on top. Want to make them festive? Use a little food dye to make purple, yellow, or blue frosting!
Easter Brunch Drinks
Last but not least, when it comes to an Easter Brunch Menu, you can't forget the drinks. Fresh squeezed orange juice, apple cider, and steaming coffee are must haves. Perhaps we will set up a station for Mimosas and Bloody Marys too… because what brunch is complete without a fun cocktail?
Here are some great Easter cocktail ideas:
Blueberry Lemon Thyme Smash – Half Baked Harvest
Blackberry Champagne Mule – Half Baked Harvest
Buzzed Peeps Easter Cocktail – The Farm Girl Gabs
16 Best Easter Cocktails by Town and Country Magazine
Want more?
For more Easter Brunch Menu Ideas and decoration inspiration (like this carrot centerpiece from The Chic Site above), check out my Pinterest Board! OR visit one of my favorite websites – Half Baked Harvest – for her favorite Easter brunch recipes.