Every summer I consider buying the season's trendiest items, but usually end up sticking to updated versions of my summer wardrobe staples. White denim, neutral sandals, and woven hats are just a few items I wear all summer long. My summer wardrobe staples are easily interchangeable and can be purchased anywhere!
Want to see some of my summer staples in action? Check out my Summer Wardrobe Staples Style Session on IGTV here!
Similar Shirt // Similar Shorts // Shoes // Purse // Sunglasses
White Denim
Whether its shorts or pants, white denim is one of my summer wardrobe staples. Since we all know white doesn't stay clean for long, I usually have to buy a new pair of white denim pants and shorts every summer.
When you live in New England and have cool summer nights, it's convenient to have more than one pair of white pants (in case they get dirty). White denim matches everything, which is why it's one of my favorite summer wardrobe staples.

Speaking of cool summer nights, I never pack away every sweater once the warm weather rolls in. There are a few sweaters, crewneck sweatshirts from vacation spots, and Dudley Stephens fleeces I wear all summer long.
Take $25 off your first Dudley Stephens order here!
Jean Shorts
I used to have strong feelings against jean shorts… but in the last two years I've decided I like wearing them again. They are easy to wear, comfortable, and come in a thousand different styles. Long, short, distressed, pleated – the options go on and on.
Hat // Shirt // Shorts // Sandals


Neutral Shoes
I've always loved how a neutral colored sandal can elongate short legs, so I wear my favorite pair of summer sandals every other day. My Grandma-in-law bought them for me about seven years ago while on vacation in Destin and now everyone I know owns a pair. The Tory Burch Miller sandal is so versatile and compliments any outfit – it's expensive but holds up so well summer after summer.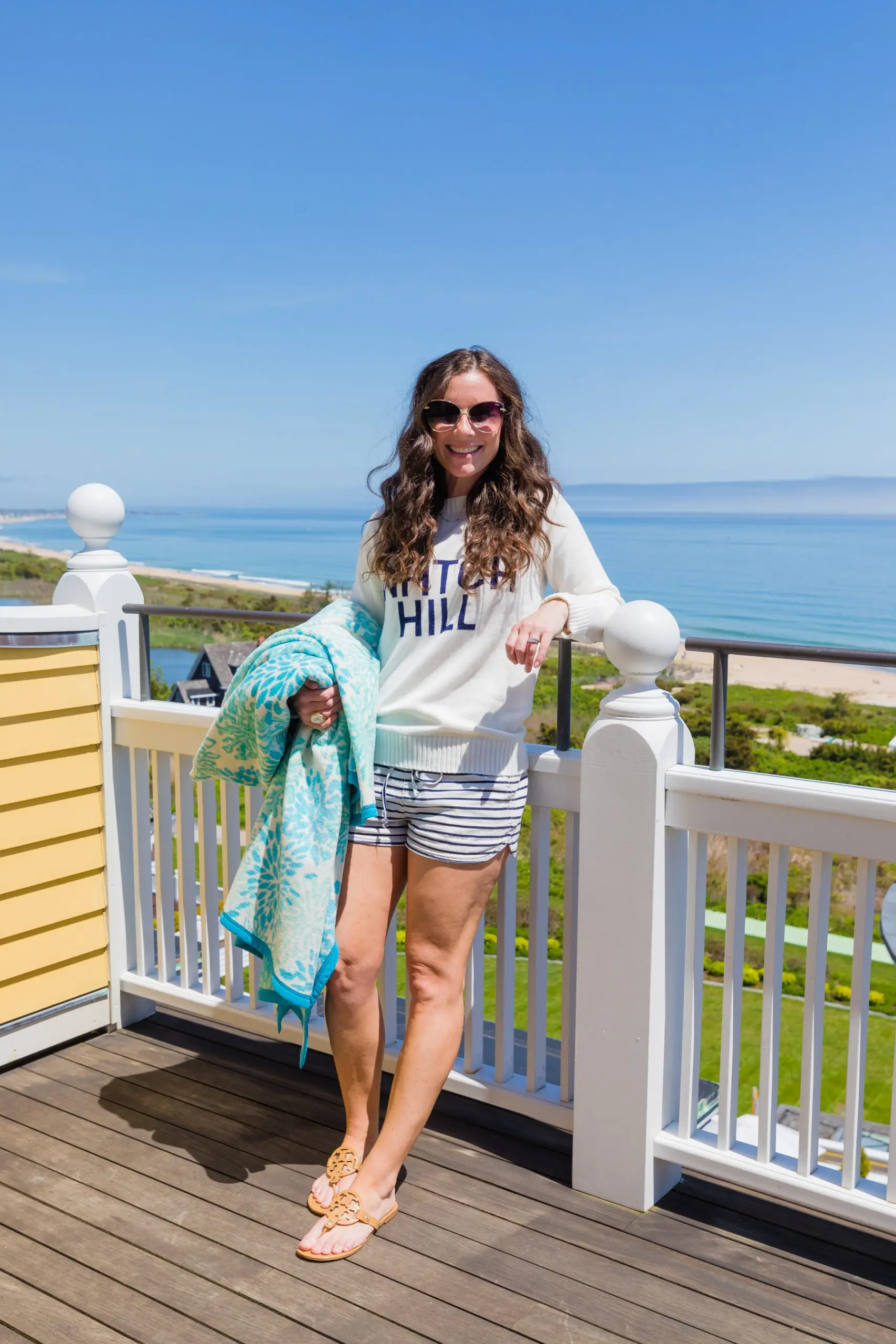 Beach Sweater (on sale!) / Drawstring Shorts (similar) / Neutral Sandals / Beach Blanket
White sneakers have become a staple in my closet, as well as these sandals and espadrilles.


Maxi Dresses & Skirts
Easy, breezy, maxis are a must have for summer. Whether you're wearing a maxi dress or maxi skirt, they're both staples in my wardrobe. I wore maternity maxi dresses throughout my entire summer pregnancy in 2016.


Anything Linen
Before summer officially started, I picked up two pairs of linen pants that are so comfortable, cool, and perfect for any weather. Linen shirts, dresses, pants, and shorts are a wardrobe staple in the summer for men and women alike. Grayson makes linen button ups and dresses that are summer must haves.
Shirt // Pants // Hat // Sunglasses
A Summer Hat
My hat collection grows every summer. There once was a time when I wanted the sun on my face all day; but now I realize the damage it causes to my skin. On most summer days you can find me in a hat when I'm outdoors. From woven hats to baseball caps to floppy beach hats, I bring a hat where ever I go.