The ultimate hospital bag packing list is based on years of experience. For my third pregnancy I am making sure we bring only the essentials to the hospital for labor and delivery.
After a surprise trip to Labor and Delivery at 34 weeks pregnant, I began writing my packing list for the hospital. Pajamas, toiletries, and a coming home outfit are a few of the must-haves for having a baby in the hospital. There are also a couple of new to me items I'm bringing based on recommendations from my sisters and friends. I'm now 38 weeks pregnant and feeling ready to go as we await the baby's arrival.
For Mom
At least one pair of pajamas to wear after your first post-labor shower
Nursing Bra
Nursing Tank Top – pick one that holds it all in you can wear home too!
Going home outfit – just pick something comfortable! Your body is going to feel so weird (and you'll be wearing a strangely large pair of underwear).
Toiletries – You can use what they have at your hospital, but I prefer to bring all of my favorite products. Toothbrush, face wash, shower essentials, deodorant, razor, skincare products, hairbrush, etc.
Slippers – the hospital gives you great socks, but don't forget a pair of comfy shoes to wander around in.
Shower flip flops
Your favorite pillow + blanket – having a little bit of home is more comforting than you think! Obviously these items stay to the side until labor/delivery is over!
OPTIONAL: Bathrobe, bike shorts (to wear over the hospital underwear + pads)
For Dad/Partner
Phone Charger with a long cord
Snacks (beef jerky, trail mix, protein bars)
A change of clothes (plus a sweatshirt + socks in case its cold)
PILLOW – I highly recommend bringing your own pillows to the hospital.
Note: Some Dads (ahem Brandon) are lucky enough to live close to the hospital so they won't need as much as you for the hospital. Partners can just go home to shower and change into clean clothes.
For Baby
Coming Home Outfit
Car Seat
Optional: Blanket, birth announcement outfit, hat, pacifier (if you don't want to try the hospital's)
TIP: Make sure you have the following AT HOME for YOU after your hospital stay
Postpartum Essentials Recovery Bundle – Hospitals have not only been short staffed since the pandemic, but also short on supplies. The Lansinoh Postpartum Essentials Recovery Bundle has three must-have products for birth recovery to provide gentle cleansing, soothing care, and cooling relief for the pain and discomfort caused by birth and delivery.
Gel Soothies for Breastfeeding – these are a lifesaver when your milk comes in and your breasts are extra sensitive
Nursing Pillow
High waisted underwear
Extra thick sanitary pads
Motrin or Tylenol
Lots of water and rest!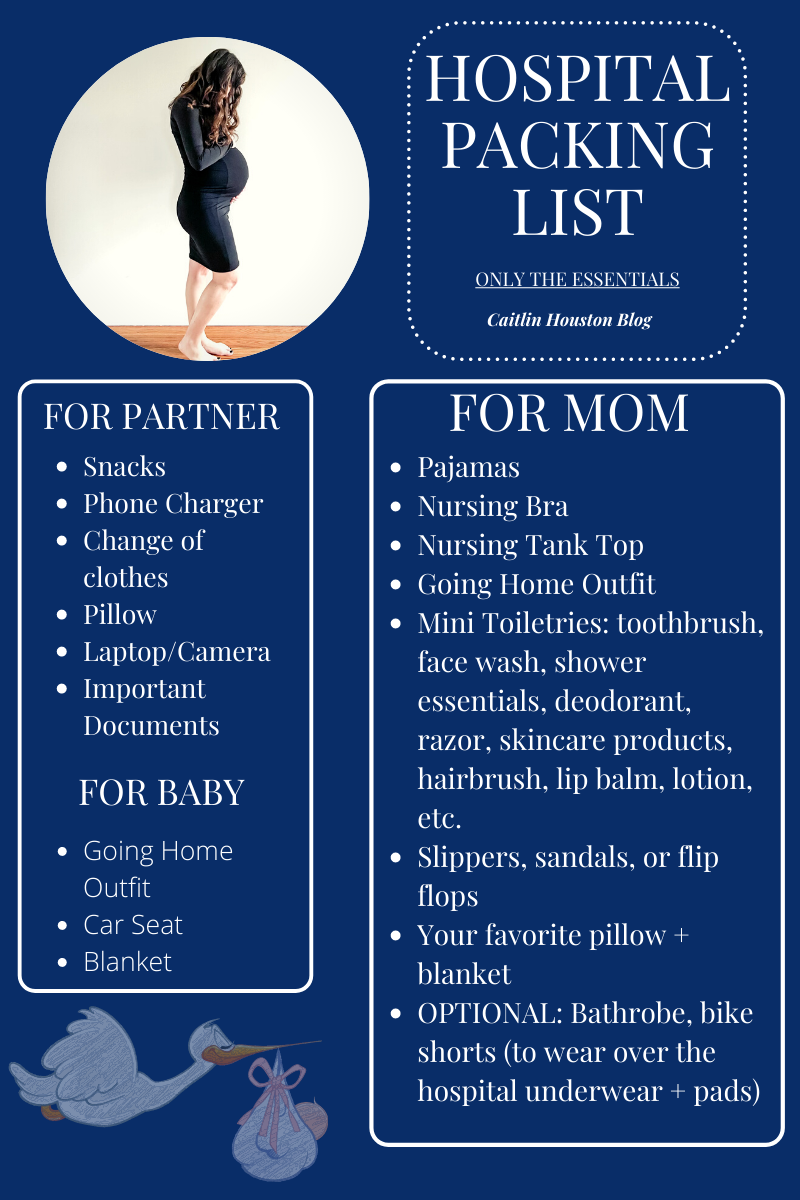 More Labor and Delivery Hospital Packing List Posts: First Pregnancy, Second Pregnancy
Not your first pregnancy? Check out this post: Big Sibling Gift Ideas