When I switch my closet over from summer to fall, it is also a time to bring out my cold weather staples. New England winters can appear quickly, so it's best to have my sweaters ready. Want to prepare for a New England winter? Here are my favorite 4 Items you need to Transition from Fall to Winter in New England.
What do you need to prepare for a New England Winter?
There is something to be said about a timeless piece of clothing (or shoes) that easily transitions from season to season. Jackets, boots, and sweaters are all items you need to survive a cold blustery winter anywhere. So note this: I'm only referencing New England weather because it's where I'm from! Also, keep in mind I have owned most of the items below since I lived in the south – they all stand the test of weathered time.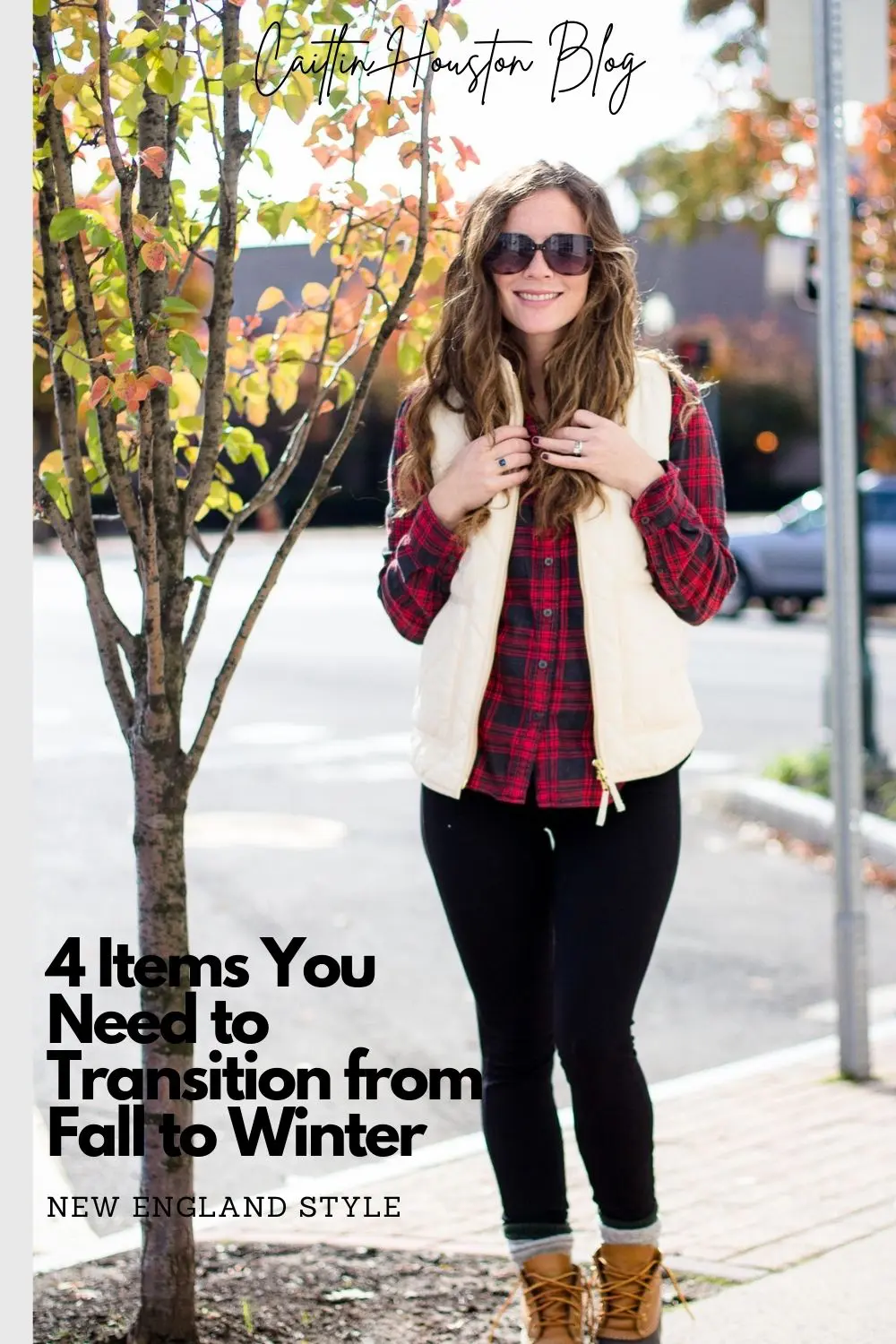 What do people wear in New England?
1. Well Made Sweaters
Sweaters are a fall and winter staple because you can wear them so many different ways. I will never waste my money on an overpriced sweater considered 'fast fashion' though. It's rare I buy anything trendy and expensive because it's a waste – I prefer to splurge on timeless items. With that being said, a well made sweater is a must have for fall and winter in New England.
My favorite long sweater for fall and winter is the Fisherman Tunic from LL Bean. I wear it year after year, so much that I'm considering adding another color. My tip is to shop for sweaters made with natural materials, like wool, cotton and cashmere. If you want a sweater to be with you for longer than a season, stay away from synthetic yarns containing acrylic, rayon, and/or polyester. (Read more sweater buying tips here)
Looking for a list of high quality sweater brands? Here are the most popular brands (according to the internet) for the best sweaters.
2. Plaid and Flannel
The most versatile pattern you can own for fall and winter is plaid. I'm also a bit in love with it…so much that I had a plaid themed birthday party one year. There are countless plaid patterns and fabrics one can own so that it never goes out of style (and plaid flannel is so warm!). Every season I add a few new plaid pieces to my collection, but some of my long lasting plaid shirts and skirts are worn year after year.
Tip: Invest in a flannel plaid button up for chilly days, a stylish plaid top for fun, and a a plaid skirt or dress for the holidays.



Flannel could be in a category of it's own – but it's most often found in plaid!
3. A Variety of Boots
I love a timeless pair of boots: snow boots, riding boots, rain boots, fur lined boots, etc. When you live in New England you will most likely have a collection of different style boots for the always changing weather. Some people have one pair of all weather boots for winter though – like these. Every few years I add to my collection of boots though. It's hard to narrow down the best boots I've ever owned based on one type, but here are my favorite boots for fall through winter.
Hunter Wellies // Joules // L.L. Bean Boots // Uggs (I rotate my tall Uggs, short Uggs, and mini Uggs)
Riding Boots // Winter Boots (Bogs or Kamik are amazing boots for the whole family!) // Sperry Duck Boots
P.S. SOCKS – Don't forget a good pair of socks. Camp Socks are a must have for cold feet, as well any of these cold weather socks or campfire socks.
Love Uggs but not the price tag? Here is a less expensive pair that are just as warm!


4. Layers and Outerwear
One of the most consistent things about fall and winter weather in New England is the inconsistency. Some days are warm while other days are frigid. We can go weeks without any precipitation only to be slammed by snowstorm after snowstorm. The best way to be prepared for unpredictable New England weather is to have a solid collection of layers and outerwear.
On a very cold day, a base layer is a great place to start. I wear either thermal underwear, a silk long turtleneck, or a henley. I already mentioned my love for sweaters, but there are so many different kinds! You can buy one really nice cardigan (long or short) or a crewneck in neutral colors. A crewneck and cardigan are perfect for layering over a long sleeve shirt, turtleneck or button down shirt.

Don't forget puffer vests – or fleece, cotton, sherpa, etc. I think everyone should own at least one cold weather vest. A few years ago I wrote this post on how to style a puffer vest two different ways. I also love how easy it is to wear a Better Sweater Fleece by Patagonia or L.L. Bean Fleece Jacket when it's not cold enough for a winter coat.
Dudley Stephens is a local brand I've loved for years for cold weather staples. The women owned business designs the warmest high quality fleece products – turtlenecks, coats, vests, and so much more. My collection is always growing. Use code CH25 for 25% off your purchase at Dudley Stephens!

Winter hats, waterproof gloves (for snow), warm mittens and a scarf are accessories New Englanders wear starting in the fall. Sometimes we even have cold weather all the way into spring and need a pair of gloves in the morning!Sh*t That I Knit is New England small business I love to support who makes the warmest knit accessories – use code CAITLIN30 for 30% off your order of $100 or more.
Your Favorite Winter Staple Items
Want to know what YOU wear each year from fall through winter? I polled my followers on Instagram and here is what they have to say: