Want to know how to survive a New England winter? Prepare yourself for anything with these winter must haves!
If you've never experienced a winter in New England, it can be a bit stressful. Some years there's constant snow and frigid temperatures, while others are wet and mild. Instead of allowing yourself to worry over the inconsistencies of New England weather, be prepared for anything!
Invest in Snow Supplies
After spending twelve years in the South I was anything but prepared for my first winter back in Connecticut. We didn't have any of the necessary supplies for the first snow storm that dumped itself on our house. Make sure you buy a GOOD shovel, ice scraper, and rock salt.

There is nothing worse than trying to clear 6 inches of snow and ice with nothing but a crummy shovel. Or your bare hands – which we had to do once after a big storm – and that's why I now own water proof gloves. With that being said, I carry a winter emergency car kit at all times and an extra pair of gloves.
New England Winter Clothes You Need to Own
There are obvious winter clothes everyone must own, like a water repellent jacket and boots. Everyone needs a winter hat, weather proof gloves, and the optional scarf. Less obvious winter apparel most New Englanders have in storage: snow pants, ski jacket, and rain proof boots. It rains quite a bit in Connecticut during the winter.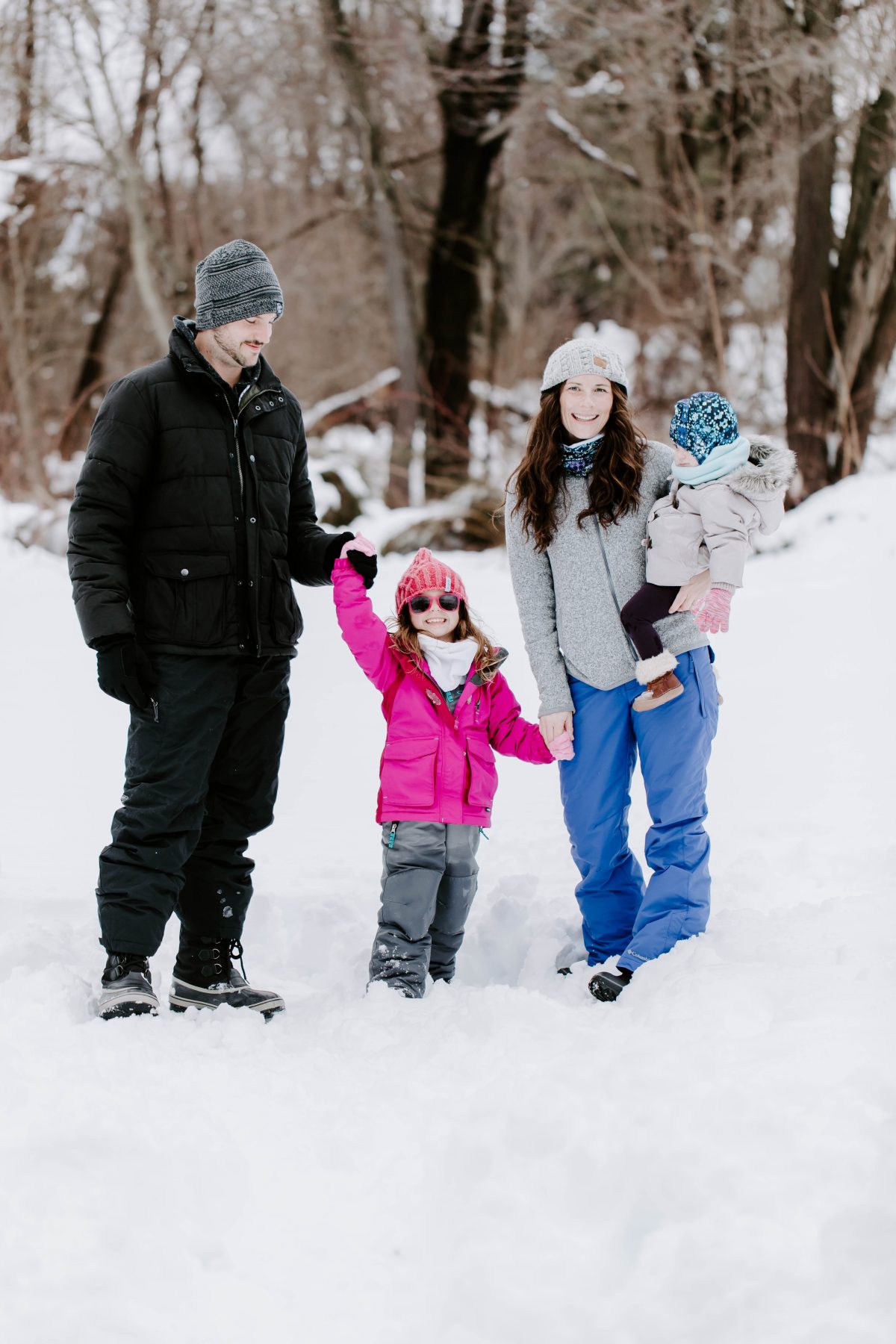 Invest in warm layers for cold days, like thermal underwear or camp socks. My daughters wear kids thermal underwear under their normal clothes during the frigid days of winter.
TIP: Wear socks, slippers, and a winter hat around the house. Many New England homes are old and drafty, so keeping your feet and head warm is a must. A Chappy Wrap is a winter must have too – it's the warmest blanket I've ever owned!
These are some of my favorite cold weather clothes:



Remember to Take Care of Your Skin and Body
The dry cold air during the winter months can wreak havoc on your skin and body. Follow these tips for taking care of your skin during the winter and check out my must-have skincare products.
What You Need for a Snow Storm
The winter weather in New England is unpredictable – just last weekend we had a 60 degree day and this weekend we are expecting a storm. Here is what you need on hand in case of the sporadic winter storm.
Check flashlights and always have extra batteries. The power can (and just might) go out during a big snowstorm.
Stock the liquor cabinet.
Invest in a heated blanket.
Stock firewood.
Water bottles (in case your pipes freeze).
Snacks
Cabin Fever is REAL
If you happen to get snowed in, cabin fever will set in especially fast if you have little kids. I compiled a list of ways to avoid cabin fever and always keep a cabinet filled with supplies for snow days. If you decide to head out to play in the snow, read up on these Snow Safety Rules!
Winter isn't a season anyone should dread. There is so much beauty in a season where nature sleeps while the world starts fresh in the new year. The silence of winter is not as appreciated as it should be considering the loudness of our society. I challenge you to stop and soak in this time of year and be thankful for its charm.