Do you have wavy or curly hair? If you do… then check out The Best Hair Products for Curly Hair. This is everything you want to know about my hair care routine!
If you've been reading my blog since the beginning of time, you know that my hair is curly. However, I often wear it styled with a curling wand. I've probably used hundreds of hair care products over the years, trying to find the best product for my curls. I don't color or highlight my hair often, so I am not limited to a certain product line. I can use products for curly or straight hair since I wear mine both ways.
Shampoo and Conditioner
I think I've tried everything in the book for curly hair shampoo and conditioners. What I have found works the best for my hair are shampoos and conditioners not designed for curly hair. There is something in the specialty brands that makes my curls loose and my straightened hair less willing to stay straight.
UPDATE 2022: My new go-to shampoo and conditioner line is Kevin Murphy Hydrate Me. I am absolutely obsessed with how incredible my hair feels not just after wash/condition, but how it feels days later. My scalp is not greasy and feels healthy.
From 2020: I love Living Proof Restore Shampoo because it makes my hair soft and easy to style. I only shampoo my hair a few times a week! After shampooing, I apply Living Proof Restore Conditioner and comb my hair until it's smooth. Then I rinse the conditioner out. If my hair feels extra dry, or I've used a lot of heat recently, I apply a hair mask once a week. The Restore Repair Mask is amazing!
Notes on my hair care routine:
I only wash my hair 3-4 times a week to prevent over-drying. My dirty hair styles better than my clean hair.
I visit the salon for a hair trim every 4-6 months and a gloss treatment (a shiny clear coloring that smooths frizz, reduces split ends, and helps with dryness).
Best Hair Styling Products for Curly Hair
I wear my hair one of two ways – au natural with this amazing Jelly Soft Curl Gel or styled with a wand. Ever since I had children, my curls have changed drastically. There was a time when I used cream, gel, mousse and hairspray to achieve a very curly hairstyle. But now, the best way to wear my hair curly is to use a tiny bit of gel and air-dry in a t-shirt.
One of the most important products for curly hair is the RIGHT hairbrush. I LOVE this hairbrush and find that it does the best job at pulling wet hair away from my scalp (which is important for drying with volume!).
One of my most asked questions is, "Why do you use a wand to curl your hair if you already have curly hair?"
I use a wand to curl my hair because the heat smoothes out the frizz and kinks. My curls are not what they used to be! Now when it air dries its really curly in some spots and just wavy in others. Here is an example of pre-pregnancy hair:
How I Use a Wand to Curl My Hair
I always allow my hair to air dry before using a wand. Once it's completely dry, I pull the top section up with a clip and focus on the bottom first. I apply a heat styling spray on an area before using my favorite styling tool – this 1 inch Titanium Curling Wand. I wrap my hair around the wand just as you see in this picture below: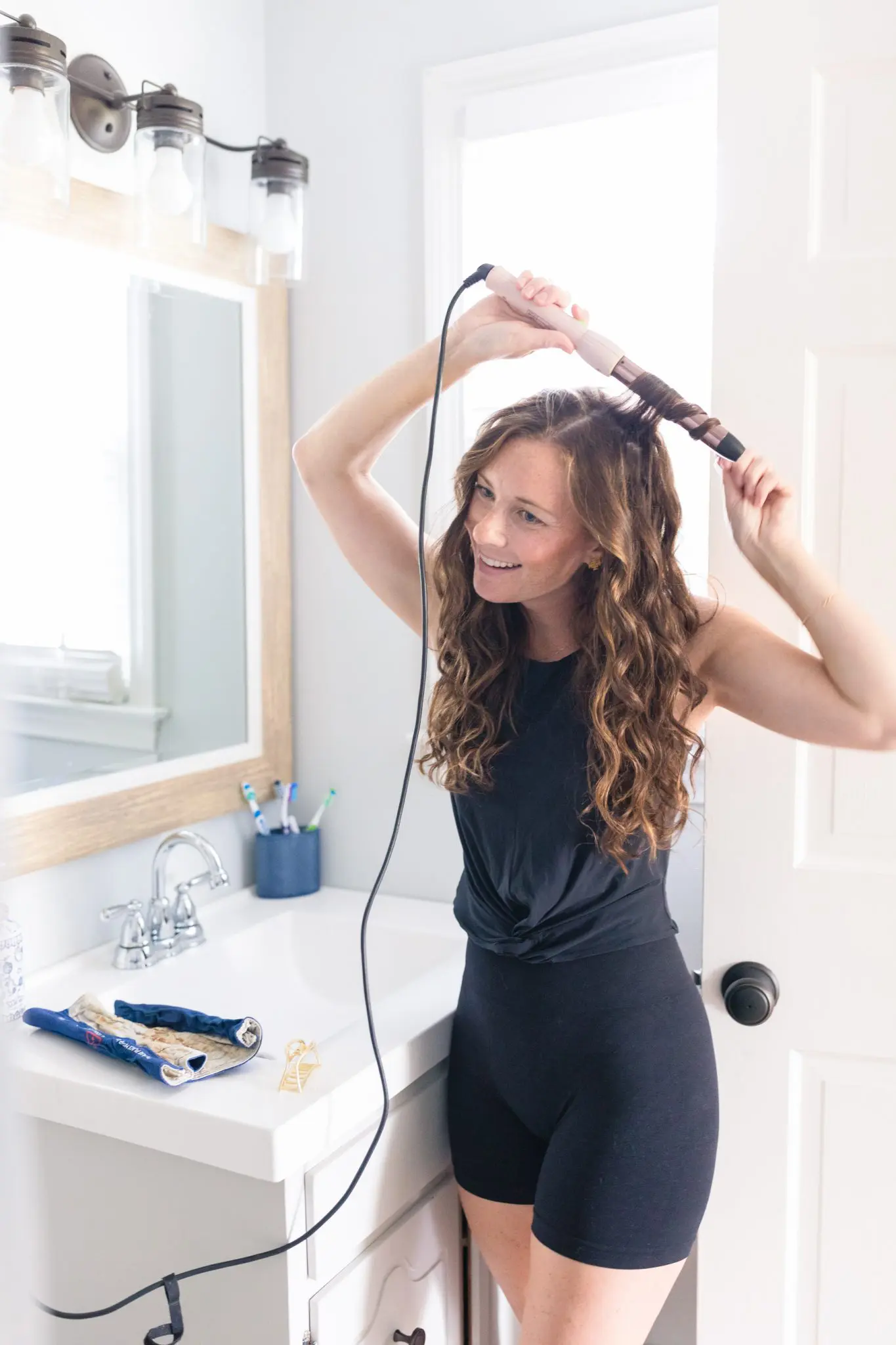 I usually spray a few sections of curled hair with this hairspray and then all over once my head is curled. If I'm having a flat hair day, this body builder hairspray is the BEST for volume.
On rare occasions I will blow dry my hair with a round brush and use a flat iron to ensure it's completely straight. Here is what I use:
I use two styling products before I blow dry and two products when I'm all done. Some days I like to wear my hair pin straight while other days I use a curling wand. Either way, I use all four products on my hair.
Perfect Hair Day – Heat Styling Spray before I blow dry
Vanishing Oil – a tiny bit goes a long way after blow drying to ensure less frizz and shine
Flex Hairspray – just enough hold
Check out 3 Tips for Blow Drying Your Hair
For Extra Volume
The best way to insure my hair is NOT flat on my head is to use a small hair clip to hold my top layer up while the bottom dries. These clips are great too if I'm securing a larger layer of hair because they do not crush my curls. Plus this clip is cute enough to wear my hair half up/half down.
For Non-Wash Days
My favorite dry shampoo is Perfect Hair Day by Living Proof. I never used dry shampoo until the last couple of years since I rarely went a few days without washing. Now I only wash my hair every three days, so I use dry shampoo often.
I apply dry shampoo usually before bed and wear my hair in a loose bun on the very top of my head. These are my favorite silk scrunchies as they leave the least amount of creases in my hair. d
The Best Styling Tools for Curly Hair
My favorite wet brush (used in the shower too)
My current blow dryer: BaByliss Pro BAB2 Ceramix Xtreme Dryer
My favorite round brush: Ceramic and Ionic Round Brush
My favorite curling wand: 1 inch Titanium Curling Wand
My current flat iron is not a favorite, it just gets the job done: BaBylissPRO Porcelain Ceramic Straightening Iron