This morning…. I am sick. You know that kind of sick where your head is clogged and your face hurts and your nose is running and your eyes are running and your ears are stuffy and your cat was sleeping on your head all night so you didn't even get to sleep kind of sick? Yeah…that's me. And the best part is that I didn't get sick yesterday. I started feeling sick on Friday. Only I would get sick the weekend I took Friday off for a fun little getaway to Tennessee, right? WRONG. Happiness Project Mrs. Bear isn't going to sit here and feel sorry for herself. Because honestly, it's not like I didn't have fun in Tennessee (Vols losing to the Gators and fever chills during the game in all). PLUS, I am sure other people get sick on their mini vacations.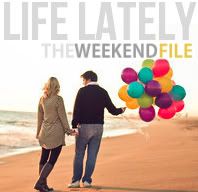 I am linking up with the Weekend File to talk about my life lately. However, I don't really know where to begin. Lists are always easy – so here it goes.
1.So far, my third year of teaching has gotten off to a better start than my second year did. There have been some "instances" in my classroom that normally would send me running for the hills, but my new outlook on life (thanks to re-evaluating everything after reading "The Happiness Project") has really put things into perspective.
2. My Happiness Project has been working in other areas of my life….such as my social life. I remembered that talking nasty about others would ultimately make me feel unhappy, so this past weekend, while surrounded by snotty Florida fans, I kept a smile on my face and unkind thoughts/words at bay.
3. My birthday is one week from today!
4. My mom is coming to visit this Friday for my birthday weekend.
5. I started decorating my house for Fall a few weeks ago…slowly but surely I was sneaking pumpkins into our home decor. Now that my birthday is almost here, I think I can put the rest up.
6. I have a crush on hair bows. I think I want to buy myself a monogrammed one for my birthday!
7. I am running late for school….which is normal when I decide to write my blog posts last minute! Maybe I need to start writing them at night (which could be a new goal – but its quite possible that I won't be able to keep up with it, so I probably shouldn't make a goal I can't keep).
What is going on in your life lately?