Kids say the funniest things. Today I'm sharing questions to ask your eight year old on her birthday. We asked our eight year old Annabelle 30 questions about her favorite things and growing up.
What is your favorite color? Pink
What is your favorite toy? Hatchimal
What is your favorite thing to eat for lunch? Lunchables
What is your favorite television show? Nicky, Ricky, Dicky and Dawn
What is your favorite outfit? Tie Dye Sweatsuit I wore to my dental surgery
What is your favorite game? Monopoly
What is your favorite snack? Veggie Straws
What is your favorite animal? Cat
What is your favorite song? "The Wire" by Haim
Who is your best friend and why? Um, do I have to pick one? Hannah, Sofia and Gianna because they are funny and nice. Oh and Reese and Ava and Tessa because they are fun to play with.
What is your favorite sport? Soccer. Wait is swimming a sport? Then swimming.
What is your favorite book? The Princess in Black or Elephant and Piggy
What is your favorite thing to do outside? Play Tag and Hide and Seek
What is your favorite drink? Pink Lemonade
What is your favorite dinner? Spaghetti and Meatballs from Michaels, Mashed Potato Pizza from Christos, or when you make Chicken Noodle Soup (Mommys)
What do you know how to do that you can teach others? Umm, do cartwheels!
What is your favorite holiday? Christmas and Halloween because you get to stay up late and on Christmas in the morning you get to wake up and open presents and it's close to my birthday.
What do you like to take to bed with you at night? Dark pink bunny.
What is your favorite thing to eat for breakfast? Egg sandwich and my favorite sausage.
If you could have a new name what would it be? Aila (Isla)
What's the funniest thing that's ever happened to you? Could it be in a show? I don't know! What did you write last time?
What do you want to be when you grow up? A vet.
What is your dream vacation? Go to Foxwoods with Reese, and Ailey, Wyatt and baby this time. We would get Dippin Dots and ride the escalators 1000 times. And then go see Otis and talk to him.
What is going to be the best thing about growing up? I can do whatever I want and go where ever I want.
If you had one super power what would it be? To move things with my mind.
What's the best thing about being you? On my birthday I can eat as much candy as I want.
How do you feel about turning eight? I like it because when I'm older I can hold Baby (sister) and carry her around the house. You can sleep over at other people's houses more often. *Interrupting Ailey – When I turn 8 can I do that?*
What's the hardest part about growing up? You're expected to be behaved good. You start doing chores sometimes too.
What do you love most about your sister? Ailey, she's silly and Arbor is cute and fuzzy.
What is one of your best memories from this year? Seeing Baby (Arbor) come home from the hospital and going to Foxwoods with Reese (for her dance competition) and getting Dippin Dots.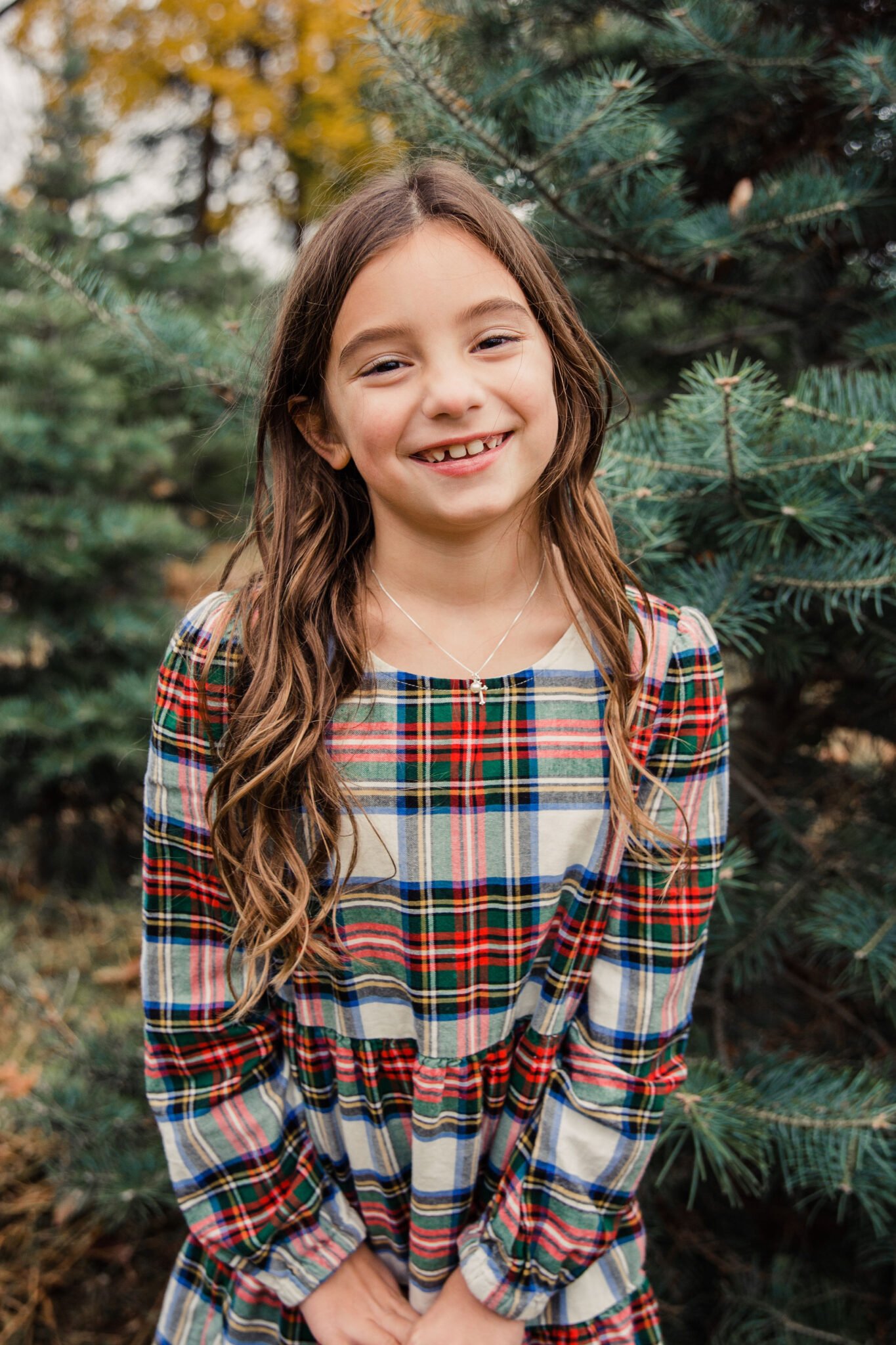 Want to Know More about Annabelle?
Annabelle has grown so much in the last year – again! She is still dancing competitively; this year is her first on the Petite Company Team.She is also part of a Lyrical Small Group and will perform in three different dance competitions for tap and lyrical. Last year she did amazing performing tap at two competitions and one national championship!
Height: 4 ft 3 in (possibly taller!)
Weight: 56 lbs
Clothing Size: Mostly 8, some size 10
Shoe Size: 13
Teeth Missing: eight
This fall Annabelle had dental surgery for her Enamel hypoplasia. It is a developmental enamel defect, meaning that is already present at the time the affected tooth first erupts from the gums. She has had a lot of dental problems over the last few years, which resulted in a severe case of anxiety around the doctors. It was scary to put her to sleep for the surgery (I held her while she fell asleep), but we are so happy that her teeth are protected now. Someday she will need cosmetic dental work for her front teeth!
Favorite Foods: Ramen noodles, spaghetti and meatballs, canned pears, extra noodle chicken noodle soup, Mommy's homemade chicken noodle soup, burritos with beans, rice, no cheese, vegetarian sausages (my favorite sausages), applesauce, cheeseburgers, white pizza with broccoli, mashed potatoes, grilled shrimp, escarole and bean soup, cooked celery, turkey meatloaf, mashed potato pizza
Foods She Doesn't Like: lobster, fish sticks, tomatoes, fish, Brussels sprouts, carrots
Things She Doesn't Like: Wearing socks
Favorite Things to Do at 8 Years Old
Annabelle enjoys cooking, watching cooking shows, and dreams of being on one of the kids baking shows she watches. She loves crafts and following instructions to make things (like the gingerbread chicken coop she built with Ailey). She loves dancing, but also enjoys playing soccer – it was hard to balance both in the beginning of the school year. She excels at school, asking lots of questions in class and following directions well. The teacher enjoys her enthusiasm for learning!
Fun Facts: Annabelle is becoming more energetic with age – often cartwheeling nonstop from one room to the next. She is full of energy in the morning, afternoon, and night! She likes wearing nice jewelry, asked for a telescope for her birthday, and wants to learn how to rollerblade. Annabelle used to be very cautious but is growing to be more courageous- she'll try anything!
READ MORE: Questions to ask your 6 year old and Questions to ask your 4 year old