We are a few months into Annabelle's seventh year, so it's about time I publish her birthday interview. Here are questions to ask your 7 year old and answers provided by my daughter. Please enjoy this post (as you loved this one too)!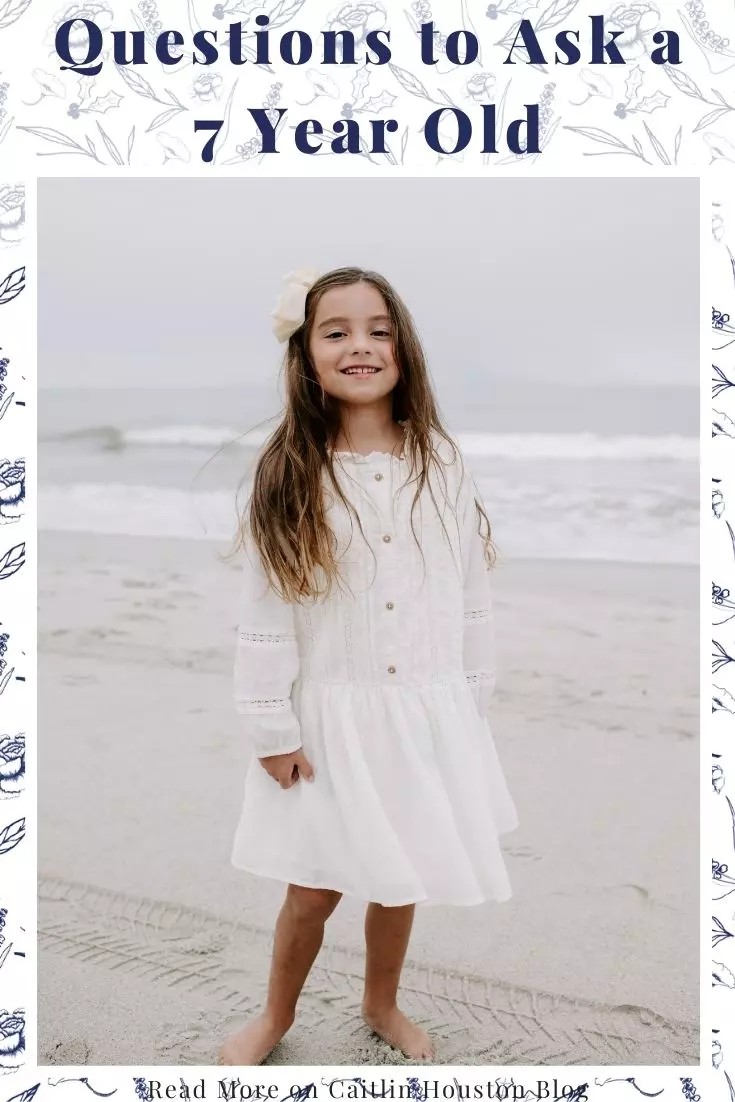 Questions to Ask A 7 Year Old
(and answers from our 7 year old!)
What is your favorite color? Pink
What is your favorite toy? My American Girl Dolls – Isley and Courtney aka Moonlight
What is your favorite thing to eat for lunch? Chicken Noodle Soup at home and Brunch at school
What is your favorite television show? My Little Pony
What is your favorite outfit? The red dress with the heart cutout in the back
What is your favorite game? "Guess Who" and "Eye Found It"
What is your favorite snack? Applesauce
What is your favorite animal? Kitty
What is your favorite song? "Summer Girl" by HAIM and "Love Story" by Taylor Swift
Who is your best friend and why? Well, I have a lot. Ava, Tessa, Reese, Sofia, Gianna, Hannah – and that's all. Because they're nice and really fun to play with.
What is your favorite sport? Soccer because I don't know any other sport to play.
What is your favorite book?

The Princess in Black

series
What is your favorite thing to do outside? Ride in the Jeep or if it's warm I would play soccer with Dada and Ailey if she was awake
What is your favorite drink? Pink Lemonade
What is your favorite dinner? Spaghetti and Meatballs
What do you know how to do that you can teach others? Draw
What is your favorite holiday? Christmas, Halloween, and Valentine's Day
What do you like to take to bed with you at night? Dark pink bunny, light pink bunny, white bunny, and Cookie Dough
What is your favorite thing to eat for breakfast? It used to be cereal and sausage, but now it's a scrambled egg and cheese sandwich and sausage
If you could have a new name what would it be? Claire
What's the funniest thing that's ever happened to you? Oh I know, one time Sloane, me and Ailey were outside and Sloane took one of Nonee's leaves and she bit it.
What do you want to be when you grow up? I don't know yet.
What is your dream vacation? Back to Myrtle Beach in the exact same cabin (or whatever it was called) and not have to take two planes.
What is going to be the best thing about growing up? Probably by the time I'm older we won't have to wear masks anymore and everybody would have gotten the vaccine for the virus and we will go back to normal.
If you had one super power what would it be? Flying and walking on water (even though I said one, haha).
What's the best thing about being you? I like that I'm really flexibility.
How do you feel about turning seven? I'm unhappy because it's hard being the oldest of my sister and cousin.
What's the hardest part about growing up? Hmm… well kind of the same thing. Being the oldest is the worst and being the littlest is the best. As I grow older I won't like playing and going to the playground anymore. I won't fit in the slides and stuff and won't get to play with toys. I'll just have to work work work.
What do you love most about your sister? That she is funny.
What is one of your best memories? I love when we went to Cape Cod and I got to sleep in bunkbeds, and me, Ailey, and Sloaney were screaming "Robot Finn Robot Finn" at Finn. Also when we went trick or treating with Sawyer at Myrtle Beach.
Want to Know More about Annabelle?
Annabelle has grown so much in the last year – 4 inches to be exact! She is reading chapter books, spelling words by sounding them out, and really good at math. She loves science, especially Mondays in first grade with Mystery Doug. Annabelle dances competitively, although her first two competitions were cancelled due to the pandemic. She will be in competition in April and May this year and we can't wait to see her on stage!
Height: 4 ft 1 in
Weight: 53 lbs
Clothing Size: Mostly 8 – some 6/7 shirts, but she is tall!
Shoe Size: 12/13
Teeth Missing: four
Favorite Foods: Chik Fil A grilled nuggets, White Pizza with Broccoli (sometimes Broccoli Rabe and Sausage), Turkey Chili, Shredded Chicken Enchiladas, Escarole – with beans on pizza or in soup, Cheeseburgers from McDonalds with onions and ketchup, sliders, cookie dough + cotton candy ice cream from Sweet Creams, meatballs and spaghetti from Michael's Trattoria, popcorn with ketchup, SOUPS, chips and salsa, chocolate
Foods She Doesn't Like: Pizza with cheese and sauce, spicy foods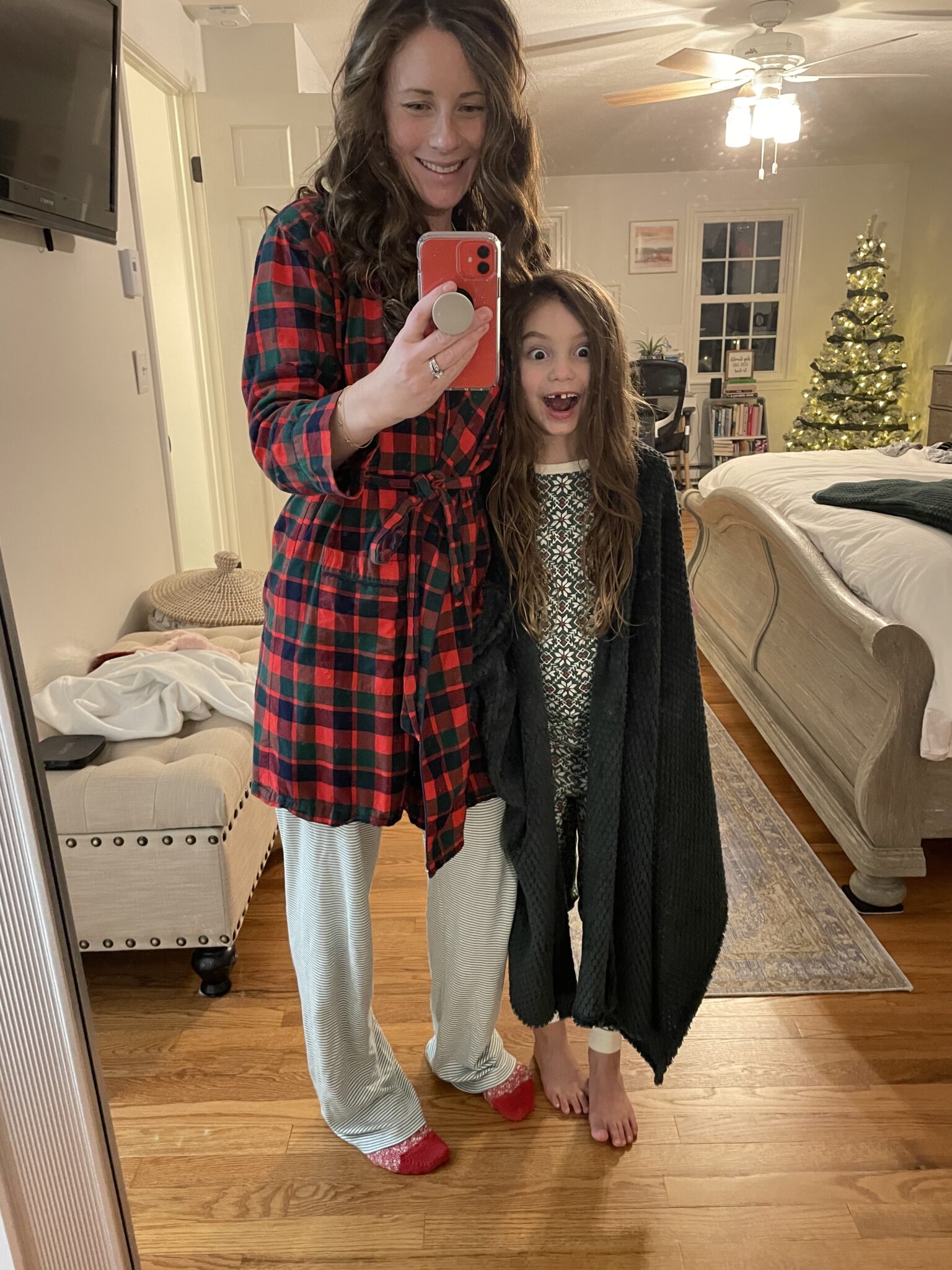 Favorite Things to Do at 7 Years Old
Annabelle can read chapter books above her grade level, ride a bike without training wheels, and loves to help me cook in the kitchen. She loves art projects and painting, doing anything creative with her hands. Lately she has been making up outfits and even likes to draw clothing. Annabelle loves to sing and dance, but can be shy in front of an audience. She loves swimming and can spend hours in a pool!
Fun Facts: Annabelle asks a LOT of questions, sometimes inquiring answers for questions that don't exist. She is often persistent and determined to get what she wants. She is also motivated both by her own desires and when she wants to please others. Annabelle likes to be independent, but also wants to be taken care of like her little sister (ex. getting her dressed for the day).