Last week we went on our first cruise aboard the Disney Fantasy and it was the BEST vacation ever. My husband and I have been on several other cruise lines, but Disney Cruise Lines is the best. Disney rivals the other cruise lines in service, entertainment, food and amenities. Many of you have been asking for a full recap of our trip, but I thought it would be easiest to address the most asked questions FIRST about our Disney Cruise.
Booking and Paying for a Disney Cruise
We booked our cruise through my friend, Brianna at Custom Travel. She is incredible, so helpful, and knows everything there is to know about Disney Cruises. Reach out to her if you want to book a cruise! You don't have to live in Connecticut to use her services.
How much does a Disney cruise cost? Every Disney cruise varies in cost depending on the # of nights, destination, airfare, etc. We are very thankful for my in-laws who brought us on this trip!
Can you pay for your cruise in installments? When booking a Disney cruise you are only required to put down a deposit of 20% of your total cruise cost. There are different options when choosing a payment plan as well.
Is a Disney Cruise worth the extra cost in comparison to other cruise lines? A Disney Cruise is definitely more expensive then the other cruise lines I've sailed on. However, it's worth the cost. Brandon and I have been on 5 other cruise lines collectively and Disney rivals them all in service, food, and entertainment.
Note: if you're traveling without kids and don't particularly like kids, I don't recommend you choose the Disney cruise line. There are children of all ages on the ship.
Disney Cruise Cabins
What kind of cabin did you stay in? We were fortunate to stay in a Deluxe Oceanview Stateroom with a Verandah. There was a Queen size bed, plus a sitting area that transitioned into bunk beds at night.
Was your cabin spacious or cramped for two adults and two children? If you've never been on a cruise, be prepared to find the cabin size unimpressive. Consider the fact that you're expected to spend the majority of your time on the boat/islands and not lounging in your cabin. The balcony was ideal when I wanted to be alone or if Brandon and I needed an escape from napping/sleeping kids.
With that being said, there were still times when I felt cramped if the room was messy and the girls were jumping around. My Tip – Make sure you keep the room tidy and organized. Designate an area or drawer for everyone's personal belongings!
The toilet and tub are SEPARATED!
One of the best features of the DCL cabins is the toilet and the tub are separate with a sink in each space. The tubs are deep and wide, perfect for two kids, and the shower head is adjustable. When bath time is over, you can use the pull out clothesline to hang any wet bathing suits/clothes.
There is a TON of storage space in the cabin, so I recommend unpacking your suitcases as soon as you can. We put away all of our clothes/shoes/toiletries in the various closets, drawers, and on the shelves. Then we were able to store four suitcases (2 large and 2 medium) and a stroller under our bed. Before cruising I read a few tips regarding organizational items to pack and totally forgot until I was in the cabin. Read: What to Pack for a Disney Cruise here.
Is the Disney Cruise ship clean?
What the boat clean? Sanitary? I cannot emphasize enough that Disney Cruise Lines truly care about the health of their guests. Not only were there hand washing stations in the buffet dining rooms, but everyone was handed a sanitary wipe before entering breakfast/lunch/dinner. There are also sanitizing stations near the dining areas on the pool deck, as well as the beverage stations.
Disney crew members tend to the ship's cleanliness all day long. From vacuuming hallways to wiping down windows, from polishing stair rails to thoroughly cleaning the bathrooms, the boat was spotless at all times. There were even crew members on the pool deck with squeegees to ensure guests didn't slip and water didn't pool in any areas.
What is the best age for kids to go on a Disney Cruise?
My most asked question: What is the best age for kids to go on a Disney cruise? Annabelle is 5, Ailey is almost 3, and they LOVED their trip. I saw families with children of all ages – from young babies to college age kids. Magic lies around every corner for children (and adults) of all ages.
I know that every time we go on a Disney Cruise from now on will be a different experience. Our daughters will never be the same age with the same interest levels. Ailey is obsessed with Sofia the First and almost spontaneously combusted when she met her. However if we go again in a few years she might have a new favorite Disney character.
We saw many teenagers on board who seemed to be having a lot of fun. Disney caters to cruisers of all ages, so there are Teen Only activities, hangout areas, and events on the ship.
Can I go on a Disney Cruise if I don't have kids?
YES. I would go on a Disney Cruise without my kids tomorrow if I didn't think I'd be sad they weren't there to join me. There are multiple Adults Only sections on the boat – a sunbathing deck, pool area, spa, and an entire wing of the ship dedicated to nightlife. We spent the majority of our cruise with our children, but it was nice to sneak away to escape the chaos of kids!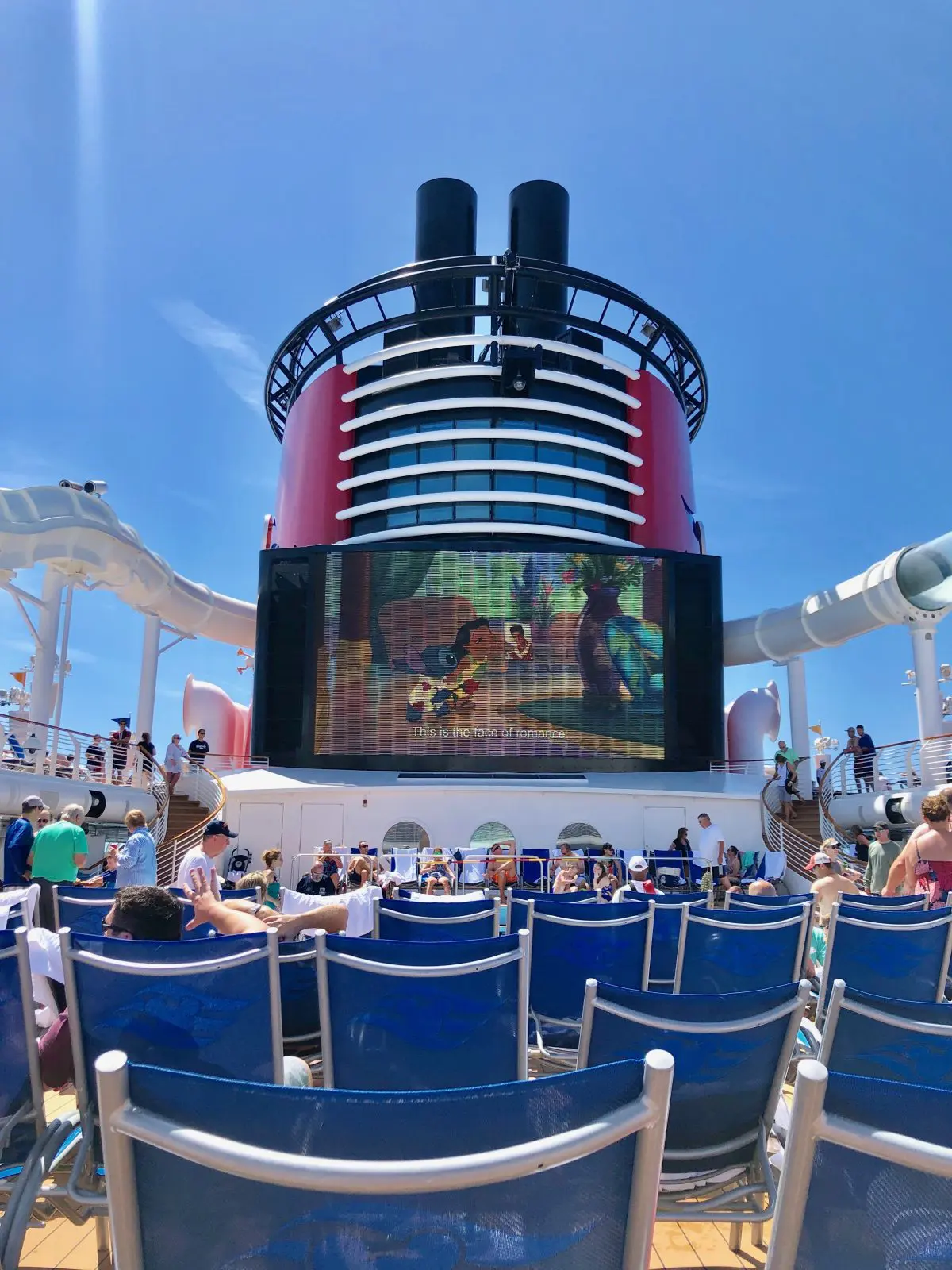 Is there a kids club on the Disney Cruise Lines?
The Oceaneer Youth Club is an exclusive kids club for ages 3 and up and it's FREE. You can drop the kids off ANYTIME and the counselors even pick them up from dinner at night if you want.
How does the Oceaneer Youth Club work? Every child registered in the Oceaneer club has a smart wrist band containing information about not only them, but their family as well. When you drop off your child, not only they, but you are scanned into the system. The kids go in to wash their hands and join the fun, while you confirm you have the Disney App activated (or the provided room phone) so you can be notified when they want to be picked up. The kids tell the counselors when they're done having fun – so you can rest easy while they play.
Does the kids club only take potty trained kids? Yup.
Note: There are Open House times in the Oceaneer Club throughout the week so the whole family can check out what is being offered. Ailey was able to watch a Doc McStuffins Hospital performance and explore the themed rooms with Annabelle one day.
TIP: Pre-register your child BEFORE you cruise – it's so much easier.
Are there baby sitting services on a Disney Cruise?
YES – The "It's A Small World Nursery" is a childcare center available for an hourly rate. Before your sailing date you can schedule childcare services or book when you get on board. They don't require reservations, but recommend them. We registered Ailey for the nursery and she received a Mickey ID band like Annabelle, as well as a diaper bag to use during her stay. However, she didn't go! We considered sending her to the Nursery a few times to play (and give us a break), but never did.
Were you nervous being on a ship with your little kids? What kind of safety measures are in place? All I can imagine is my 2.5 year old falling into the ocean.
There is definitely a bit of anxiety when thinking about bringing a toddler on a giant ship for a week. However, the Disney Cruise Line is committed to the safety of their guests. There is a safety assembly drill before you set sail where you learn what to do in case of an emergency.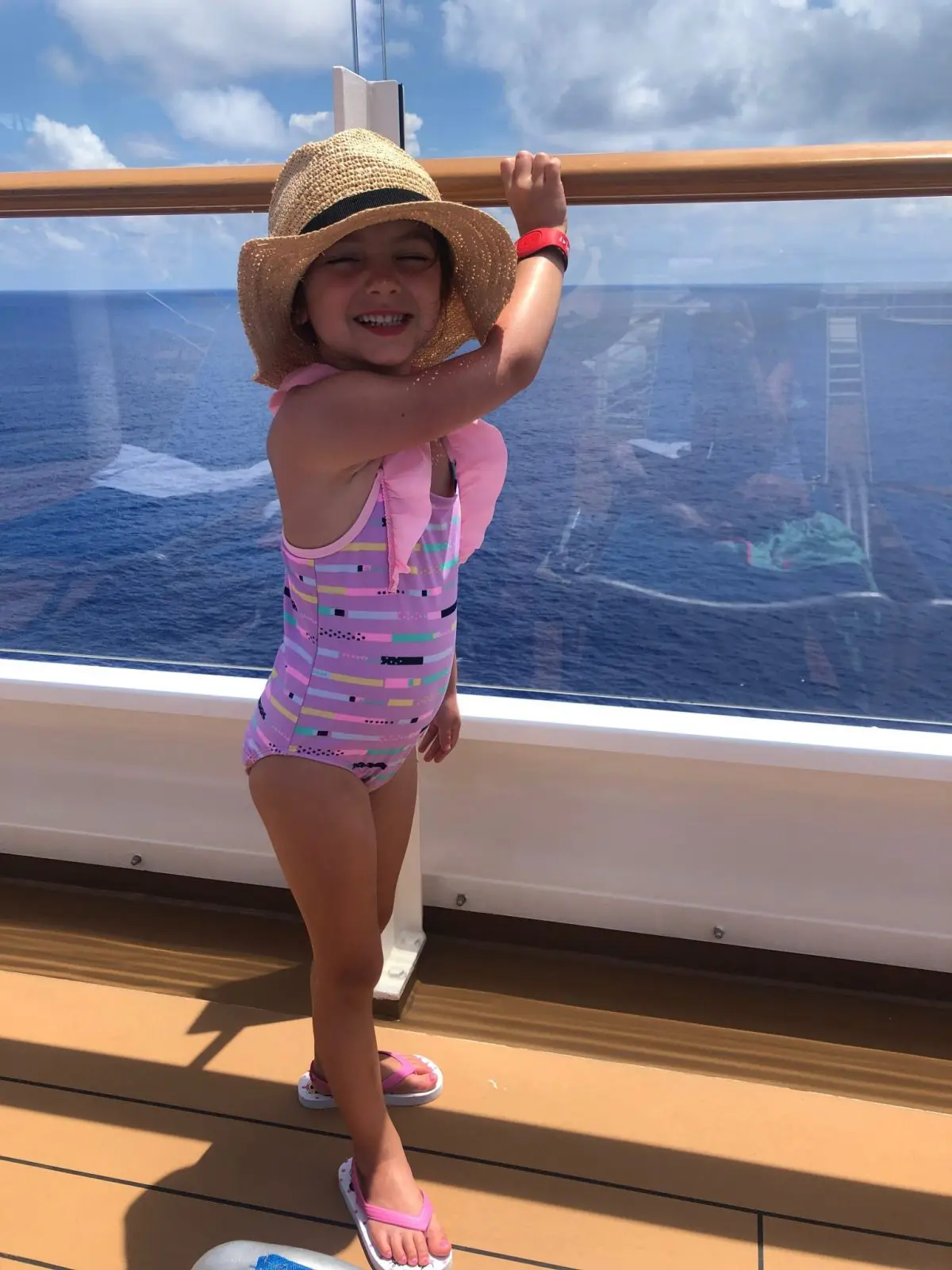 As far as fearing an accidental drop off the side of the boat, there aren't any guard rails for your child to climb. The Disney Cruise Line ships have a protective plexiglass on the guardrails and verandah. There are protective locks on the verandah door AND the sliding door is so heavy I could barely get it open some mornings.
Read more here about the safety of kids on cruise ships.
Best advice if you're still worried – just watch your child at all times!
You had so many questions about our Disney Cruise there has to be two posts… Stay Tuned for Part II