Packing for your family to go on a 7 night cruise can be stressful, especially if you've never cruised before. Packing specifically for a Disney cruise is even more stressful. There are many items families should bring on a Disney Cruise to ensure you have the best time ever. Enjoy this Disney Cruise Packing List For Kids, with details about what to bring for your kids and why you need to bring it.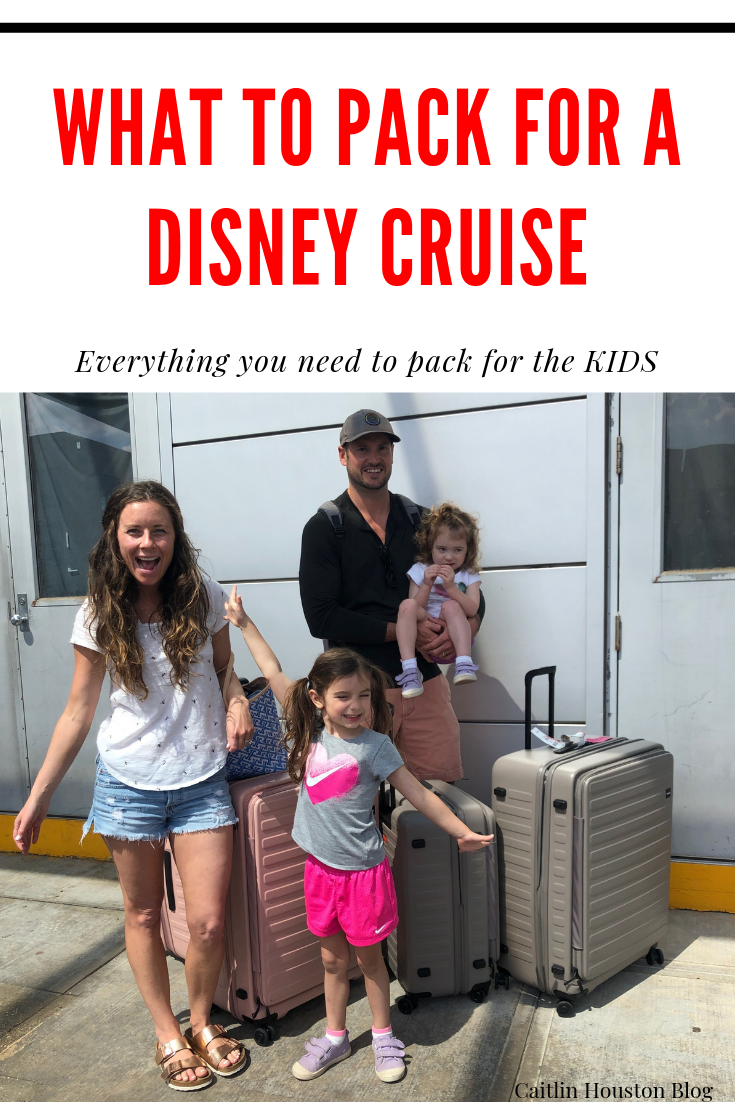 Buy THESE ASAP
The most important item you will need to purchase before packing anything for a Disney Cruise: PACKING CUBES. Not only do packing cubes keep a suitcase organized, but they are also convenient for unpacking. I put the children's packing cubes right into the drawers and hang delicate items in the cabin closet.
I recommend this 8 Packing Cube Set for $25 or if you are looking for a very high quality set, this durable 6 piece packing cube set is $79. Tip: Look for a packing cube set with a laundry bag!
What to Wear on a Disney Cruise
Morning: Shorts + Shirt/Dress (check out this HA Disney Collection for family Disney items)
We often changed into our swimsuits after eating breakfast.
Afternoon: Swimsuit + Cover-up
Bring at least ONE swimsuit per day on the cruise unless you plan on doing laundry or hand-washing. There are too many germs on board to allow a child to wear a dirty swimsuit.
Evening: Resort casual dress/skirt or resort set for girls, lightweight pants or shorts with a polo shirt for boys.
It can be chilly in the dining room, so a lightweight cardigan is a must.
Pajamas – For a seven night cruise we packed seven pairs of pajamas, mostly long sleeve since we keep our cabin cold. Mickey Pajamas are a MUST! We love these Minnie Mouse Pajamas and Princess pajamas (these are great for older kids). If you have a baby, we love Little Sleepies Disney Collection! Don't forget Disney pajamas for adults too!


Waterproof Shoes
–
Sandals
,
Natives
, or girls'
jellies
are easy to wear and prevent slipping on wet surfaces.

Swimsuit Cover up- It is easier for a child to put on a cover-up over a wet swimsuit after swimming in the pool than shorts and a shirt. Hooded beach towels serve a double purpose for girls and boys.
Disney Costumes – Don't forget to bring a children's Disney costume. All of the kids on board wear their favorite Disney character costumes at some point during the cruise (if not every day).
Formal Night – A fancy dress or suit and tie is not required dress code for children on formal night in the main dining rooms. However, almost every child on our ship dressed up in formal attire. My daughters chose to wear Disney Princess gowns for Formal Night, as did many other kids on the ship.
Wondering what kids should wear on their feet for formal night? We saw everything from sandals to patent leather dress shoes. Mini Melissa makes Disney themed Mary Janes in all colors and character themes. My girls would have loved these Frozen Glitter Flats.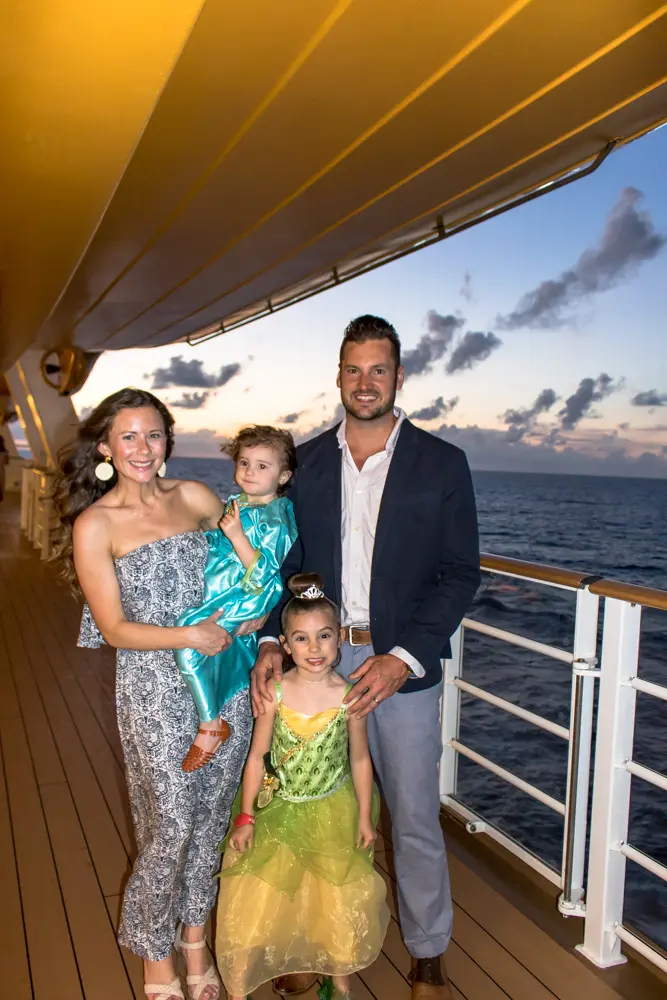 What to wear for Pirate Night on the Disney Cruise
Disney Cruise Pirate Night – We saw everything from pirate bandanas and eye patches (gifts from Disney Cruises to all guests) to full-on pirate garb with wig included on Pirate's Night. My mother-in-law bought these pirate accessories for our trip and I planned red/white/black outfits for the family. Next time I want to buy matching family Disney pirate shirts for Pirate Night.

Note: There is a laundry room on board most ships.
Heading on a Disney Christmas Cruise? Check out these Disney Holiday Pajamas!
What to Pack on a Disney Cruise: Accessories
Lanyard: A Lanyard holds your Key to the World Card – the most important card you need on board a Disney Cruise. Do yourself a favor and buy one lanyard for everyone in your family. Wear the lanyard around your neck or toss it in your pool bag – the strap makes it easy to find!
A Key to the World card does everything from open your cabin door to allow you to board the ship at a Port. On the boat the only way to make purchases is using a Key to the World card (linked to your credit card).
Reusable Water Bottle: We always travel with reusable water bottles. It's so much easier to stay hydrated when you can fill your own bottle on board the ship. Reusable water bottles are eco-friendly too! We filled ours with ice before departing the ship in Port since it can be hard to find safe water on an island. Check out Disney Water Bottles here.
Autograph Book & Markers: Save money by purchasing an autograph book BEFORE you board the Disney Cruise. We also brought our own markers – the characters prefer thin felt tip markers for signing autographs.
Minnie Mouse Headwear for Girls: Hairbows, headbands, Minnie Mouse Ears (for babies), etc.
Don't forget Minnie Ears for Mom – these Minnie Ear Scrunchies are SO cute!


More Things to Bring on a Disney Cruise
A Kids Bag: My daughters loved carrying their own autograph books around the ship in a Minnie Mouse bag. There are so many cute options for Disney themed kids bags, but this is another item you should purchase before cruising. So much cheaper online!
Disney Magnets: Almost everyone on a Disney cruise decorates their stateroom door with personalized magnets. We only brought small fridge magnets, one for each in our party, and my daughters were disappointed that they weren't more extravagant. The purpose of the door decorations: it makes it easier to find your room! These Disney Cruise Door Magnets are inexpensive and so much fun!
LOTS OF SUNSCREEN – We ran out of my favorite sunscreen on our third day. It is cheaper to buy sunscreen at home rather than purchasing onboard.
BEACH HAT & Sunglasses – It is so bright on deck and the sun is stronger at sea – so make sure your kids are protected.
DRAMAMINE (as well as other medicines) – You never know if your child is going to get sick on the boat. The shops do carry medicine, but it's easier to pack your own children's medicine.
WET BAG – For wet swimsuits when on the islands if you plan on changing your child.




What to Bring on a Disney Cruise: Disney Themed Apparel
If you go on a Disney Cruise with kids, you MUST bring Disney themed apparel. Every child on the ship had Disney character clothing or costumes. I shopped for two months, collecting Disney themed apparel for my daughters.


What better shirt could a little girl where when meeting all of her favorite Disney princesses? Thank you Henry and Kate Designs (no longer available – check here for similar) for the darling personalized princess shirts! If you have a little boy, there are Disney character shirts for him too! Check out some adorable options below.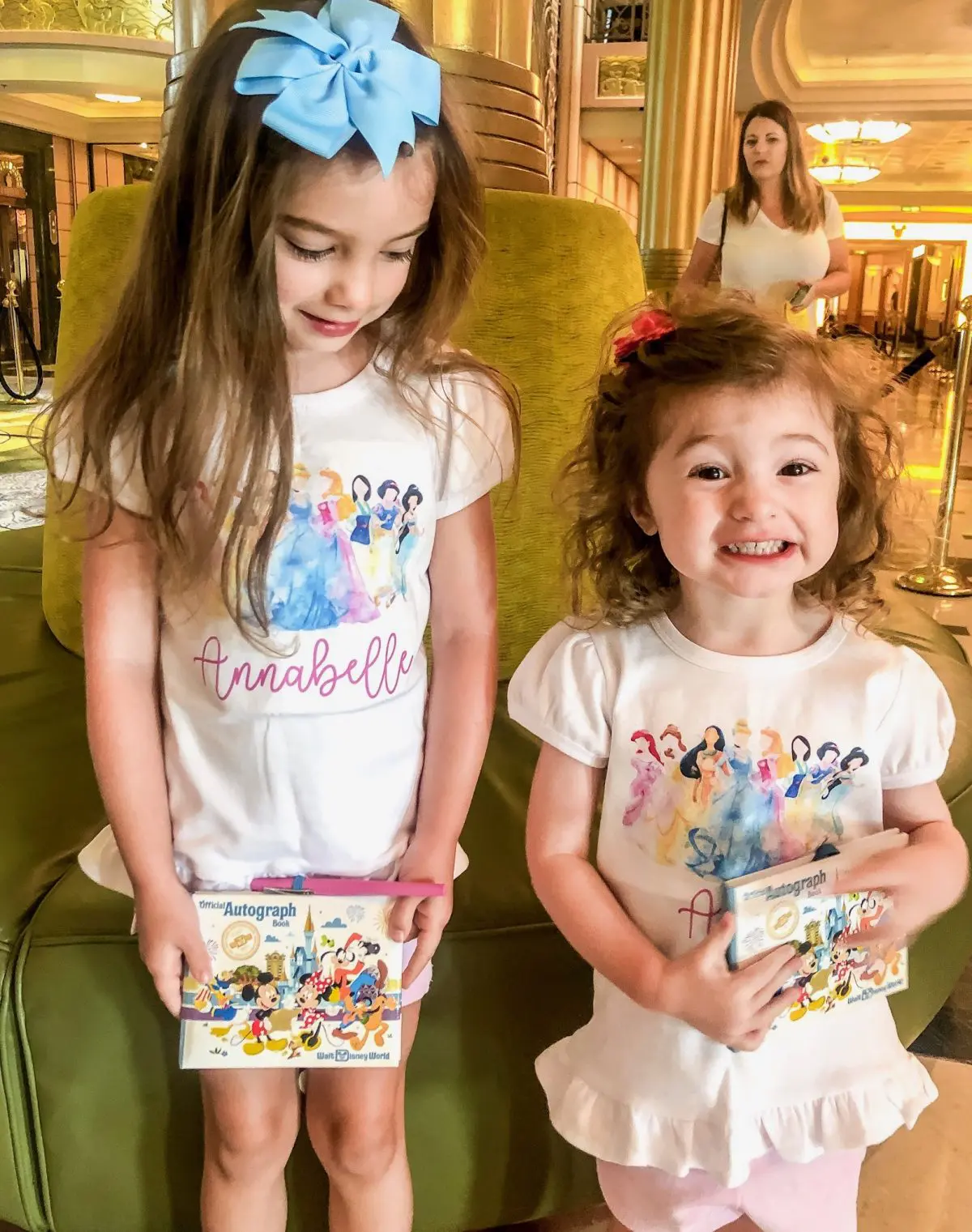 Annabelle and Ailey wore the most darling personalized Disney dresses from My Darling Bee. Annabelle wore a Mary Poppins dress while Ailey wore a Beauty and the Beast dress. We received TONS of compliments from fellow cruisers. Thank you so much My Darling Bee these precious pieces!

What to Leave at Home
Life Jacket or Floatation Devices – Disney has plenty of life jackets on board for all sizes.
Beach Towels – Disney allows you to take towels off the ship at each port.
Extension Cord/Surge Protector – I read a lot about bringing these items on the cruise but there are plugs everywhere!