In my house we LOVE to make Pasta Bakes. They are easily one of the most delicious comfort foods! There are an infinite number of ways to make a Pasta Bake, but we think the cheesier the better. Last weekend I made a Chicken Spinach Pasta Bake with Vodka Sauce for the first time – and it was a huge hit. There are a couple of steps to this delectable dish, but every minute spent cooking is worth it. Plus, you'll have tons of leftovers!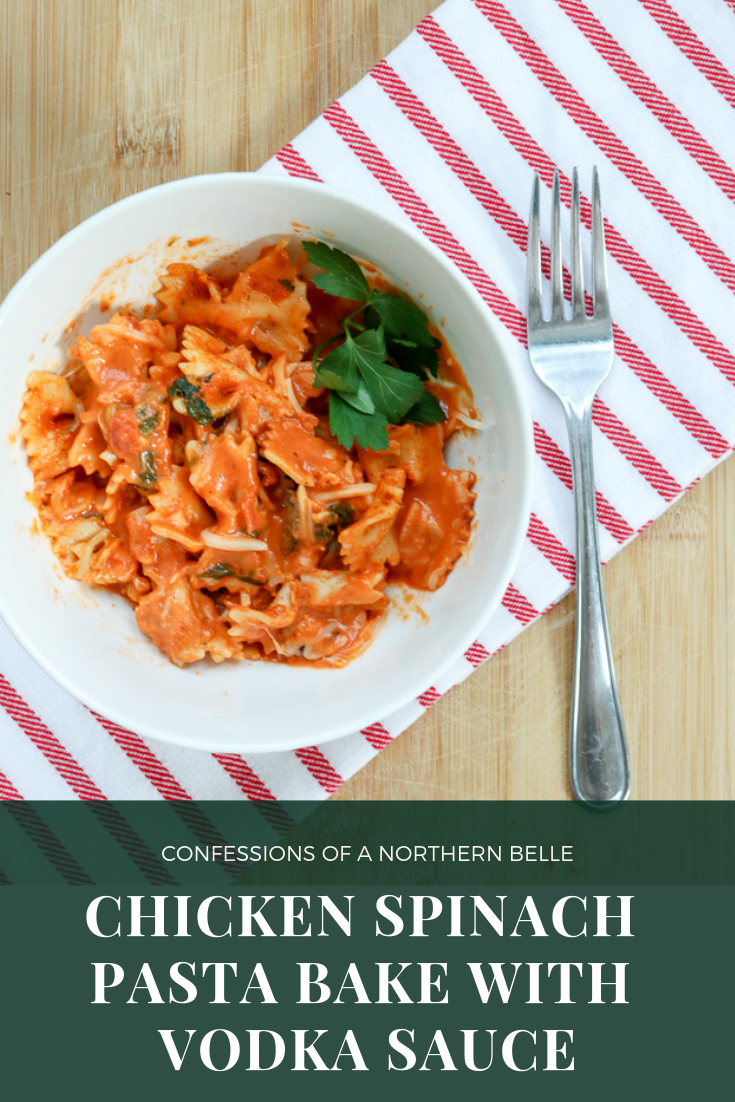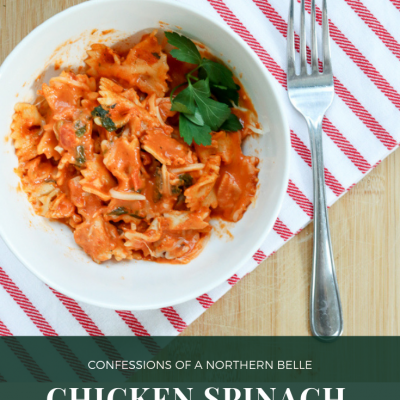 Chicken Spinach Pasta Bake with Vodka Sauce
Ingredients
1

box

Bow Tie Pasta

2

jars

Vodka Sauce

1

lbs

Boneless Chicken Breast

(We used 3 breasts)

1

bag

Fresh Spinach

8

cups

Shredded Mozzarella

1

can

Black Olives, Chopped

Olive Oil

1

tbsp

Garlic Powder

1

tbsp

Onion Salt

1

tbsp

Salt

1

tbsp

Black Pepper

1

tbsp

Dried Italian Spices

Fresh Parsley
Instructions
1. Cook Pasta according to directions on box. Drain and set aside. Preheat the oven to 350 degrees Fahrenheit.

2. Season both sides of chicken breasts evenly with garlic powder, onion salt, salt, pepper, and dried Italian spices. Cook in olive oil over medium-low heat until no longer pink inside (7-8 min each side).

3. Cut the chicken into bite sized pieces and place in a large mixing bowl.

4. Heat 1 tablespoon of olive oil in a skillet over medium heat. Add fresh spinach and season with salt and pepper. Cook until wilted. Add the spinach and olives to the chicken.

5. Add half of cooked pasta to a large glass baking dish. Pour a jar of vodka sauce over the pasta and stir to coat each piece of pasta.

6. Carefully add chicken and spinach mixture. Pour 1/2 of the second jar of vodka sauce over the chicken, spinach and pasta. Sprinkle in two cups of shredded mozzarella cheese.

7. Add the remaining pasta and stir all ingredients together carefully. If the dish seems dry, add more sauce. Top with 1 cup of mozzarella cheese. Drizzle a tiny bit of olive oil over the top of the cheese.

8. Cover the baking dish with tinfoil and bake for 30 minutes. Uncover the dish, add remaining cup of mozzarella cheese and bake uncovered for 8-10 minutes or until bubbly. Top with fresh parsley.

NOTE: Since pasta bake leftovers dry out easily, we always reserve half a jar of sauce to add when reheating leftovers.
This dish can be made with any type of small pasta, but penne, rigatoni and bow tie are our favorites. The pasta holds the vodka sauce well and has a great bite when cooked al dente. If you don't like spinach, cooked broccoli is a fantastic addition!
Paired with a beautiful green Italian salad and a large glass of Cabernet Sauvignon, this Chicken Spinach Pasta Bake with Vodka Sauce is the perfect meal at the end of a long day.