During the holiday season, I spend a lot of time on my feet. From parties to school performances to shopping for gifts, I like to wear comfortable, but festive shoes as I run from place to place. Remember when I found the best ballet flats for Moms last spring? I have a new pair of Tieks by Gavrieli that I'll be wearing on repeat this holiday season! In case you didn't already know, Tieks by Gavrieli are incredibly durable, comfortable, flexible and foldable, making them the best ballet flats for the holidays.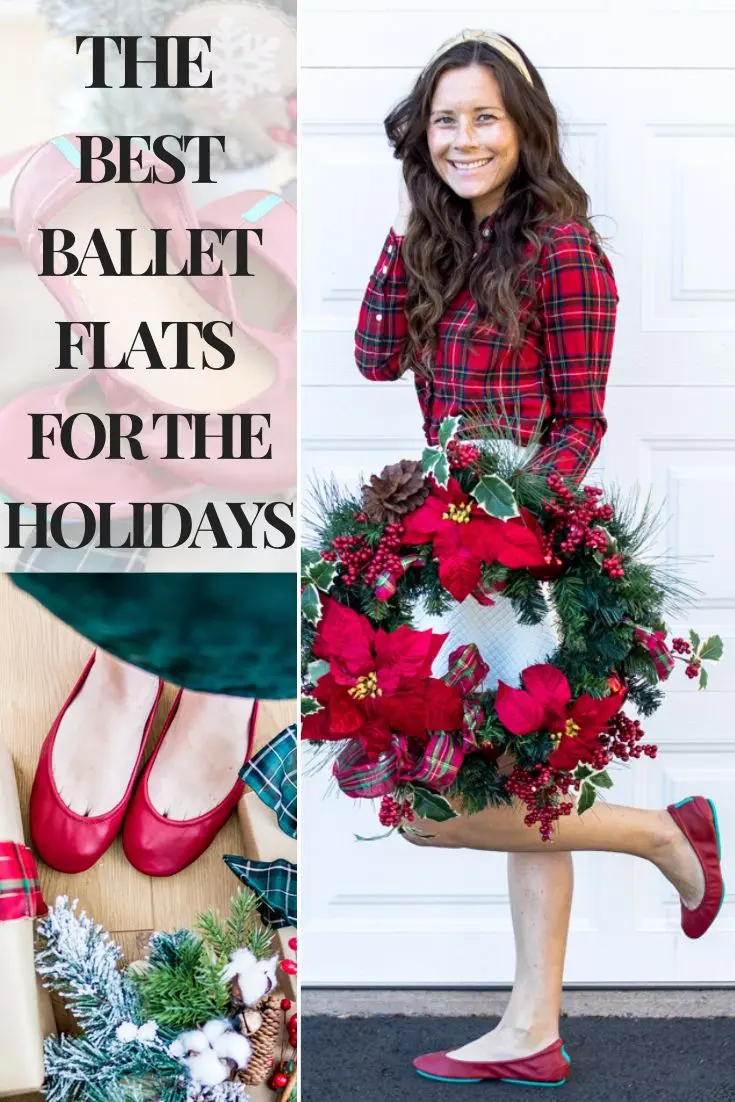 All Day Comfort is a MUST HAVE for Holiday Footwear
One of the most important features to consider when choosing a pair of shoes for the busy holiday season is all-day comfort. I can't tell you how many times I've ended up barefoot at a holiday event by the end of a busy day during December. Heels are fun to wear for a few hours, but not when you have back-to-back Christmas parties from morning to night!
There is a very special reason it takes 3 days and over 150 steps to make a single pair of Tieks. Tieks are made to stretch and mold to your foot for the perfect fit. With a cushioned insole and a non-elasticized heel, they're never too tight on your heel and feel just right. This means I don't have to pack a change of shoes, or end up barefoot, when I'm running from one holiday event to the next.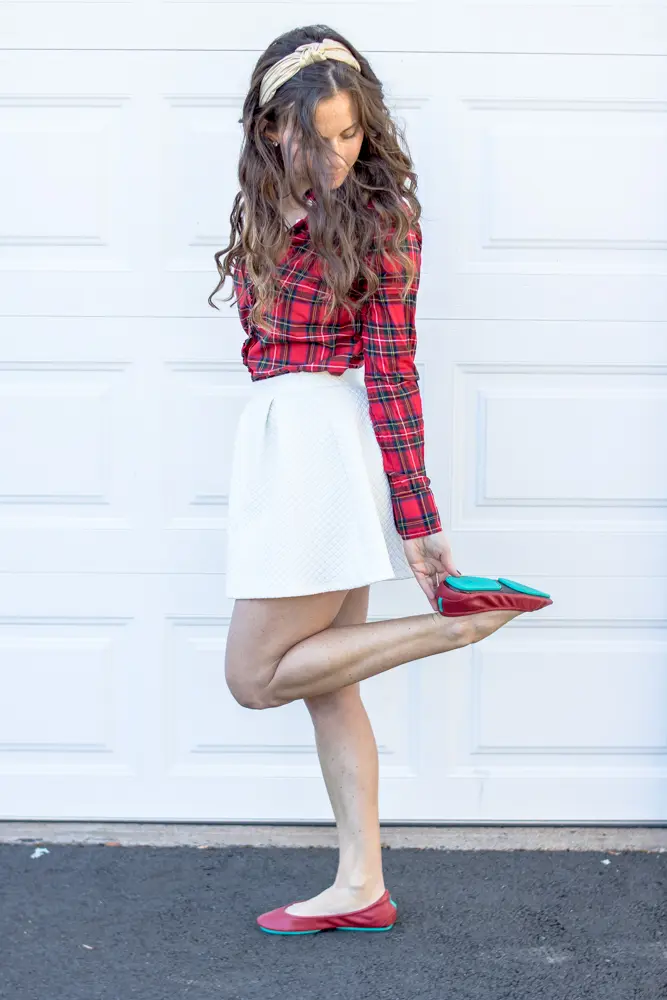 Read more about how Tieks fit here.
May Your Tieks Be Merry and Bright
When it comes to holiday style, Tieks by Gavrieli are a perfect ballet flat to pair with any festive outfit. Chestnut, California Navy and Leopard Print are just three of 60 different styles (Prints, Classics, Patents, or Vegan) of Tieks to choose from. My favorite Tieks colors for Christmas are traditional Pacific Green and Cardinal Red.
There is nothing more merry than red ballet flats. My Cardinal Red Tieks look adorable with everything from festive bow pants to a winter white skirt, and can even be worn with tights on a chilly day. For a more casual look, red ballet flats pop when worn with a plaid shirt and dark denim. There are so many ways to wear Tieks with a holiday outfit.

How to Gift Tieks for the Holidays
We all know shoes are the key to many girls' hearts (especially mine). From the Grandma who likes to be comfortably stylish to the Sister who loves a funky print to match her style, Tieks are a perfect gift for the holidays.
Tieks also offers a gift card option for the friend that likes to pick out her own present or the holiday hostess who has everything. Do you hate wrapping presents? Don't worry, Tieks come in a pretty package so you don't have to mess with wrapping paper. The physical gift card arrives in a miniature Tieks box with a bow of its own too!
I'll be adding the Heritage Plaid Tieks to my Christmas wish list this season. Which Tieks style do you hope to find under your tree? Whether you're picking up bagels last minute before Christmas brunch or headed to the town's Christmas tree lighting, Tieks are the best ballet flats to wear this holiday season!
Want to see more Tieks for the holidays? Stop by my gal pals' Laura and Ashley's blogs!
Thank you to Tieks for working with me to develop this holiday content for my readers!