When we purchased our house last summer, we had every intention of remodeling every room. However, if you've ever bought a fixer-upper you know it can take time. One of my biggest requests to update the light fixtures in the dining room and hallways was put at the bottom of the list. Almost ten months since we closed on our Colonial, I am excited to share that we have new lights! These are the before and after photos of our dining room and hallway light fixture upgrade with the help of Kichler Lighting.
The results: Dining Room
Our dining room is an important area for family dinners since we currently do not have a kitchen table. We gave the dining room walls a makeover, but the ugly light fixture was an eye sore. The original gold 5 light shaded chandelier was outdated and gave off poor lighting. It also flickered and appeared rusty.
Even with light paint on the walls and personal touches, the light fixture remained a sight for sore eyes. Don't get me wrong, I know some people actually liked the gold shaded chandelier, but it wasn't our style. We wanted a farmhouse style chandelier in a wood finish.
A few months ago, Kichler Lighting and I teamed up together to upgrade the light fixtures in our home. I perused the Kichler Lighting website for light fixtures and the Peyton 5 Light Chandelier in White Wash Wood caught my attention immediately. The mixture of farmhouse and industrial style, as well as the sleek design, is exactly what I always envisioned hanging above our dining room table.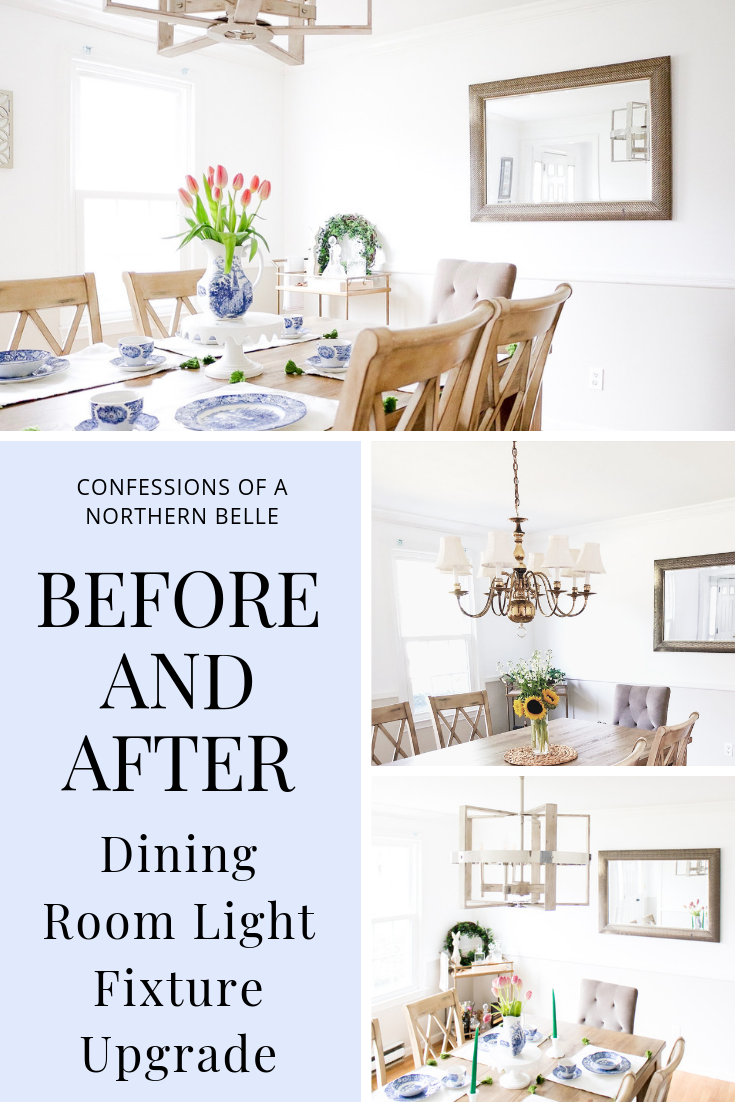 The results: Entryway and Hallway
The previous owners of our home installed gold lantern style pendants in the entryway/foyer and downstairs hallway. These light fixtures were also old, outdated, and rusty. Thankfully the Peyton collection at Kichler Lighting contains flush mount lights too.
The Peyton 3 Light Flush Mounts in White Washed Wood make such an incredible difference to the aesthetics of our hallways. These areas of our home are less formal and more comfortable now. The old fixtures also gave off a dull, yellow glow, while the Peyton 3 Light Flush Mounts are warm and bright.
Upgrading the light fixtures in our dining room and hallway is officially crossed off my home improvement wish list. A huge thank you to Kichler Lighting for their incredible customer service and quick shipment process! I was able to send my Kichler Contact a few photos of our current light fixtures, so she could help me determine which fixture type would best fit my home. Lastly, we are thankful for my Uncle who gave us his Saturday to install each light fixture.
If you are interested in upgrading the light fixtures in your home, check out Kichler Lighting for an incredible selection!
**I received these light fixtures in exchange for my honest opinion. Thank you Kichler Lighting for the help updating our new home!**