Considering how much time I've spent on the Cape, I have not seen as much as I would like! But, a few friends have asked for a list of my favorite places to go and I thought I'd share my Top 5 Places to Visit in Cape Cod in case you ever visit.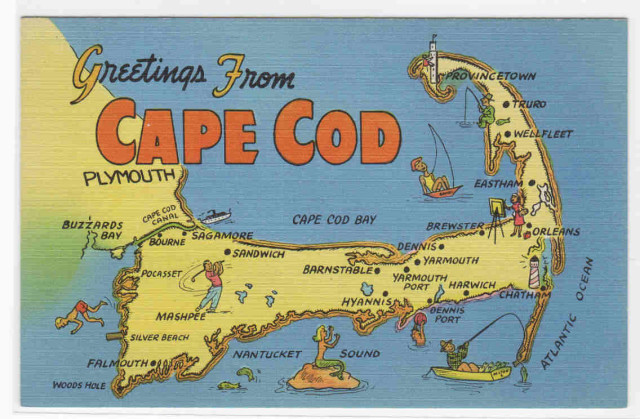 Cape Cod will always hold a very special place in my heart. It's where my Grandma's ashes were scattered, where my husband proposed, and where I have been going every summer with my family for the last 10 years. We are creatures of habit, so we often stay in the same town and visit the same beaches. We love to cook dinners at home, but make a point of going out to eat at least once a week.
1. Wellfleet Town Center
Hands down my favorite place to go for groceries! Whether you stop by Hatch's Fish Market for lobster and little necks, or Hatch's Produce Market for romaine and cucumber, or Wellfleet Marketplace for fresh bread, you're going to find the freshest, tastiest items on the Cape.
2. The Beachcomber 
 There are a few different reasons why I love The Beachcomber. 1. The food is delicious (try their clam chowder!). 2. Drinks are tasty. 3. The location is amazing – it's located in an old Lifeguard house at the top of the beach. You have to walk down a steep dune to reach the beach, but it's worth the walk! Oh and number 4 – it's where B proposed in August 2008.
3. Mac's Seafood 
 About four years ago my Mom, Dad, and I were wandering through Wellfleet looking for a place to eat dinner. We strolled up to Mac's Shack and left raving about the best seafood we have ever had! The atmosphere at Mac's Shack is fabulous – outdoor raw bar and cocktail bar set on top of a white shell floor alongside the Marsh.
If you are looking for  a quick lunch or dinner, check out Mac's on the Pier down the street. I ate their cold lobster roll and fried clam strips last week. SO good. Plus, its BYOB and you can sit right on the water at a picnic table with friends or family.
4. Provincetown 
 My Dad and Mom brought me and my sister to P-town when we were too young to remember the trip today. Apparently my 3 year old sister ordered herself a full lobster though. We make a point to visit P-Town at least once during our vacation. One year we were there for Carnival and they had a parade, live music, and fairies face painting throughout the streets. This year we found a great shop for children called Kidstuff, where I purchased the cutest onesie for Annabelle, a Peppa the Pig, and "Hello, Cape Cod!" book. You'll find so many different restaurants, shops, ice cream parlors, and interesting people in Ptown, so I definitely recommend a day trip! If you're feeling adventurous, hike the Pilgrim Monument or take a historic walking tour. You must eat at the Patio, where they have $1 shrimp, meatballs, and more during happy hour, and grab a cocktail at Pepes Wharf, which has the best view of the harbor!
5. Cape Cod Winery
 Cape Cod Winery –  Brandon and I visited Cape Cod Winery on our anniversary trip to Falmouth in October 2018. The Cape Cod Winery is owned by the most amazing couple who started doing tastings years ago right in their kitchen. The Winery is most busy during the warm months, but open year round. If you're visiting during January – March, tastings are appointment only, but the rest of the season you can pop in anytime they're open. Cape Cod Winery loves to have a great time on the weekends and during the spring/summer/fall you can find live music and food trucks on site. I tried six of their wines during my tasting and loved each one differently. We even took home a few bottles to enjoy until our next visit!
More Activities: There are countless ways to have fun on Cape Cod. My cousins took their children on a Cape Cod Pirate Adventure in Hyannis that they said was a blast! My brother and sister in law have explored numerous Cape Cod Walking Trails with my nephews and even rented bikes for a few of their day trips. We normally cook our own breakfast, but sometimes find ourselves at Hole in One in Eastham for the most incredible selection of fresh donuts, bagels, and sweet treats.
Favorite Beaches: Cooks Brook Beach for low tide fun and the most gorgeous sunset you've ever seen. Marconi Beach for waves and incredible sand dunes. Race Point Beach for seals and lots of space (its normally not crowded).