What are big emotions in children? How can you help a child with big emotions?
I have a child with big emotions. She's absolutely amazing on so many levels, but she struggles with managing her intense feelings every day. As a parent it is difficult to watch your child become consumed with intense feelings she sometimes cannot describe. It's even harder when she can't calm down. Over the last year, I've consulted with her pediatrician and different mental health specialists about ways to support her.
In my quest to learn more about big emotions, I interviewed a child health expert. Alexa Brown, LCSW. Alexa specializes in children, adolescents and young adults psychotherapy. During our conversation (listen here), we speak about everything from middle child syndrome to emotional dysregulation, perfectionism to calm down strategies for children, and everything else in between. I have compiled the most important takeaways and am sharing them in this article.
Note: Because there can be many different causes for big emotions in children, communicate with a medical professional before making any assumptions about your child. Sometimes a child may need a thorough evaluation by a pediatrician, child & adolescent psychiatrist, or other qualified child mental health professional. 
What are big emotions in children?
Big emotions can be defined as intense feelings which may often appear suddenly as a response to a situation. Big Emotions can include anger, fear, worry, anxiety, embarrassment, frustration, and even excitement. Children with big emotions may have sudden temper tantrums, unprompted outbursts, or difficulty self-soothing.
How to Help a Child with Big Emotions
Big Emotions are not bad emotions, but sometimes they may take a little bit more work to understand and manage. Parenting is hard enough without an added layer of emotional distress. However, it is possible to support a highly emotional child. Here is how to help an elementary age child having big emotions:
De-escalate the situation."Let's take a breath to calm our body and calm our brain."
Validate your child's feelings. "I understand you're upset. I get upset too." It's important for children to hear you say that it is normal to feel emotions.
Figure out the source of your child's big feelings. "I know a little while ago you were feeling some big emotions. Let's talk about why you felt angry/sad/etc."
Put a name to your child's big feelings. A lot of times children don't know which emotion they are experiencing. So even though they're feeling jealous, they may act mad. Try using a How Are You Feeling poster or feelings wheel (as seen below).
Teach your child how to cope with their big feelings. Journaling, deep breathing, drawing pictures, cool down corners, etc. – there are many ways for children to cope with big feelings. However, not every coping strategy works for every child – so you may have to try different coping strategies until you find one that works for your child.
Parents have to know how to regulate their personal emotions too. If you understand your own triggers and how to de-escalate your own feelings, then you will be able to help your child. I work on my personal coping strategies in therapy each week.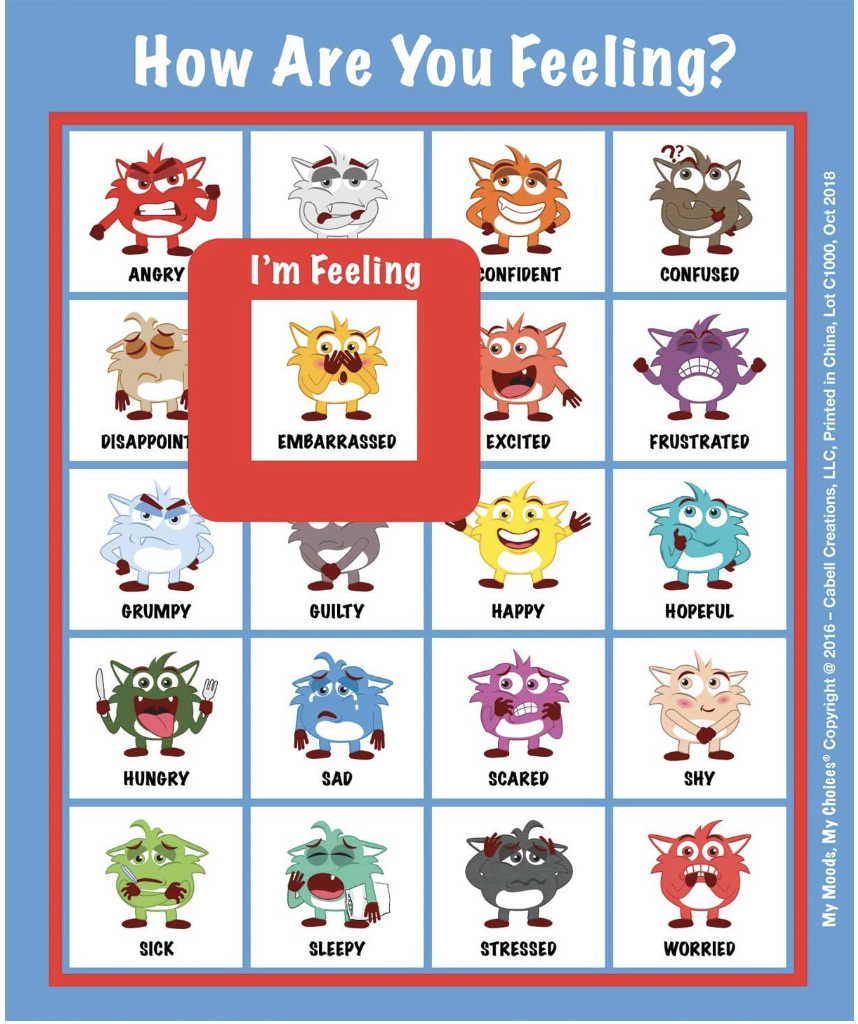 Perfectionism in a Child with Big Emotions
All children struggle with the need to fill two buckets: one for attention and one for control and power. Sometimes perfectionism in children is all about filling the control bucket. Children want to be able to keep what they can control under their control. If they can't, they may feel dysregulated – which leads to temper tantrums or meltdowns. If you have a child who strives to be perfect, it's important to focus on positive talk and the acceptance of mistakes.
Emotional Dysregulation in children is when a child experiences complications or difficulty with registering emotions, responding with emotions that are appropriate to the context, and regulating emotional responses in social settings.

Source
My daughter is a bit of a perfectionist – a term we don't use loosely because we are actively trying to help her navigate this innate personality trait. Before I knew about big emotions, I did not understand her meltdowns over big mistakes and self-conscious negative talk. She had anxiety about getting things 'just right' and lots of angry/sad feelings at school.
With the support of her teachers and mental health professionals (like Alexis), I have learned she needs a lot of boosts to her self esteem. We often highlight the process over the product, "Look at your hard work!" and point out her strengths whenever we can, "You are SO kind!" I really drive home the message that mistakes are normal and supposed to be made (even by grown-ups!).
How do you help a Middle Child cope with big emotions?
The middle child sees their older sibling with more control and power while the younger child may receive more attention. The middle child may then act out because she wants the same level of independence or attention as her siblings. One of the best ways to help a middle child is to build their self confidence and spend quality time with them.
As the middle child, my daughter with big emotions often feels jealous but has had difficulty describing the emotion. The first time I explained jealousy to my six year old was a profound moment for both me and her. Once we named the jealousy she felt about her sisters, she has been able to articulate when she is feeling this way instead of melting down.
Read more: Why is my 7 year old so emotional?
How can you help a child with rage?
Not all children are angry all the time – anger is just one of the easier emotions to feel so it is a common response in situations. As a parent of a child who often acts angry when she is feeling something else, we are working on her emotional awareness. We name different emotions and situations in which she may feel them.
Teaching your child strategies for calming down is so important when it comes to anger.
How do you teach a child to calm down?
Want to teach your child how to calm down – model the behavior! Deep breathing can work wonders when someone is feeling big emotions. Try to down on your child's level during a tantrum and say, "I hear you. Everything you're feeling is normal. Let's take a breath together. Breathe in for four and out for four. Once we have calmed down we can move on and talk about what happened."
Another way to teach a child to calm down is to walk away from the situation. I never realized I should tell my daughter it is okay to leave the room if she is having big emotions. Sometimes it is best to walk away from a situation to reset and calm down for adults too. If you're going to send your child to their room when they are upset, always keep them in eyesight and ear-sight to be safe.
If your child wants to go to their room, make a calm down corner. Add things for them to do with their hands so they can refocus their attention on something else until they are calm.
If your child doesn't calm down in a space or by walking away from the situation, ask him/her what can help them feel calm if they are mad or sad. Is it a hug from you or hugging a stuffed animal? Is it coloring or reading a book?
Try blowing bubbles with your child – it is impossible to blow a bubble if you're crying or angry!
Once your child has calmed down, always talk about the feelings they were just having. "What were you feeling in that situation?" "Why do you think you were feeling that way?"
How do parents manage their own emotions when a child is having big emotions?
It is important for parents to stay calm during their child's tantrum or moment of big emotions. Modeling the appropriate behavior for your child is one of the best ways to teach them how to act in a situation. We will, of course, make mistakes and react the wrong way from time to time. What does a parent do when they mess up? They point out their behavior to their child, acknowledging it wasn't the correct way to react, and model the right way to do it moving forward.
Children are more likely to change their behaviors if you are consistent with your own behaviors. That is why it's crucial for parents to model how to act when you're feeling different emotions.
Alexa says it can be helpful to ask yourself the following questions: What is my child trying to accomplish with this behavior? Does my child need a few minutes of my time? If I stop what I'm doing, will spending those minutes with my child make a difference in the rest of my day?
What are considered developmentally normal 'big emotions' vs concerning emotions?
All emotions are normal – even big emotions. However, if your child's big emotions are impeding their functioning at home and school on a consistent basis, then it may be time to speak to someone outside of the home. There is nothing wrong with asking for support from an expert or pediatrician on how to assist your child with navigating their big emotions.
Finally – never be afraid to ask for support from a medical professional! Because there can be many different causes for big emotions in children, communicate with a medical professional before making any assumptions about your child. Sometimes a child may need a thorough evaluation by a pediatrician, child & adolescent psychiatrist, or other qualified child mental health professional. 
At the end of the day… give yourself some grace. You're doing an amazing job just by seeking ways to support your child! And don't forget – adults need hugs too.