Read all about my self-care getaway at the Delamar Greenwich Harbor with Valmont Cosmetics Beauty Boudoir Event.
Self care is a priority, not a luxury. I am so excited to share the details from my overnight getaway to the posh Delamar Greenwich Harbor and Beauty Boudoir class with Swiss-based Valmont Cosmetics.
Delamar Greenwich Harbor
Every Mom should experience a night at a hotel alone, especially at the gorgeous Delamar Greenwich Harbor. The hotel offers opulent amenities and services, such as complimentary champagne on arrival, grab-n-go continental breakfast, and access to the Spa and iconic L'escale Restaurant & Bar. After 24 hours at the Delamar Greenwich Harbor I felt refreshed and renewed to go back to my Mom life.
Delamar Greenwich Harbor Spa
The Delamar Greenwich Harbor Spa is a full service day spa offering an extensive selection of massages therapies, facials and body treatments using Valmont Cosmetics products. We took a tour of the Spa after our Beauty Boudoir Event.
Valmont Cosmetics Beauty Boudoir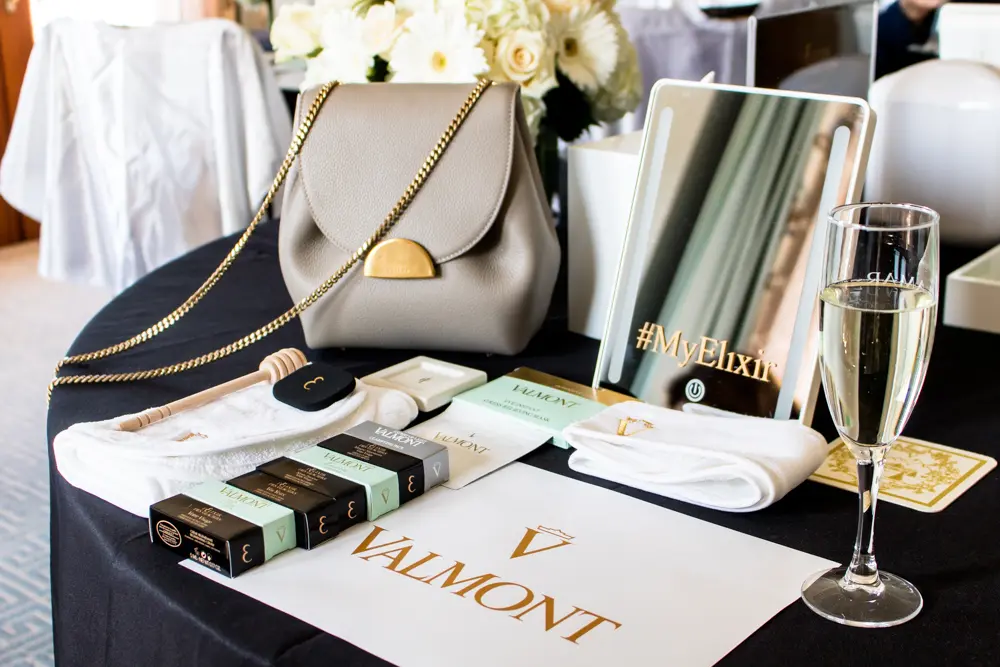 Valmont Cosmetics is a family owned brand dedicated to helping women and men master the visible signs of aging since 1985. Their use of Switzerland's best unspoiled natural resources combined with the latest cellular cosmetic research findings formulates incredible anti-aging skin care products.
The Beauty Boudoir class with Valmont Cosmetics teaches women how to rejuvenate her skin in 8 simple steps. I was most impressed with Step 2: Tone, as I did not realize the importance of applying a toner after cleansing. Instead of drying out your skin, toner restores the pH and moisturizes.
8 Steps to Rejuvenation with Valmont
Remove Makeup + Cleanse
Tone
Exfoliate
Face + Eye Masks
Intensive Cure
Serum
Face Cream
Foundation and Powder
During the Beauty Boudoir, Valmont Spa therapists were able to answer questions and guide us through the application of the most prestigious Valmont skincare products. From eye lifting serum to nourishing beauty oil, I am thoroughly impressed with the quality (and scent) of every product I applied to my face and neck.
My favorite part of the Beauty Boudoir event was experiencing Valmont's signature "butterfly technique" firsthand. The technique uses sweeping, upward motions of your hands while applying product to your neck and face. By moving the product upwards you are working against gravity to relax and re-energize your skin.
At the end of the Beauty Boudoir we were gifted the MASQUE MAJESTUEUX VOTRE VISAGE. This replenishing and rejuvenating luscious cream mask provides the ultimate nourishing experience for your skin. We also received a satin glow foundation, TEINT MAJESTUEUX, a satin glow which provides immediate nutrition of the skin, blurs imperfections, and softens fine lines. The Mask and Foundation brings luminance to the dullest skin.
Delamar Greenwich Harbor Cruise
Before dinner, we took a beautiful hour long cruise around the Greenwich Harbor. The girls and I enjoyed the sites of many beautiful homes, as well as the spread of cheese, crackers, and lots of chilled Rosè.
Dining at L'Escale
After the harbor cruise we dined at L'Escale, an excellent Mediterranean inspired restaurant. L'Escale (which means "port of call" in French) is attached right to the Delamar Greenwich Harbor and has views of the beautiful harbor. I enjoyed a decadent three course meal and the company of wonderful people. My favorite dish was local burrata, prosciutto,
roasted pear, arugula, and pomegranate seeds.
Thank you to the Delamar Greenwich Harbor and Valmont Cosmetics for inviting me on the most relaxing getaway!