There is nothing worse than disorganization and chaos while you get ready for school. Here are stress free ways to get kids ready for school quickly in the morning.
This is the first year we have two children in schools at the same time. For weeks leading up to the first day of school, my husband and I were anxious about adjusting to a different morning schedule. Thankfully, we prepared the family for the new routine with a few tricks. One week into the school year we have great success getting ready for school quickly and stress free.
Plan School Outfits Ahead of Time for the Week
Annabelle loves to put together her own outfits, but we sometimes disagree on her choice. Whether it's not matching or clothing for the wrong season, we've wasted a lot of time arguing in the past. To save time in the mornings, Annabelle chooses five outfits at the start of the week to wear any day to school. I approve of her choices, so all that's left to do each morning is get dressed.

Annabelle hangs her clothing on a shelf with hooks, but there are different ways to display the week's outfits. From knobs to a clothing rack, here are some great options to organize a week's worth of school outfits.

All of Annabelle's shoes are displayed in a hanging shoe shelf in the closet so she can choose a pair to go with her outfit. You could use hanging shoe shelves to organize socks and undergarments for the week too!

Establish a Bedtime and Wake-Up Routine
Children thrive on routine. A bedtime and wake-up routine establishes important habits for children, such as brushing your teeth. A week before the first day of school we implemented an earlier bed time. Our daughters spent the summer going to bed and waking up at different times each day, which would not work well during the school year.
Every night Annabelle and Ailey take a shower/tub, brush their teeth, eat a vitamin, and read books around the same time. In the morning, we allow the girls to wake on their own as long as they are up by 7:30am. If either girl starts to sleep in too late (or wake early), I'm going to buy a kids' alarm clock! After they wake up we follow a morning schedule to stay on track.
Save lazy mornings for the weekend! It's important to get ready as soon as you wake up on a school day instead of lounging around.
Follow the Same Schedule Every Morning When you Get Ready for School
Children do best following a routine, especially in the mornings when they just wake up. I made a schedule based off of the most important tasks my daughters need to accomplish before we leave for school. A schedule gives the girls a way to organize their morning.
The schedule is hung on a magnetic board in our kitchen command center. The girls use magnets to mark which task is complete while they get ready for school. You can also laminate the schedule and use a dry erase marker to check off each task.
Annabelle loves to take control of her morning by following the schedule in whatever order she wants. Ailey is younger and a little tricky to trust on her own. I guide her through the tasks she needs to accomplish right from the moment she wakes up.
Note: I always prepare school lunches ahead of time, usually while the girls are still asleep. Here is how to pack a well balanced lunch for your child.
Avoid the T.V. while You Get Ready for School
Morning t.v. shows always make my daughters crabby on days when we need to be productive. After they get ready for school, they are allowed to color, read, or play together in the playroom. Even though t.v. is a convenient way to spend time before we leave for school, I prefer happy kids at drop-off.
Family Command Center
Until we tear down the wall between our dining room and kitchen, the space serves as our Family Command Center. My husband and I have to use a dry erase calendar to keep track of important dates as well as a white board to record special notes. I use the hanging folders to store Annabelle and Ailey's school papers, as well as monthly bills.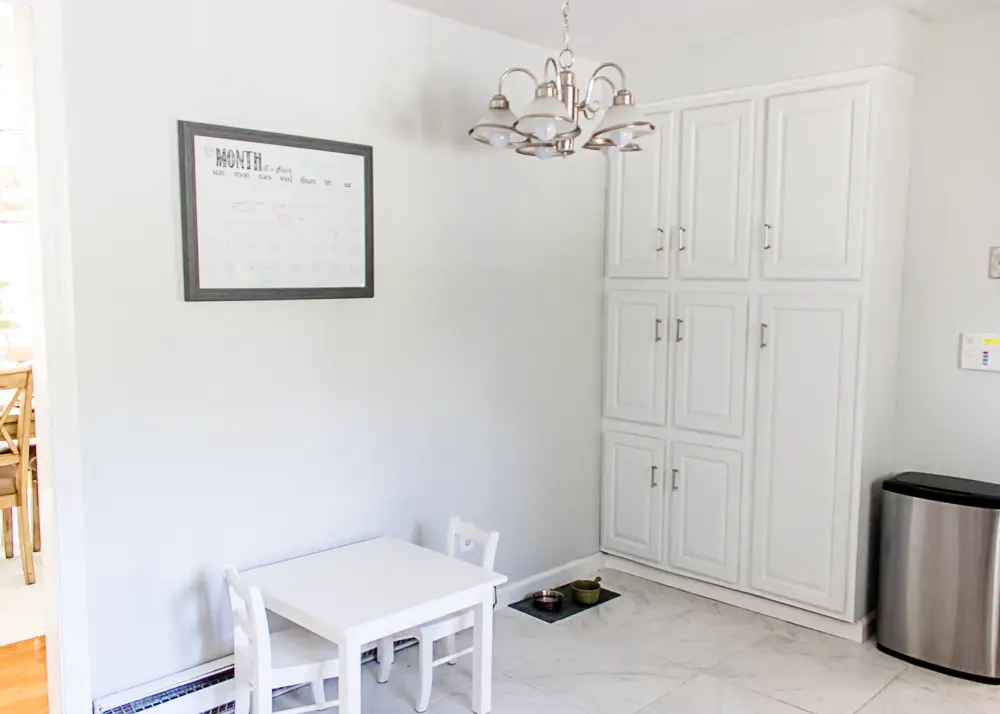 Family Command Center Must Haves


Not only does the area serve as a command center for the grown ups, but also the kids. Annabelle's Specials Schedule for school hangs on a metal board. She knows when she has to wear sneakers for gym or bring library books back to school.
I know we will only improve our morning routine throughout the school year! I'll be back with updates as we find more stress free ways to get ready for school in the mornings.
Looking for more posts like this? Read: "Survival Tips for Parents on the First Day of Kindergarten."