We sailed on the Disney Fantasy with my in-laws from June 1-8 to the Caribbean. This was one of the best family vacations ever and we hope to go on another Disney Cruise in a few years. If you missed Disney Cruise Questions Answered Part 1, check it out here first!
Disney Cruise Food
How was the food? AMAZING! I mentioned in my first post I've sailed on other cruise lines in the past – and the food is always delicious. What makes Disney stand out among the rest is the countless food options. From gluten-free to dairy-free options, there was something to eat for everyone. On the nightly dinner menu there is a section dedicated to lighter fare and vegetarian options. There is a grill by the pool cooking not only burgers and fries, but also plant-based dogs, veggie patties, and fish sandwiches.
What if I have a food allergy? Fear not, Disney has you covered. Prior to sailing, you can add allergy or dietary restrictions to your passenger profile. Once on board, the servers are also able to accommodate your requests.
We had the best server, Rajish, who called us his 'family' every night in the dining room. He gave the best recommendations (and told us what to avoid). He also noted Annabelle likes ketchup with everything on our first night! Alex took care of our drinks and used the girls' menu to make origami at the end of each meal.
Note: Kids are served first and quickly in the dining room!
What are some Onboard Expenses?
Alcohol. We had no idea we would spend as much as we did on alcohol. Like to drink but don't want to spend a fortune? Adults 21+ can bring a limited amount of alcohol on board – check the restrictions here. You can also purchase wine on the islands and carry it onboard to enjoy in your cabin or the dining room (cork fees apply).
Annabelle was able to visit the Bippidi Boppidi Boutique while Ailey napped one day. IT WAS AMAZING! The Boutique for kids offers mini princess or prince makeovers by their very own Fairy Godmother in Training. The Boutique is pricey – so be prepared so spend a small fortune if your child wants full costume, hair, and makeup.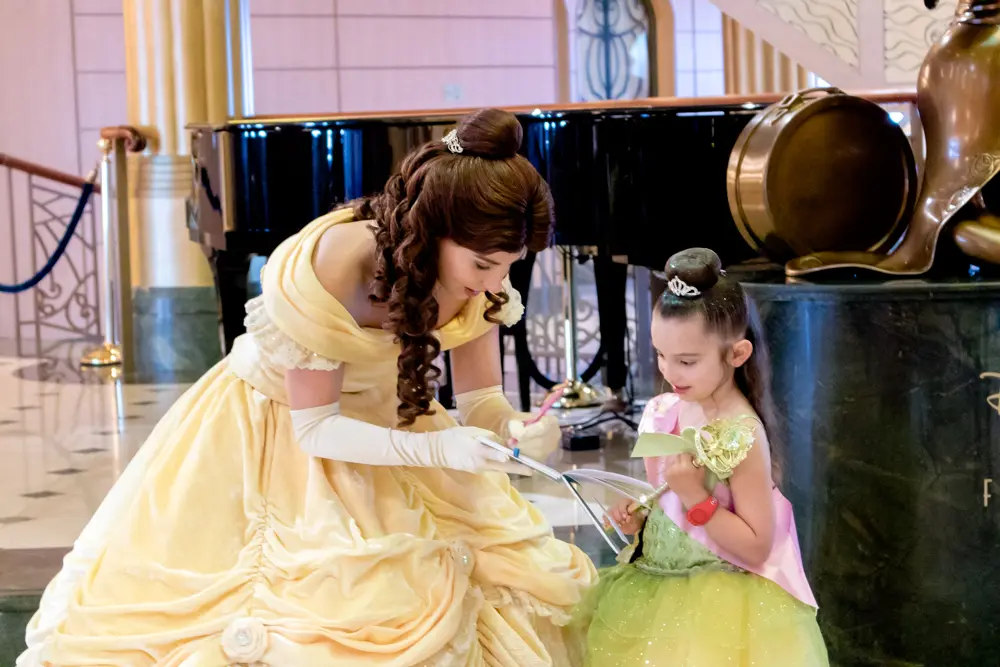 Other onboard expenses: spa services and specialty food/drink. Brandon surprised me with a facial one day on board and it was wonderful. There is a Smoothie Bar next to the gym where you can order freshly made smoothies for an additional cost. In the adult pool area, as well as inside the ship on Deck 4, there are specialty coffee shops.
What is the best way to book onboard activities and port adventures?
We booked our character visits and the Bippidi Boppidi Boutique BEFORE we set sail through the Disney Cruise Line website. Spaces fill up FAST for private character visits (free) and the boutique ($$). Once you are on the ship, you can book anything at the guest services desk or the port adventures desk.
Did you go on any excursions? We did not sign up for any port adventures before or during our cruise. With Ailey only being 2, she didn't meet the age requirements for most adventures offered. On our vacation we really wanted to relax on the beaches anyways. In both Tortola and St. Thomas we took a taxi to the beach. In Castaway Cay, we took advantage of the free beach chairs, rented ocean floats, and had fun at the character dance party.
Are port adventures Disney themed? Since we didn't participate in any port adventures I cannot answer that question!
What kind of characters did you meet? How were the interactions?
Annabelle and Ailey were beyond pleased with the number of characters they met on board (and at Castaway Cay). Every one of the Disney characters I loved as a child was on board – except Winnie the Pooh and his crew. Ailey almost fainted meeting her idol: Sofia the First, while Annabelle was in awe of every Princess.
We reserved a spot in the Princess Encounter to meet Cinderella, Ariel, Tiana, and Belle. Annabelle and Ailey also had a reservation to meet Ana and Elsa, but only Ana was present! Olaf took Elsa's place and he was great, but the girls were disappointed.
Make sure you bring an autograph book and thin felt tip markers – they're easiest for the characters to hold! Annabelle and Ailey had Minnie Mouse purses to store and carry their autograph book/markers – also convenient.
Motion Sickness
Annabelle is prone to motion sickness, so we worried she'd be sick the entire trip. I packed Kids Dramamine and only had to use it on the plane/shuttle bus! We did feel the boat moving quite a bit but no one felt sick.
What is the number one thing you wish you knew before cruising?
There is A LOT I wish I knew before cruising… but also so much information I read and ignored. Here are four important tips:
Download the Disney Cruise Line app BEFORE you leave home. You won't be able to download it on board the ship or even at the airport. The App is the best way to stay connected, receive information about daily activities, and keep track of your family.
Decorate your cabin door with Disney magnets! That's what all the cool kids do – and it makes it easier to find your cabin door when walking down the long hallways.
Pack a lanyard for everyone in your party – it's easier to wear your "Key to the World" card around your neck than risk it falling out of a pocket. They're much cheaper online than in the stores on board.
Carry on your own wine – the wine package for the week is so expensive.