Every time I leave my house I always make sure I have the following: BABY, keys, diaper bag, wallet. In my diaper bag, there is an assortment of items, items that I was told I would need at all times: wipes, diapers, burp cloth, change of clothes. Missing from this list is something I discovered I would need after Annabelle had her first diaper blowout when we were away from home.
It happened when Annabelle was three weeks old. B and I were pulled over in a Taco Bell parking lot on our way back from Tennessee so I could nurse the baby in the backseat of the car. After I was finished nursing her and about to put her back in her car seat, she gave me a look and I heard the unmistakable sounds of a poopy diaper being made. There was no way I could let her sit in her stinkiness for another hour, so I knew I would have to change her on the seat of the car. I had nothing to lay her on but her blanket and well… we got poops everywhere. It was disgusting and messy and I vowed to never travel without a changing pad again…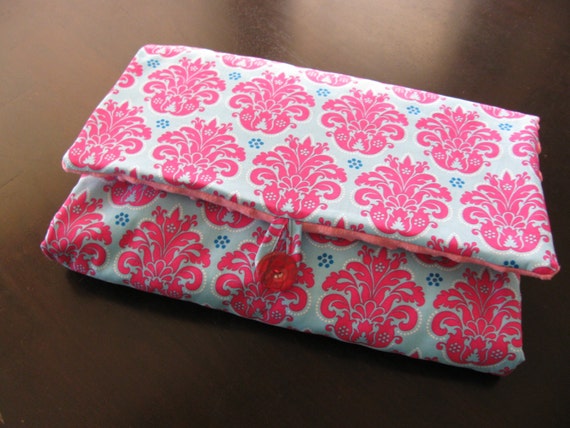 In comes Desert Baby's changing pad/diaper clutch. It is absolutely adorable and so clever! The changing pad is approximately 14″ x 24″. Each pad comes with a pretty patterned fabric on the outside and a soft cuddly minky fabric on the inside. There is also a layer of quilted batting in the middle of the pad, so your baby is comfy while getting changed.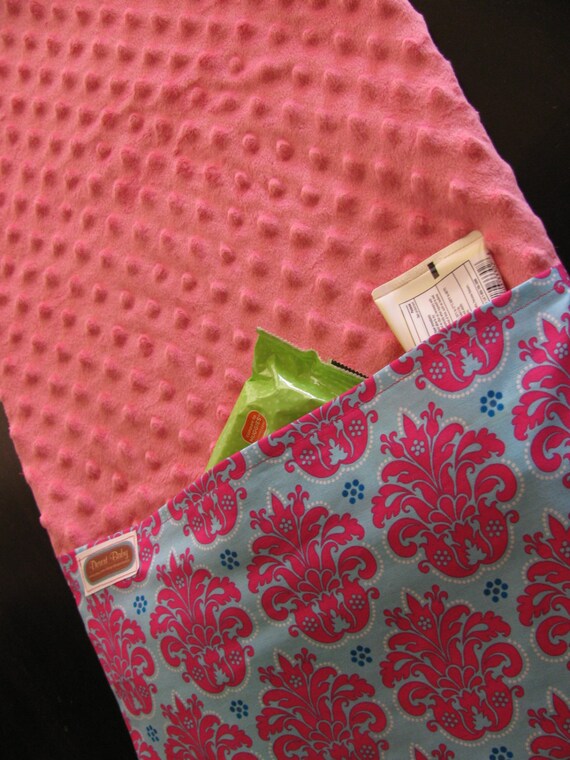 There is a handy pocket at the bottom of the changing pad that holds everything from clean diapers to wipes to diaper cream. You can also stick toys in there if you'd rather keep the diapers stored separately in your bag. When you aren't using the changing pad, you can fold it up and stick it in your diaper bag, the backseat of your car, or under the stroller! It is so convenient and MACHINE WASHABLE for the times that your little one has an especially messy diaper.
Annabelle loves this changing pad so much more so than the stiff foam mat that came with her diaper bag. Since we started using the Desert Baby changing pad, she likes to play on her back with her feet after I change her. Personally, I am obsessed with this changing pad not only because of how cute it is, but also how easy it is to toss in my bag! I always have diapers and wipes and a changing mat ready no matter where I am!
Desert Baby will customize any changing pad/diaper clutch in the colors of your choice. Personally, I love the teal and pink damask print and the pink minky fabric! I think that this would make an awesome baby shower gift for a new Mom or for yourself.
And lucky you! Use the code BELLE15 to get 15% off any purchase from Desert Baby.