I definitely got chills when I read that the tornado in Joplin, Missouri was the most deadliest tornado since 1950. The last I heard was 124 people perished in the storm.
The pictures… the live actual footage…I don't even know how to fathom it all.
The devastation is breathtaking – enormously shocking and devastating.
Mr. Bear's fraternity brothers are from there, but thankfully they were not home when it happened. My heart, strength, love, and prayers goes out to the people in Missouri.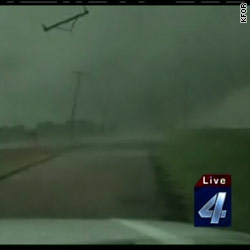 But what about the tornadoes that happened last night across Oklahoma, Kansas, and Arkansas?
Or these tornadoes that already have a page on Wikipedia:
An extremely large and violent tornado outbreak, the largest in United States history and popularly known as the 2011 Super Outbreak,

[

7

]

occurred from April 25 to 28, 2011. The outbreak affected the Southern, Midwestern, and Northeastern United States, leaving catastrophic destruction in its wake, especially across the state of Alabama.

[

8

]

It produced destructive tornadoes in Alabama, Arkansas, Georgia,Mississippi, North Carolina, Tennessee, and Virginia, and affected several other areas throughout the Southern and Eastern United States with a total of 327 tornadoes confirmed in 21 states from Texas to New York and even isolated tornadoes in Canada. Widespread and destructive tornadoes occurred on each day of the outbreak, with April 27 being among the most prolific and destructive tornado days in United States history.[8]
My in-laws live in Georgia and Tennessee…. they have been fortunate and spared by these disastrous storms. My mom-in-law and step-dad-in-law actually live in a town in Tennessee that has been ravaged by a tornado. I saw the aftermath in 2006 and was scarred for life. Houses looking like a Giant had stomped all over them, trees stripped of their bark, a bathtub where a family hid from the storm….
One of the things I am MOST frightened of are tall things I can't control… such as tsunamis… and tornadoes. When we lived in Knoxville, TN I used to freak whenever we would be ordered to hide in a basement after a funnel cloud had appeared.
I have added the "Tornado" to my list of things I pray about at night. I am praying for the victims and survivors of these vicious storms. I am praying that the tornadoes steer clear of my friends and family. I am praying that these tornadoes disappear and leave our poor country alone.
What are your thoughts on the recent "tornado outbreak?"
Why are they happening so frequently??