The third trimester can be difficult for many reasons: Braxton Hicks, swollen feet, the return of nausea, etc. Finding clothes that fit during the end of pregnancy is definitely the biggest adventure. Thankfully I found third trimester fashion not as challenging the second time around. Here are my favorite affordable third trimester outfits. *Updated 2019*
Tee shirts and Maxi Dresses
An easy affordable outfit to wear during your last trimester of pregnancy is a non-maternity tee shirt over a maxi dress. Layering the shirt over the tank top dress hides any insecurities with swollen pregnancy breasts. The maternity v-neck tees are longer and easier to knot, but regular v-neck t-shirts in one size up work well too.
Styling a non-maternity t-shirt over a non-maternity maxi dress is easy! I pull the shirt up over my bump and knot it on the side.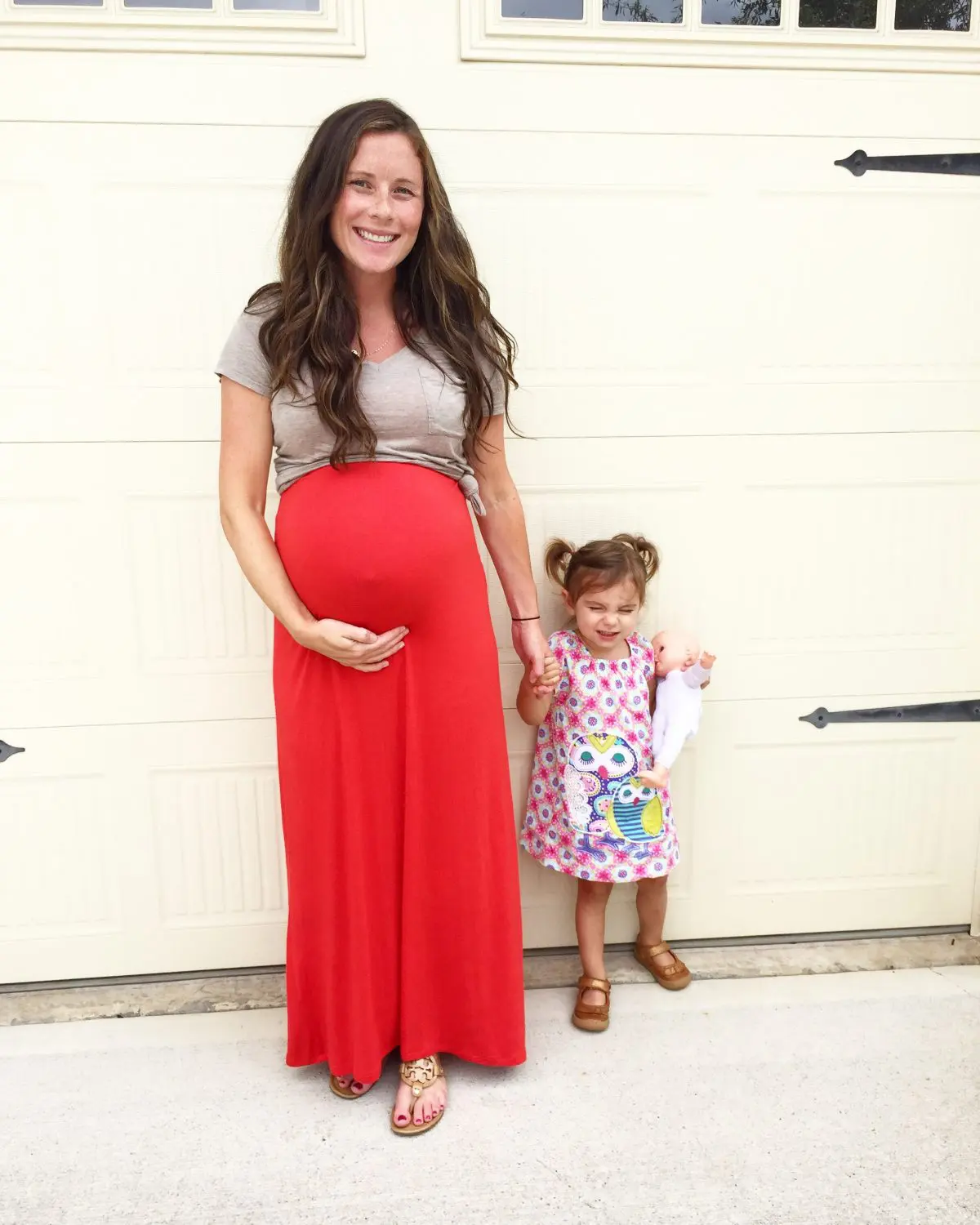 T-shirts and Cotton Shorts
Drawstring shorts are a pregnant girl's best friend. They are easily adjustable and comfortable. If I am not wearing a maternity v-neck tee on top, then you can find me in an oversized tee from Dress Up.

A Fitted Dress
My dress is not maternity from Old Navy. They carry a lot of fitted dresses that are perfect for third trimester bumps. A loose fitted short sleeve dress works as well, like this. I also love short sleeve fitted maternity dresses, like this one in black, because you can dress it up or down.

A Simple Maternity Maxi Dress
There are so many maternity maxi dresses available that are cute, comfortable, and perfect for your third trimester.
Dress by PinkBlush Maternity

The most expensive item of clothing I've worn is also my most worn item during my pregnancy. The Lululemon High Times pant is worth every penny for holding in a growing belly. They're comfortable, versatile, and great for anyone with varicose vein problems.
I own a few pairs in varying lengths and love that they stuck with me the bigger my bump grew. There were a few weeks that the pants didn't seem to fit, but that was when I was hot, swollen, and retaining water. At the end of my pregnancy, they've held me in and made me feel secure when I felt like I would explode. I never found any other leggings during my pregnancy that support my thighs and butt like Lululemon High Times pants.
What is your favorite third trimester outfit?