It's been over twenty years since I last visited America's Oldest, continuously-operating, Amusement Park, Lake Compounce. Over the weekend our family was invited to experience Lake Compounce; I was so excited to share a place that holds many fond memories from my childhood with my own children! Enjoy this peek inside our first family trip to Lake Compounce!
Our First Family Trip to Lake Compounce
Looking for a family friendly day trip in Connecticut? Head to New England's Family Theme and Water Park, Lake Compounce, in Bristol, CT. With more than 50 exciting rides and attractions, at Lake Compounce you can experience the perfect combination of world-class fun and thrills for all ages.
Brandon, Annabelle, Ailey, Arbor and I set out on Saturday morning for a full day of fun. We hoped to arrive right as the gates open at 11am – but ended up pulling in 45 minutes later. This was our first mistake! If you have young children OR if the forecast looks to be hot, I highly recommend arriving at the park when it first opens.
Note: There are two parking areas: regular and preferred. If you want to park close to the park entrance, the cost of preferred is worth it. Also, purchase your parking ticket online beforehand to save 15%!
How tall do you have to be to ride the rides at Lake Compounce?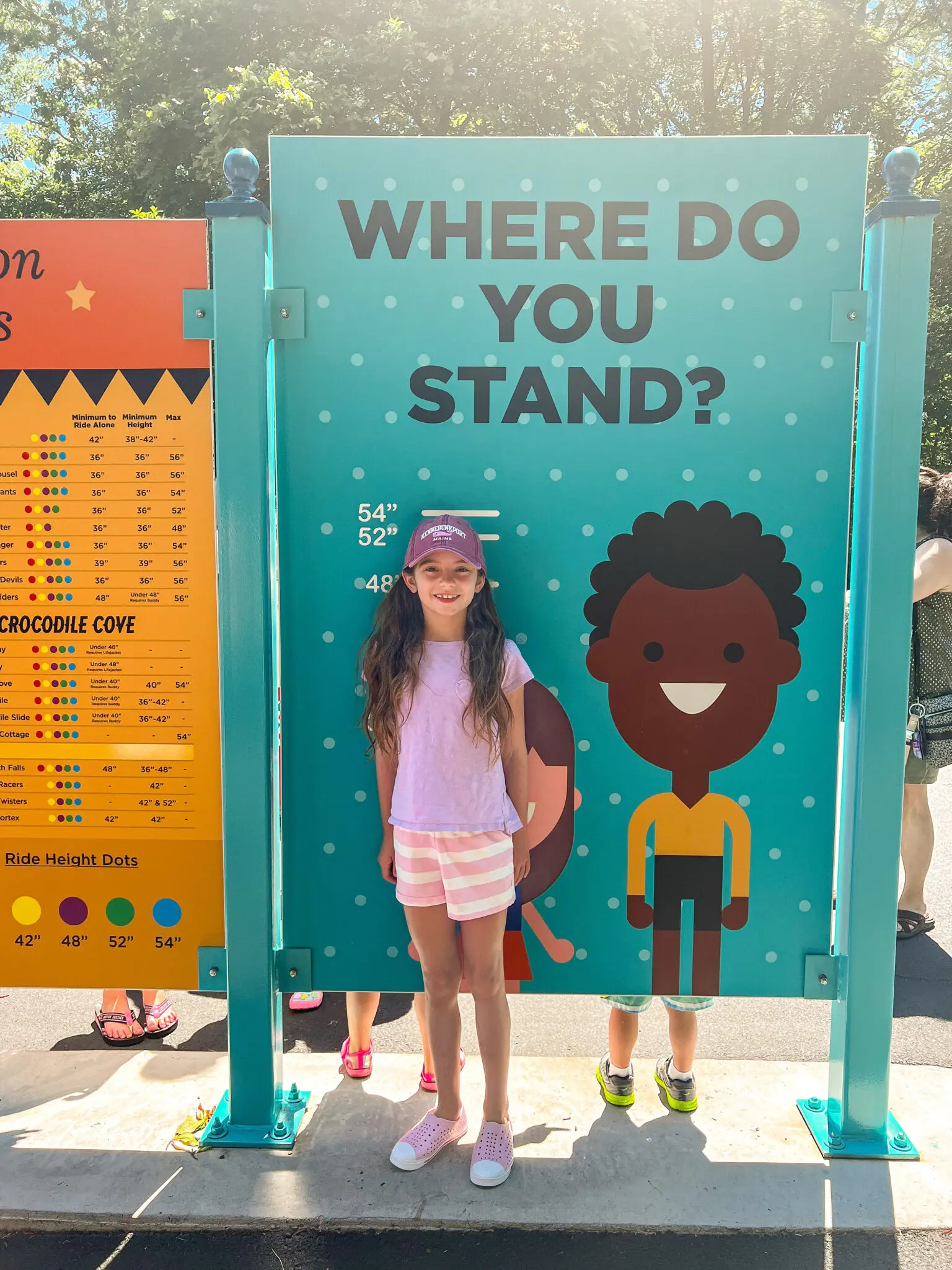 Before entering the park, we checked the height requirements for each ride. Annabelle is tall enough to go on almost every ride without an adult buddy. Ailey, on the other hand, required an adult buddy for the majority of the rides outside the Kiddy area. She was OK with this restriction since she isn't as daring as her thrill seeking big sister.
Note: For maximum safety, guests less than 36″ will not be able to ride any rides – even with an adult buddy. The park attendants measure every guest before they can enter a ride.
First Stop: Kiddie Land
Our first stop after security and a stop at guest relations for our tickets was Kiddie Land. Located to the right on Maine Street, Kiddie Land is home to Flying Elephants, Wave Swinger, Little Daredevils, Kiddie Bumper Cars, Drum Circus, Drop Zone and so much more. We did not experience any long lines for the children's rides!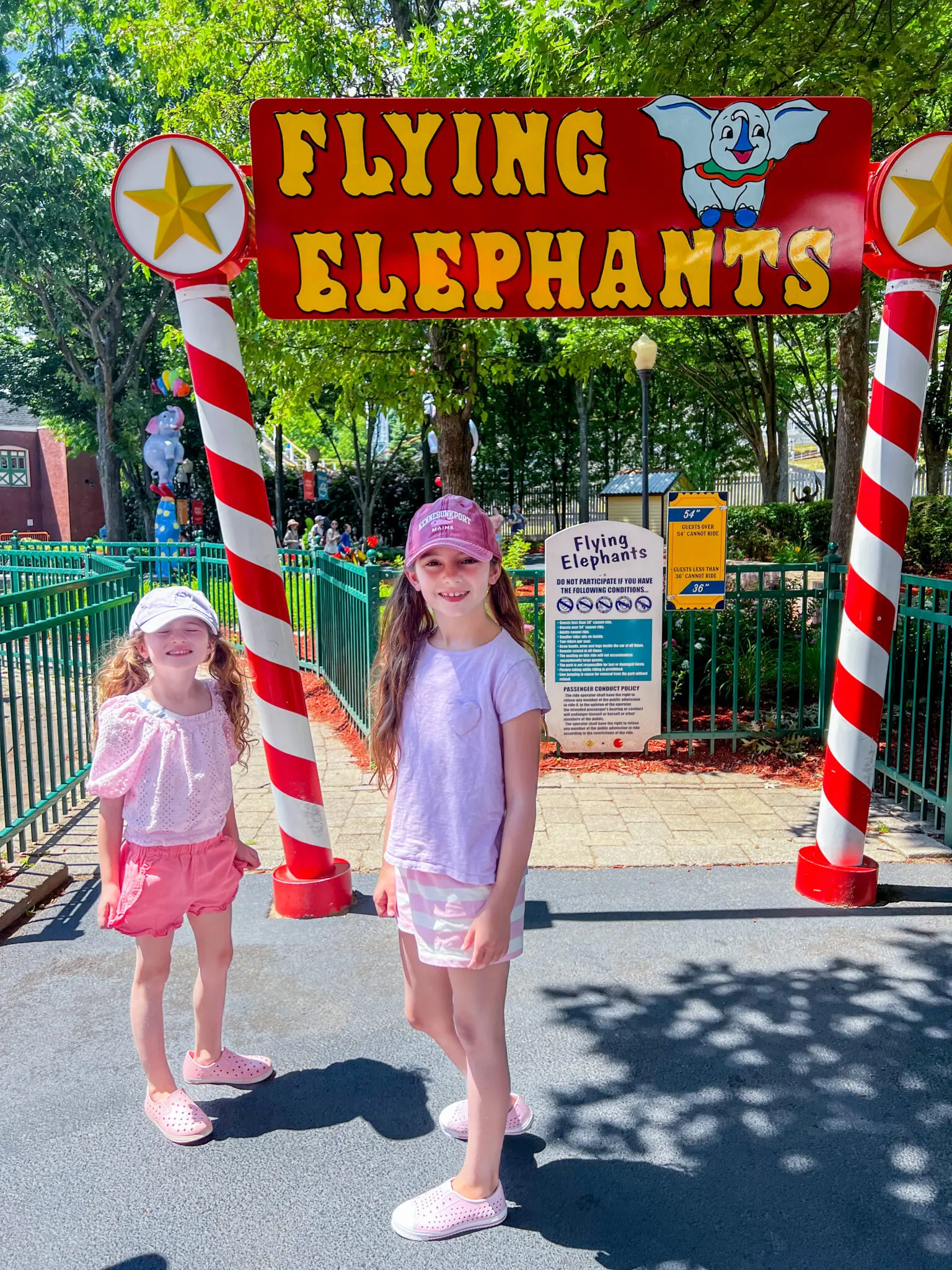 Are there family bathrooms/changing tables/nursing stations?
As a Mom of three little girls I am always appreciative for large, clean family bathrooms in public places. Not only do the restrooms have large handicap stalls, but there are also family bathrooms in Kiddie Land. I found changing tables in every restroom as well. Bonus: there is a Nursing Station next to the First Aid Center for any parents needing privacy while feeding their little ones.
Second Stop: The 'Big Kid Rides' + Rollercoasters
I will never forget riding my first roller coaster – the Wildcat – with my cousins at Lake Compounce so many years ago. During our trip to the amusement park my oldest daughter, Annabelle, also rode the Wildcat as her first roller coaster! Brandon and Annabelle rode the Wildcat two times and said it was so much fun!
Fun fact: The Wildcat is world's oldest roller coaster in New England!
Lake Compounce has a number of different kinds of roller coasters and other thrilling rides. The Boulder Dash, a roller coaster we have to go back and ride, has been voted the World's #1 Wooden Coaster five times! Annabelle was very excited to ride the Drop Zone by herself!
A family favorite ride is one where you get a little wet: the Saw Mill Plunge. This is normally my favorite ride at Lake Compounce, but I had to sit out to hang with our 6 month old, Arbor. Brandon and the girls rode it two times!
Fun Fact: Ailey will tell you to sit behind someone taller than you if you're scared of big drops!
Third Stop: The Carousel
Another fond childhood memory from my summers at Lake Compounce is The Carousel. The beautiful ride is one of America's oldest carousels, built in 1898 and moved to Lake Compounce in 1911. Brandon and I took turns standing with Ailey on The Carousel (she is too short to ride alone!). The ride is smooth, the horses are gorgeous, and the music is just as sweet as I remember it.
Fourth Stop: Bites and Pints Food & Drink Festival
Our final stop was the Bites and Pints Food & Drink Festival. We feasted on food from different regions of the country – like Northeast Lobster Rolls, Chicago Style Hot Dog, and South of the Border Chicken Tacos. I highly recommend buying a Bite Card to sample these incredible dishes; everything we ate was outstanding. The portions are generously sized and filling! Annabelle and Ailey enjoyed multiple orders of the Midwest Cheese Curds and a big Banana Split!
Final Thoughts about our First Trip to Lake Compounce
If you're looking for a fun family friendly summer activity in Connecticut I highly recommend visiting Lake Compounce. The park is suitable for guests of all ages, but children over 3 feet tall are going to have the most fun riding all of the rides. Aside from the Bites and Pints Food & Drink Festival, there are other plenty of other dining options. From burgers to pizza to ice cream, Lake Compounce has a little bit of everything. You can also bring your own reusable water bottles for the sanitary water filling stations around the park.
We are looking forward to visiting Lake Compounce again to take advantage of Crocodile Cove and the other water attractions. It was very hot during our visit and we would have loved to cool off in the lake. However, it was very busy by the time we made our way to that area of the park and the lines were too long for the little girls. If you visit on a hot day, don't worry – the amusement park has tons of shaded seating areas!