Happy June Friday Favorites! Today is the last day of school here in town and the weather is going to be gorgeous. We had a wicked heat wave that finally broke yesterday – and today it's going to be in the low 70s. That's New England weather for you.
The girls are very excited to create our Summer Bucket List, which will include going to the movie theater, dance camp, and day trips to the beach. Before we officially start summer vacation we have a packed weekend. Annabelle is playing in the town-wide soccer tournament and has two end of the year parties to attend. We also have my cousins' birthday pool party and my nephew's CT Cup semifinals game. It's still crazy to think how different life was just one year ago today.
Now it's time to share my June Friday Favorites…
The MGxFNxMH Dress Collection
Nantucket. Hydrangeas. Super Soft Material. Women supporting women. I'm SO excited to share the @mahigold x @its.fornow x @merhanson dress collaboration is finally LIVE. I first met Meredith Hanson last year while helping to organize a virtual painting class during the pandemic. I've been a fan of her artwork for years, so meeting her was incredibly amazing. I remember Meredith mentioning there would be a delay on her collab with Mahi Gold x Its For Now due to the current state of our world – so imagine my surprise when she asked me to be a part of the launch a year later!!
The MGxFNxMH dress collection highlights the beautiful outcome of a small group of female entrepreneurs collaborating and supporting each other. Who doesn't love women supporting women? In the spirit of female founders collaborating together, 10% of proceeds from the collection will be donated to Custom Collaborative.
Custom Collaborative is a BIPOC, female founded, non-profit, entrepreneurship program that supports women from low-income and immigrant communities to launch fashion careers and businesses. They're hoping to raise at least $5,000 which would cover a scholarship to the CC Training Institute for one student. When you shop these dresses you not only support 4 female founders, but also the female entrepreneurs of tomorrow. Not interested in a dress but love the cause and want to give back? You can donate toward our scholarship HERE.
15 Weeks Pregnant
Is it weird I still forget I'm pregnant? One of my June Friday Favorites is… I'm officially 15 weeks pregnant and Baby H is the size of a pear! I've still not fully felt that second trimester tiger blood energy, but I've had a taste of it. Naps are becoming few and far between, which is a bit of a blessing now that the girls are going to be home all day, every day.
I had my first bout of heartburn and threw up in my mouth this week – that is always a fun pregnancy symptom. I also noticed my gums are super swollen and bleeding more than ever when I brush my teeth. My shortness of breath is getting better now that I'm using my inhaler twice a day, but I'm still easily winded. Finally – my hormones are still raging, making me an emotional mess most days with a side of headache. I think that's all… for now. ICYMI – read my first trimester recap here.
P.S. We are going to share the sex of the baby this weekend – what do you think? Boy or girl?
More June Friday Favorites
Happy Pride Month! I am so honored my high school/dance friend, Shannon, offered to guest post on CHB this week for Pride Month. Through Shannon's volunteer work, she strives to educate and advocate for more inclusive policies and practices lGBTQ+ children. Read the post here: Resources for Families to Celebrate Pride Month
The Summer Skin Edit by Necessaire – I was so excited when Necessaire reached out to see if I'd like to try the Summer Skin Edit, which features three clean body care essentials packed with vitamins, nutrients and AHAs for dewy, glowy summer skin. I've been using the products for a week now and notice my skin feels more smooth and hydrated than before. Want 10% off your purchase? Use HOUSTON10 until Monday 6/14.
I've been thinking about lobster quite a bit lately – especially LOBSTER ROLLS – ever since we went to Maine. Then I stumbled across this article and now I want to drive all over New England trying to the best lobster rolls our region of the country has to offer!
Smocked Top Dresses – if you watch my IG stories then you know I'm on a hunt for smocked top maxi dresses. They are easy to wear in the summer with an always changing body and compression shorts. Some of you requested a list of places to shop for them this summer: Old Navy, Target, Hill House, H&M, Few Moda, Natural Life, Zara, and ASOS.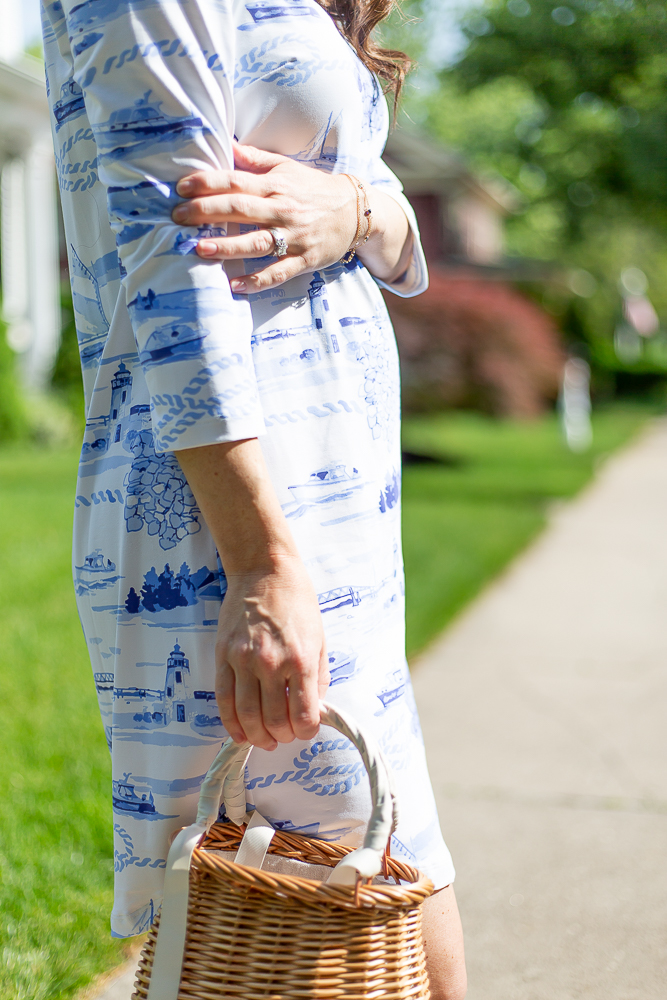 I hope you all have a wonderful weekend!