Shopping for a 20 something year old this holiday season and not sure what to get? Here are 10 gift ideas perfect for anyone in their 20s (from two amazing college students).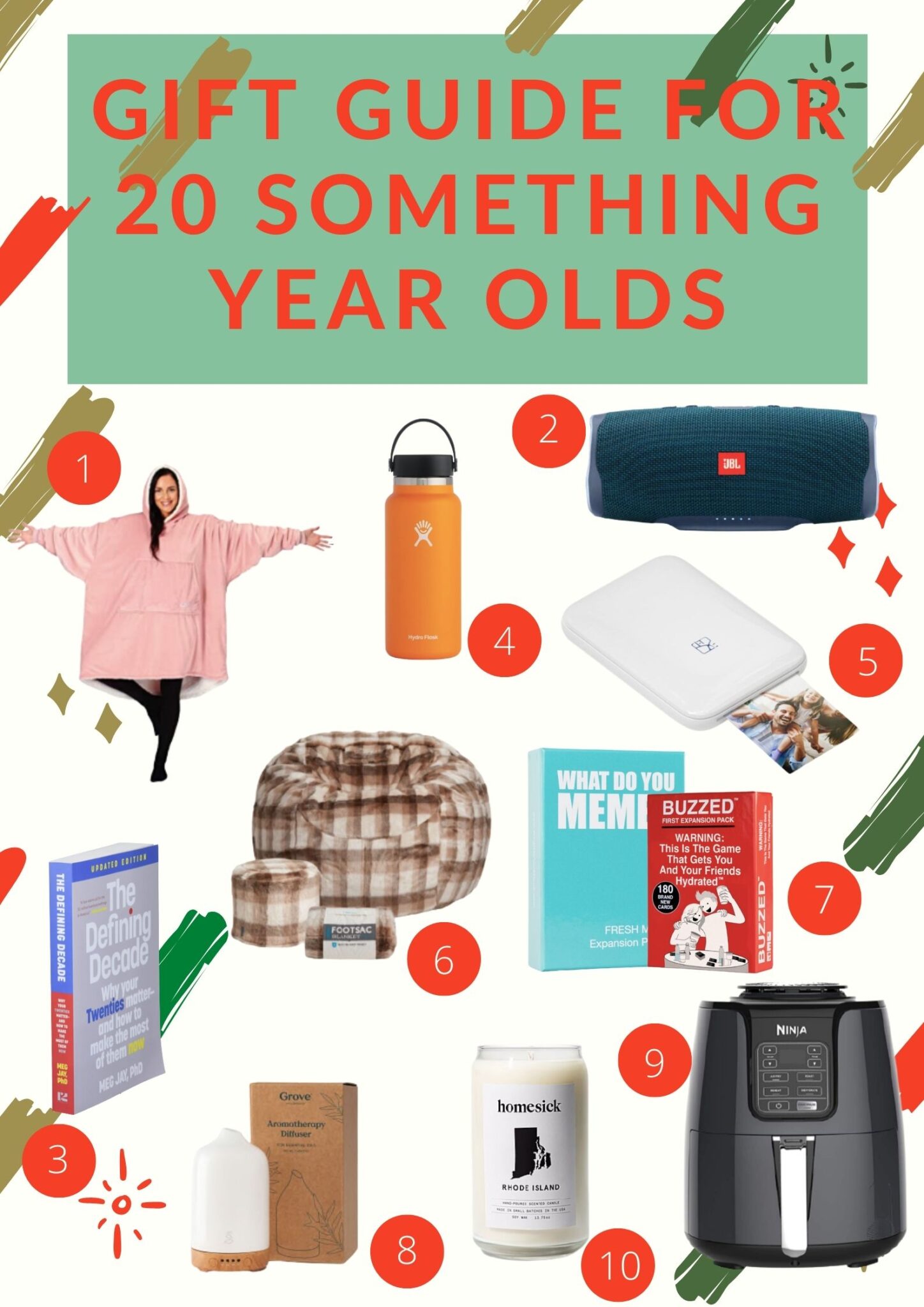 10 Gift Ideas for 20 Year Olds
1.) The Comfy – This is a wearable blanket AND the world's first of its kind that allows you to stay warm and cozy whether you're at home or on the go. I might even actually even get my own!
2.) JBL Speaker – A 20 something year old can take tunes on the go with the Bluetooth Speaker JBL Flip 5. These speakers are waterproof and you can pair two JBL PartyBoost-compatible speakers together for stereo sound.
3.) The Defining Decade – A book for the holidays? This book directly challenges the thirty-is-the-new-twenty culture. Through research and anecdotes from her time as a clinical psychologist, Meg Jay advocates for being intentional about how you spend your twenties.
4.) Hydro Flask – Made to be your go-to sidekick from class to the gym to the office! These are stainless steel water bottles that are vacuum-insulated and keep drinks cold and hot. They have the best color options and you can even customize it for your 20 something year old.
5.) Portable Photo Bluetooth Printer -The mini size portable printer is easy to take anywhere which is good for both home and travel use. This bluetooth photo printer makes printing easier and convenient. This will allow your 20 something year old save their memories!
6.) Love Sac – Sacs may look like a beanbag, but they're so much more. Filled with proprietary Durafoam™, and available in multiple sizes and Covers, Love Sacs are the closest you'll get to sitting on an actual cloud. Who needs a bed anymore??
7.) Adult Card Games- Check out some of these fun and silly adult card games! These games are perfect for night in with friends and laughs for all 20 something year olds.
8.) Aromatherapy Diffuser – Aromatherapy Diffuser diffuses cool steam into the air, elevating any space with its aromatherapeutic scents for up to 5 hours. Just add drops of our essential oils or essential oil blends to the water for at-home aromatherapy and home fragrance perfect for the holiday season.
9.) Air Fryer – Air fryers make it easy to whip up frozen foods, and they can do so in a way that is slightly healthier than deep-frying. The results are much better than oven-frying and your kitchen stays cool. Make cooking an easier chore for your 20 something year.
10.) Homesick Candle- Did you know that scent is the sense most closely tied to memory? In these state-themed candles, it's also tied to geography. Like the landscape, each of the states has its own scent profile that stays with you wherever you roam. These hand-poured, soy wax candles were formulated with input from locals in individual states for thoughtfully authentic aromas.
Looking for More Gift Ideas?
Kids Holiday Gift Guide : Click here
For Her Holiday Gift Guide : Click here
For Him Holiday Gift Guide : Click here
More About the 20 Something Interns Behind this Post…..
This fall semester I have had the pleasure of working with two students from Quinnipiac University. Coincidentally, both interns are studying Public Relations, from East Providence, Rhode Island and surprised each other at same internship! They are hard working, extremely creative, and an absolute pleasure to have on our team.
Cassandra is currently in the 4+1 program working on her Masters in Public Relations. Ashley is a senior who will be graduating early this semester with her Bachelors degree. They are both super excited for the holiday season and hope to see one of these gifts under their tree. Cassandra's favorite part of the holiday season is buying gifts for her family and friends to see their reactions. Ashley's favorite part of the holiday season is being able to spend quality time with her family.