Do you ever think about what you're going to snack on when your about to watch a movie? Once a month we get a local flyer in the mail that has short articles about new shops in town, coupons for restaurants, and different ads. Sometimes I find something interesting inside, but most of the time the literature is generic. This month I came across a pretty spectacular write-up which inspired this post – my favorite Christmas movie dinner pairings. Here are a few Christmas movie themed dinner ideas.
Home Alone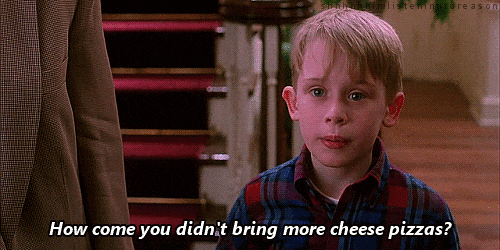 "Pizza Pizza!" and "Look what you did you little jerk," are two iconic quotes from one of my most adored movies of all time: Home Alone. I mean, I watched it during both of my labors after all. Since there aren't any good pizza delivery places within a 30 mile radius of our house, we make our own pizza while watching Home Alone. (We actually make our own pizzas once a week!) Sometimes I wish Little Neros was a real place because I bet their pizza is delicious.
The Santa Clause
Even though poor Scott Calvin destroys their Christmas Eve dinner, I still imagine my family enjoying mashed potatoes, turkey, gravy, and little dinner rolls while watching The Santa Clause. If you're not in the mood for a big meal, you can make Judy the Elf's hot cocoa with a side of sugar cookies.
Christmas Vacation
Whether it's the cat food in green jello or the fried turkey, if you want to pair something with Christmas Vacation I would steer clear of food from the movie. Eggnog can be your go-t0 instead. Here are The Best Uses for Eggnog, Besides Drinking It for some ways to eat your Eggnog. Since I don't like Eggnog, I would prefer to make martinis (like Ellen's Mom) and whip up a few appetizers or a charcuterie board.
Elf
I can't imagine eating spaghetti with syrup and candy, but meatballs and tomato sauce instead. An Italian themed night with your favorite red wine would go perfectly with Elf. If you have a sweet tooth, enjoy a side of Pop Tarts or ice cream sundae for dessert.
What would you pair to eat with your favorite Christmas movie?