Soup season is in full effect! I am sharing the Easiest Kid Approved Homemade Chicken Noodle Soup recipe, a little something I've been working on for a few weeks now. This recipe is simple, delicious, and heartwarming for chilly fall days. The secret: slow heat and chicken thighs.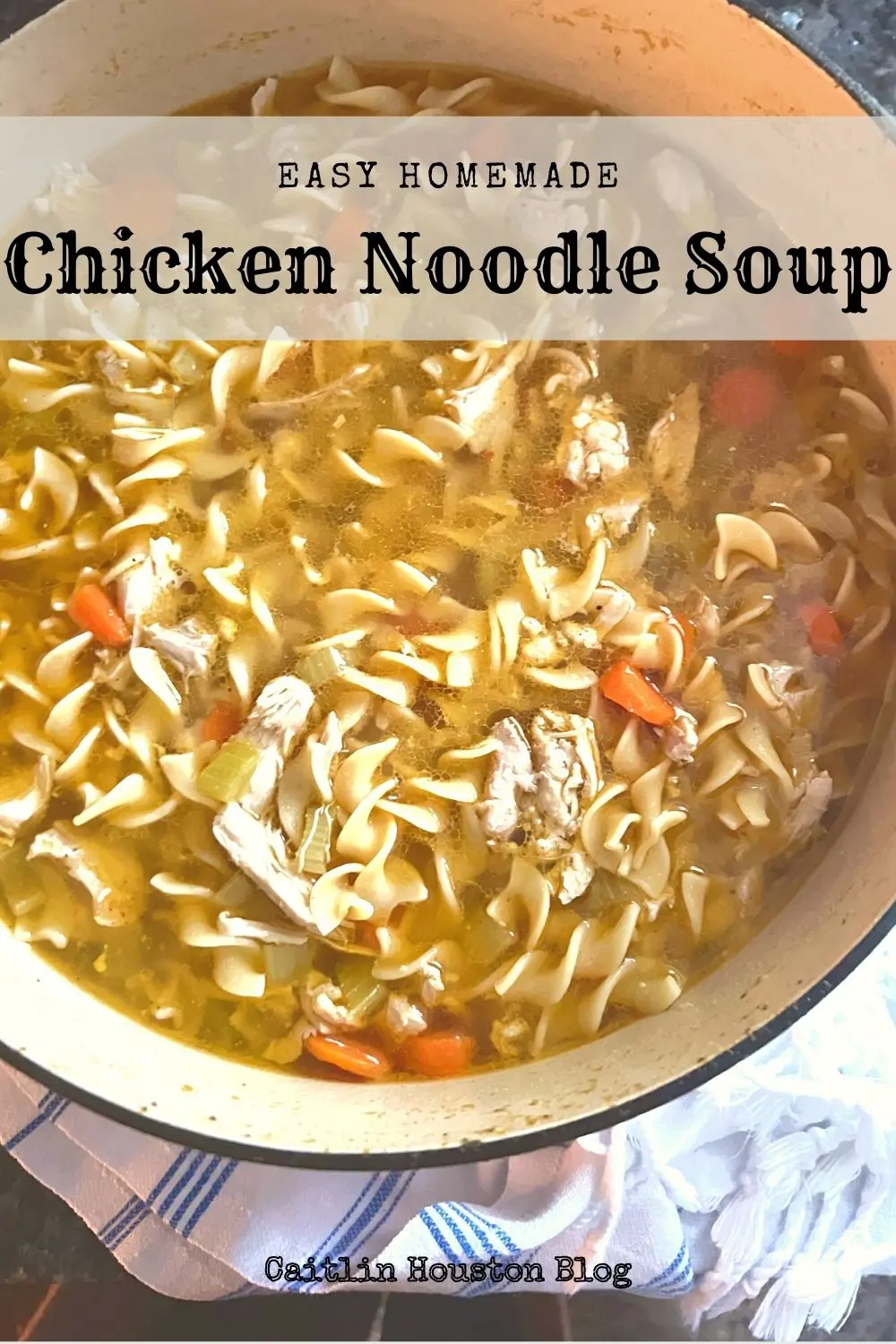 Secrets to a Delicious Homemade Chicken Noodle Soup
Homemade Chicken Noodle Soup is the best kind of comfort food because it's healthy, delicious, and easy to make. My family likes a lot of celery, chunky carrots, and extra wide egg noodles. This simply satisfying soup will warm you on the coldest of days!
If it were up to them, my daughters would eat soup every day for dinner. They love it so much it's often a request for school lunch too. I don't mind their love of soup, but Chicken Noodle has been a big request I never seemed to get right. The last two weeks I researched recipes, tried a few out, and came up with a final kid-approved Chicken Noodle Soup!
The biggest difference between this soup and my other attempts is the use of boneless chicken thighs. I don't know why I've never been a fan (perhaps its the coloring), but the meat is so much more flavorful and tender than that on a chicken breast!
Find More Kid Friendly Soups Here
How to Make My Kid Approved Chicken Noodle Soup
The chicken thighs are first quickly seasoned and cooked in olive oil in a dutch oven over medium heat. I like to have the sides sealed and a little crispy. Then I add chopped carrots, celery, and onion. The chicken and vegetables are covered in water and cooked with seasoning over low heat. I remove the chicken after 20-30 minutes, or when it's easily shreddable. Then I use a knife and fork to carefully shred the chicken on a plate. I dump the shredded chicken back into the dutch oven and add 3-4 cups of water.
Lastly, I turn up the heat to medium-high and add half a bag of egg noodles to the pot and cover everything with extra water (if needed). The noodles take around 10-15 minutes to cook, stirring frequently to ensure they cook evenly. I taste and season the soup as needed with salt, pepper, garlic/onion powder. One ingredient you will not see in my soup is the presence of fresh herbs – my daughters are very particular about green stuff in their food. Dried herbs are the solution and I always add them at both the beginning and end to flavor the broth.
The Easiest Homemade Chicken Noodle Soup
My homemade Chicken Noodle Soup is now a family favorite and must-make for dinner at least once a week. It's flavorful, heartwarming, and the perfect kind of comfort food.
Ingredients
2

lbs

boneless chicken thighs

1

tbsp

olive oil

(to cover the dutch oven)

3

large carrots

peeled and sliced

3

celery stalks

chopped

1

1/2

yellow onion

diced

1

tbsp

rotisserie chicken seasoning

(or garlic salt, onion salt, sea salt + pepper)

1

tbsp

garlic powder

1

tbsp

onion powder

1

tsp

dried parsley

1

tsp

dried oregano

sea salt + ground pepper

6

oz

extra wide egg noodles

(or half a bag)
Instructions
Season both sides of chicken thighs with rotisserie seasoning (or a combo of garlic salt, onion salt, sea salt + pepper).

Drizzle olive oil in the bottom of a dutch oven and warm over medium heat. Add chicken and cook for 3-4 minutes on each side.

Add carrots, onions, and celery. Add garlic powder, onion powder, dried herbs, salt and pepper. Cover with water. Cook over low-medium heat for 30-40 minutes or until chicken starts to break easily.

Remove chicken and place on a cutting board or plate. Use a fork and knife to shred or finely chop chicken. Dump the chicken back into the dutch oven. Stir.

Add the egg noodles and more water to cover the ingredients. Cook 7-10 minutes, stirring frequently.

Carefully sample the broth + noodles – if it tastes bland, add more seasoning! If there is too much seasoning, add more water and cook for 5 extra minutes.

Serve immediately with crackers or crusty buttered bread. ENJOY!

Note: If you like fresh herbs, use thyme and parsley!
Notes