No one minds I'm sharing the details of Ailey's One in a Melon First Birthday party three years after the fact, right? Ailey's watermelon themed birthday party was one of my favorite parties ever. From the watermelon cake, watermelon high chair banner, and homemade red and white decorations, the party was One in a Melon.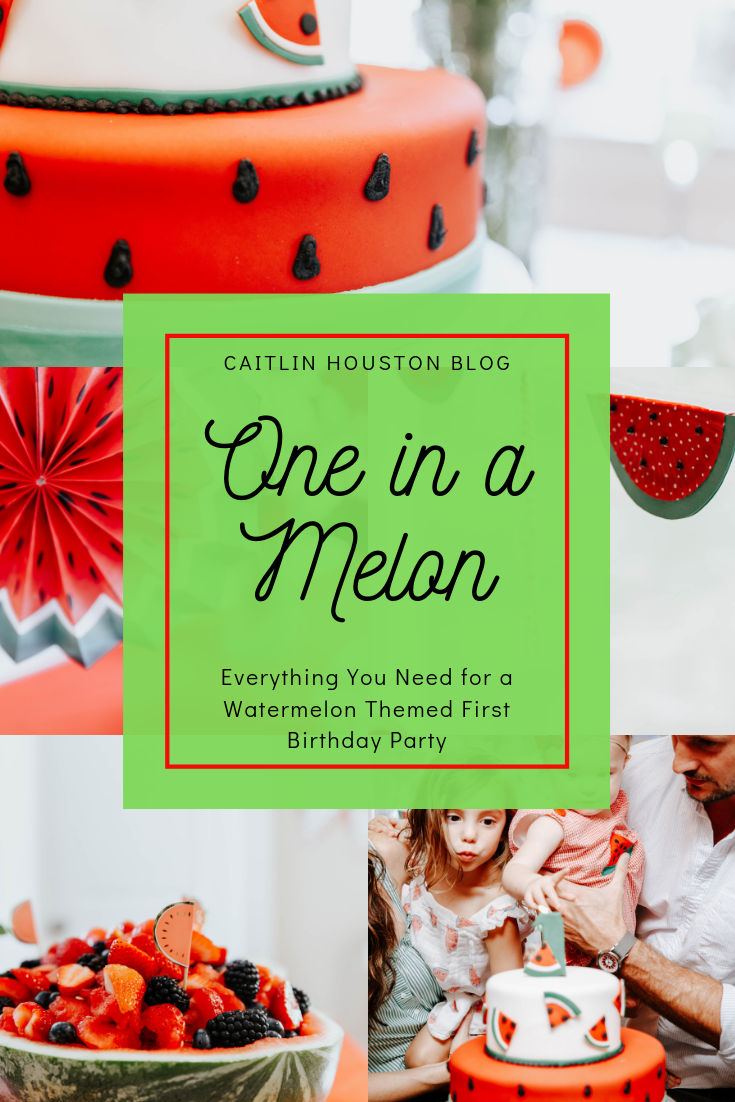 Watermelon Decorations
If you're looking to purchase watermelon decorations online, here are some great examples from Amazon:
First Birthday Chalkboard Sign

A first birthday isn't complete without a chalkboard sign featuring milestones from your child's first year of life. I purchased a digital file for the Watermelon themed chalkboard sign on Etsy and printed the poster at Staples, all for under $20. You can see more "one in a melon" themed chalkboard signs here.
Homemade Decor
My sister's mother-in-law is a crafty lady and she made a lot of the decorations for the party. She designed the birthday banner and a ribbon wall to display Ailey's monthly photos. We chose to stick to red, white, and green to match the watermelon theme.
We designed centerpieces from a combination of local farm flowers, grocery store flowers, and the blooms from my parents backyard.
Watermelon Invitations
The watermelon themed invitations for Ailey's first birthday were made through Basic Invite. You can read more about my experience with the invitation company here.
Birthday Party Menu
We featured a DIY Sandwich station, watermelon fruit bowl, fresh salads, and plenty of dips for the guests at our One in a Melon first birthday party. Everything on the table is quick to assemble and satisfying to eat.
A Watermelon Cake
Our local bakery, Alyssa's Cakery, makes amazing themed birthday cakes for every one of my family's birthdays. Read all about Ailey's Watermelon Themed Birthday Cake and Watermelon Slice Cake here.
Watermelon High Chair Banner
What first birthday is complete without a high chair banner? This One in a Melon banner is absolutely adorable and matched all of our decor perfectly. You can read more about the One in a Melon high chair banner here.
Annabelle had a tutu for her high chair on her first birthday!
Coordinating Family Outfits
For a watermelon themed birthday party I dressed the family in red, white or green. If you're looking for recommendations on where to find our family outfits, our clothes are no longer available online. Thankfully, Etsy has a great selection of Watermelon clothes for kids.
Want to see more of Ailey's birthday parties? See Ailey's Second Birthday: Peppa Pig Theme and Ailey's Third Birthday: Princess Theme