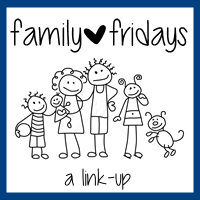 I just loves linking up with little Miss Stories of Kel and little Miss Not Your Average Crazy for Family Fridays because I get to dedicate a whole post to some of the most awesome people in my life!
I am sure that you've caught on to the fact that I am obsessed with my family.
You all should know where my family began… and that was with

my parents.

This April will mark their 40th wedding anniversary!
Sexiest Wedding Party Ever
I only wish I was so lucky to have had my bridesmaids wear puffy sleeves and sun hats.
Mom and Dad on their honeymoon
My mom is making the same face my sister makes when she wants to punch you
My Dad with my brother – circa 1970 something – Dad was about 22
Momma and my brother – Mom was about 23
New Year's Eve 1979
I want my Mom's dress
Shoulder Pads = sometime in the 80s
I know, I know, you are ALL jealous of my Dad's hair in every picture…
I only wish I had some more pictures to post of my parents,
but my Mom's scanner broke!
I can't believe that my Mom and my Dad have been married for almost 40 years. They have been through a lot together and brought THREE incredible children into this world. I am so very thankful to have them as my parents because they would do anything for us.
Lots of love to Noni and Gumps.
Hope you all have a Happy Friday!