Mystic Country is one of my favorite family friendly destinations for all seasons here in Connecticut. If you are planning a trip to this area with your family, here is my kid friendly travel guide for Mystic Country.
My family and I spent 24 hours exploring Mystic and Stonington a few days after the Christmas holiday. We had so much fun visiting the Mystic Aquarium, dining out at numerous kid friendly restaurants, and even watching a movie while swimming in a pool! If you are planning a trip to this area with your family, here is my kid friendly travel guide for Mystic Country.
Where to Stay with Kids in Mystic Country
If you're looking for a place to stay with kids in Mystic Country, check out the Hilton Mystic! Centrally located across the street from Mystic Aquarium and Olde Mistick Village, the Hilton Mystic has a restaurant, gym, and an indoor pool with a movie screen! This unique hotel is filled with beautiful historic photos of Mystic and fun experiences for kids – like a giant Pirate and a huge boat steering wheel.
Staying at a hotel with a baby can be difficult, especially when the baby goes to bed at 6:30pm. Thankfully, the Hilton Mystic has connecting rooms available. We booked two double Queen rooms with an adjoining door. I stayed in one room with Arbor and my husband stayed in the other room with the big girls.
Each room was equipped with a microwave and refrigerator, plus a small seating area, television, and full bathroom (with a bathtub!). We brought our own portable crib, but the front desk said they had one available if needed. The rooms were clean, spacious, and had comfortable beds!
Our daughters absolutely loved swimming in the indoor pool with 'dive-in' movie while their little sister slept in the room with their Dad. The water was warm and the movie was funny!
Kid Friendly Restaurants in Mystic Country
High chairs, kid friendly menus, and allergy accommodations are important when I'm looking for a place for my family to dine out. We have to consider a one year old, a six year old with a sesame allergy, and a nine year old with particular tastes. Thankfully, Mystic Country has a great selection of kid friendly restaurants with everything above!
Andiamo
Our first stop in Mystic was for lunch at Andiamo located adjacent to Olde Mistick Village and down the street from The Hilton Mystic. Andiamo is a family friendly Italian restaurant with a full menu featuring salads, pasta, pizza, and other traditional Italian entrees. The kids' portion of the menu has Italian staples like buttered noodles, spaghetti and meatballs, etc. The atmosphere is warm and cozy – but not too quiet to bring an overtired one year old.
We sat at a high top booth with comfy seats in the bar area. I was excited when they brought out an extra tall high chair to meet the table! Our waitress was so kind, asking about allergies and putting in our hungry kids' meals right away. She also brought our daughters crayons and a coloring mat – this is such a great feature to have at a restaurant!
Everything we ordered was tasty: cheesy garlic bread, House Mista salad (I LOVED this), Caesar salad, kids' meatballs, kids' chicken parmesan, broccoli rabe and sausage pizza and veggie vegan cheese pizza. Since I've been following a dairy free diet it was nice to see a vegan cheese option on the menu! I was also very impressed with portion sizing – our girls' were excited to have leftovers to bring back to the hotel.
Andiamo is a great restaurant to bring your family for a casual Italian meal. Not only was the food delicious, but the staff and service was amazing as well!
Rocks 21
My family and I enjoyed dinner at Rocks 21, a spectacular seafood restaurant located at Connecticut's most historic hotel, the Inn at Mystic. Rocks 21 has one of the best views in Mystic, as it overlooks the waterfront which hosts quite a sunset. We arrived at the restaurant just in time to see the sky turning vibrant shades of red and orange before the sun disappeared on the horizon.
Upon first glance, one may think Rocks 21 isn't a kid-friendly restaurant with its impressively sophisticated menu. However, Rocks 21 welcomes guests of all ages! Our server brought the older girls crayons, a fun activity sheet/menu, and lemonade in a kid cup. Their menu had all the favorites: cheeseburger and fries, macaroni and cheese, and pizza. Brandon and I ordered the Lobster Roll (omgoshsogood) and Prime Rib Special (he said it was outstanding!).
We enjoyed our meal beside a beautiful roaring fireplace with views of the water. We would've loved to try the dessert menu but were so full after dinner! After saying goodbye to the friendly table who entertained Arbor for a great portion of the meal, we headed back to our hotel.
Breakfast at The Irons at Hilton Mystic
I love to stay at a hotel that serves breakfast when I'm traveling with my kids. They always wake up super early with big appetites! The Irons at the Hilton Mystic is a family friendly full service restaurant with a great breakfast menu and also a delicious breakfast buffet. We were quickly seated by the buffet and provided a high chair (even though Arbor preferred to sit in my lap).
We tried a little bit of everything from the buffet – Annabelle was very excited about the possibility of never-ending bacon. The food was hot and fresh – both at the buffet and what we ordered from our server! The Irons is a family friendly spot for breakfast in the Hilton Mystic.
The Irons Restaurant is located in the Hilton Mystic and open for Happy Hour, Dinner, and Breakfast. They are known for a rotating dinner menu highlighting the best seasonal and local ingredients available, with an emphasis on seafood.
Breakwater at Stonington Harbor
Before we hit the road to drive home, we stopped for lunch at Breakwater at Stonington Harbor. This waterfront restaurant offers beautiful harbor views, a fabulous menu with seafood & more, plus a fun specialty cocktail list. It's bright and beautiful inside, with cozy booth seating available AND kids activity sheets and menus. The staff was so welcome and excited to have our girls in the restaurant. We enjoyed an incredibly delicious meal!
Having previously scoped out the menu at Breakwater, I knew I wanted to order oysters and the Lobster Cobb Salad. The oysters were fresh and the Lobster Cobb was so delicious, topped with a generous portion of sweet lobster. The girls ordered macaroni and cheese, broccoli rabe, french fries and the steak tips. There weren't any leftovers here – we all loved our dishes so much!
My husband and I hope to return to Stonington Borough when its warmer to eat outside at Breakwater. While driving through Stonington we noticed a lot of fun shops I'd love to peek into as well!
Things for Families to Do in Mystic Country
My family has visited Mystic, CT on three different occasions – each is always a unique and fun trip! During our recent excursion we explored Olde Mistick Village, wandered around Mystic Aquarium, and visited the iconic Stonington Borough Lobster Trap Tree.
Olde Mistick Village
My older daughters and I spent the baby's nap time popping in and out of shops at Olde Mistick Village. There are a wide variety of boutiques and stores, as well as restaurants and a movie theater. A family could spend quite a few hours shopping, eating lunch, and watching the ducks swim around the pond .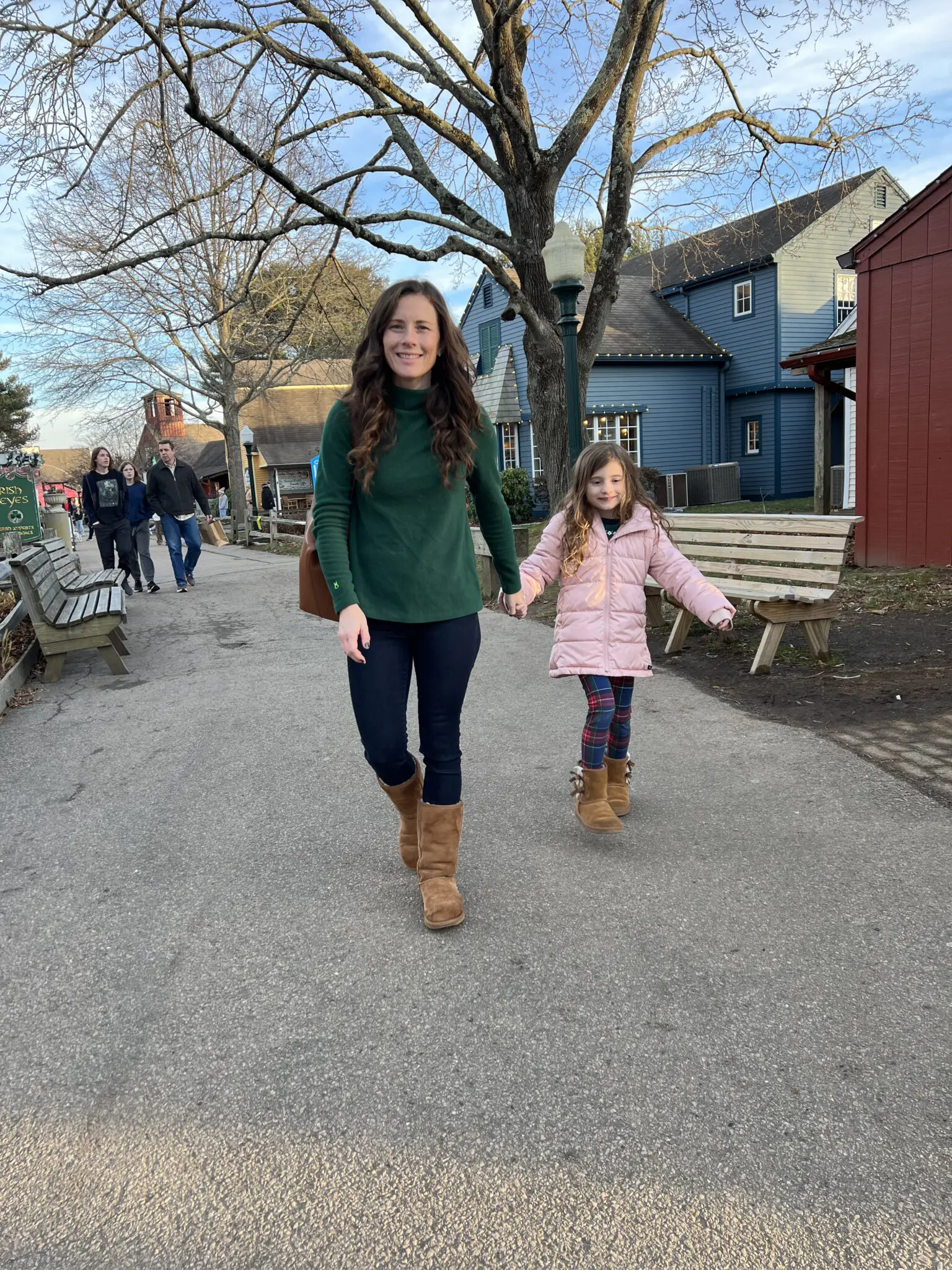 We returned to Olde Mistick Village when the sun went down to see the Holiday Lights Spectacular. It is the largest holiday light display in southern New England, totally FREE to the public, runs from mid-November through the end of January 2023. The girls LOVED running through the lights and the interactive displays.
Mystic Aquarium
My family loves visiting the Mystic Aquarium for a number of reasons – but our favorites are the Stellar Sea Lions, the African Penguins, and the Beluga whales. During our visit we learned that Mystic is the home to the oldest living male penguin! His name is Red Green and he is 35 years old. Unfortunately he was hiding when we stopped by the exhibit, but my girls said, "Hello Red Green!" anyways.
This was our youngest's first visit to the aquarium – and we hope to take her back when she is a bit older. We anticipated a less than enthusiastic reaction from her since her big sisters went to the aquarium around the same age. While she did enjoy looking at the glow in the dark jellyfish, she was a little angry she could not swim with the seals.
During this trip the older girls were able to experience a NEW installation called Undersea Explorer VR. The Undersea Explorer is an incredible virtual reality ocean journey! Annabelle and Ailey were able to swim with SHARKS and said it was one of the coolest things they have ever done!
Note: There is a height requirement for the VR experience. Admission is an additional charge and advanced ticket purchases online are highly recommended.
Want to read more about visiting Mystic Aquarium? We have a full recap of our first time there here.
Stonington Borough Lobster Trap Tree
Our final stop before heading home was to see a renowned architectural masterpiece: the Stonington Borough Lobster Trap Tree. I have never seen the Lobster Trap Tree in person and was quite excited to have the privilege to do so before it is taken down. My daughters and I stood in awe for quite some time, staring at the incredible painted buoys adorning the tree made of lobster traps.
Every year the six week long art installation promotes the talents of over 100 artists (local children included) and attracts tourism to Stonington. The buoys on the tree highlight the culture and history of the community by depicting town landmarks and community celebrations in some of the art work. It is truly a sight to see – day or night – and next I hope to return to see it all lit up!
There is so much more to see and do in Mystic Country that we cannot wait to return! We'd like to thank Mystic Country, Hilton Mystic, Andiamo, Rocks 21, Mystic Aquarium, and Breakwater for the wonderful 24 fun family hour getaway!