Life Lately in July is here despite the fact we have entered a new month. I'm particularly surprised at how quickly the summer month came and went. Here is a little summary of what we have been up to lately.
Life Lately in July
This month I started a new partnership with Monelle Vermont, an adorable boutique carrying so many of my favorite brands. Check out our first collaboration here and stay tuned for more seasonal try-ons.
Dream Dinners in July
Our family has been trying out Dream Dinners in July, an easy homemade meal delivery service. Dream Dinners takes care of shopping and meal prep for you – so all you need to do is cook your meal at home! I LOVE this meal service because the food is fresh and delicious, plus easy to prepare.
Check out these current offers and use code CAITLIN when ordering your Dream Dinners for August:
$15 off our Meal Prep Starter Pack
Offering of $10 off any delivery box
Also, Dream Dinners is running their Spring Flavors Sale. Medium boxes are discounted to $85!
Celebrating Dance in July
When the state closed down in April we sadly thought the dance season was over. However, our incredible studio pulled through to open back up in July following the governor's socially distanced orders. We all were able to spend four weeks dancing and on the first of August, the studio put on the most wonderful dance recital.
Ailey's First Dance Recital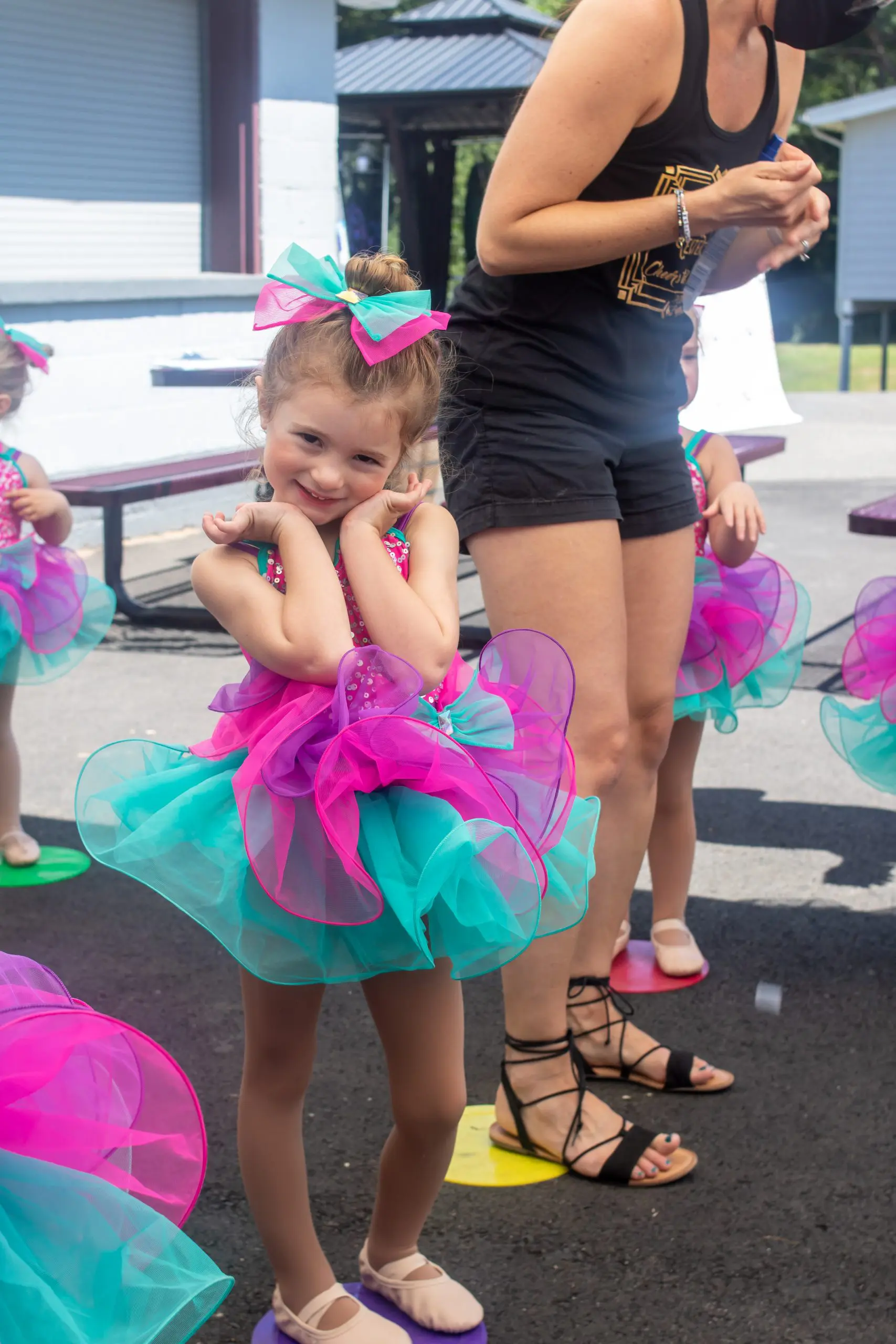 We always said Ailey was born to perform on a stage – and she did SO wonderful in her first dance recital. Little kids are cute no matter what they do if they wear a tutu and twirl to "The Goldfish Song" – but Ailey, she rocked her dance.
Annabelle's Fourth Year and Mini Company
It's hard to believe this was Annabelle's fourth year in dance and first as a member of our studio's Mini Company. It feels like yesterday she was ready for her first ballet recital while we lived in Georgia.
We love watching her confidence grow on stage year after year. The more comfortable she becomes, the more she shines, even as she learns new dance styles. Annabelle's Mini Company team were supposed to perform in their first dance competition during the spring. However due to Covid-10 the competitions were cancelled. Here's to hoping we can see the group compete in the fall!
I am also a member of FDC and was SO excited to dance for an audience this year. However, our adult class performances were pushed to next year. Instead of dancer, I was able to play the role of Dance Mom well (and loved every second of it). Dance is one of my favorite ways to relieve stress and I look forward to going back in the fall.
Other bits of July
For two weeks in July we stayed at my parent's house while Brandon self-quarantined after traveling to Georgia. The month seemed to go by extra fast while we counted down the days until we could go home. Here are some more snippets from July 2020.
August Plans
Our family is gearing up to go on our annual Cape Cod vacation this weekend. We've been visiting Cape Cod every summer since 2008 with my parents and siblings. Each year our group grows with new additions – this year we will all stay in the same vacation rental too!
Ailey is turning FOUR on August 15th!
Every year we are in Cape Cod during Ailey's birthday week. For her fourth birthday we will be heading back to CT, but plan to surprise her the night before with a Sofia the First party. Ailey has requested a bike for her birthday gift, as well as walkie talkies and a microphone with a stand.