Who is looking for Last Minute Father's Day Gifts? There aren't many shopping days left, so I am sharing a few easy gift ideas for Dads. Even if you can't procure the gift by Sunday, have your child draw a picture of the present to insert in the Father's Day card. Enjoy!
Before I get to 8 Father's Day gift ideas, I want to share 10 Thoughtful and Inexpensive Father's Day Gifts.
Make a photo album – it costs very little money to print photos at your local pharmacy!
Organize his sock drawer – I don't know about you but both my husband and my Dad are always looking for the 'other' sock.
Bring Dad breakfast in bed
Make an invitation to a family game night – our girls' Dad LOVES to play board games!
Design a few "Good for One" tickets for Dad to redeem – a back scratch, his favorite snack from the cabinet, help in the yard, etc.
Offer to do chores around the house – specifically the chores Dad despises most (like laundry + dishes)
Bake his favorite cookies or cake
Wash his car – what Dad doesn't love a shiny clean car?
Clean the inside of his car
Write a Father's Day poem or fill out this worksheet.
My husband loves to spend time outside during the summer, especially in the evening by our outdoor fire pit. I know a lot of Dads who received this Solo Stove Smokeless Fire Pit for Christmas and birthdays this year – it would make a great gift for Father's Day too!
One of my husband's favorite gadgets is a portable bluetooth speaker. He brings it everywhere because it's wireless, waterproof, loud, and holds a battery for a long time. Brandon has packed it for vacations and day trips to the beach.
3 // A Beer Club Subscription – Last Minute Favorite!
Craft beer is such a popular "thing" right now and my husband is huge fan. A Beer Club Subscription makes a great Father's Day gift.
4 // Backpack Cooler
Another Father's Day gift for Dads who like beer (or anything that has to stay cold) is this backpack cooler. My brother-in-law has one and brings it everywhere!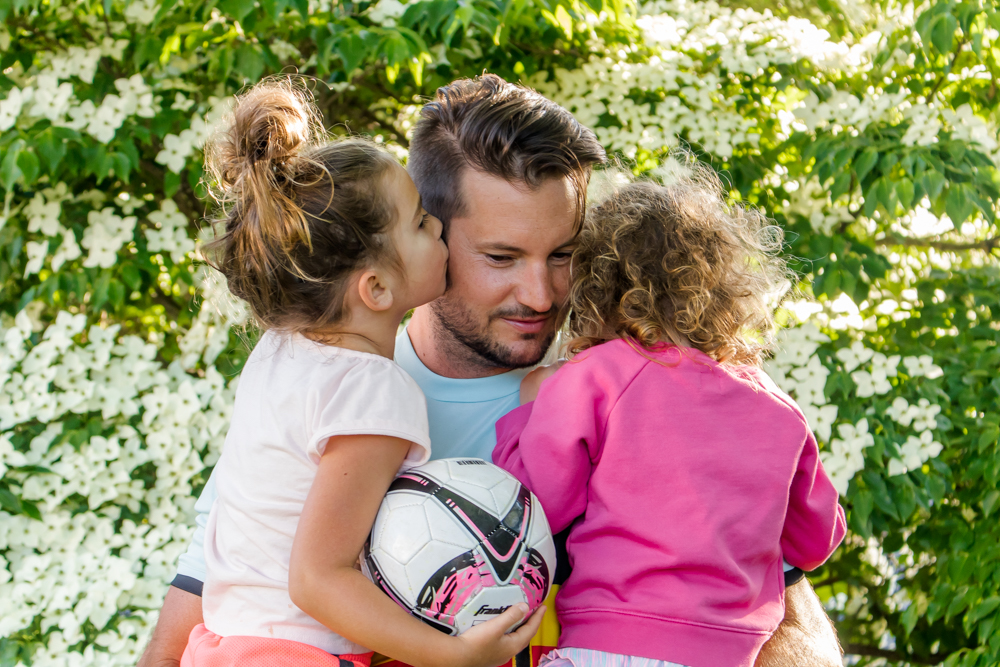 5 // Grill Tools
Grill tools are always a great gift for the Dad who likes to cook. This 16 piece stainless steel set comes with a storage kit so Dad can keep the tools organized.
Dads need wireless ear pods for many reasons, especially because the cord can get in the way when mowing the lawn or exercising. Wireless ear pods are a great Father's Day gift even if they are on the pricey side. This is what Brandon is getting for Father's Day!
Golf clubs, golf gloves, or anything golf related is always an easy gift for golf loving Dads. One of my favorite CT businesses, MonogramMary, has a lot of personalized golf gear for Dads!
A pair of men's smoking slippers are comfortable and practical for the warm months ahead. Smoking slippers aren't for smoking though – they are actually more like espadrilles. Brandon wears this brand all summer since they're breathable and long-lasting footwear.
Gift Ideas for Dads in Wallingford (or surrounding towns)
Breakfast or a GC to Neil's Donuts
Men's Facial, Massage, or other spa treatment at Serenity Salon and Spa or Nail and Wax Room (both great places!)
Gift card to Back 9 Social OR a round of golf at a local course
Gift card to a local brewery: Center Street Brewing Company, Yellow King Brews, Front Porch Brewing, Cliffside Brewing, New England Cider Company
A Dad Basket with treats or gift cards from his favorite places around town – restaurants, package store, ACE Hardware or other similar places, a deli, a winery, etc.