Do you want to knock down the kitchen wall to build a breakfast bar? Here are the details of our kitchen upgrade, removing half the wall and building a breakfast bar, with before and after photos.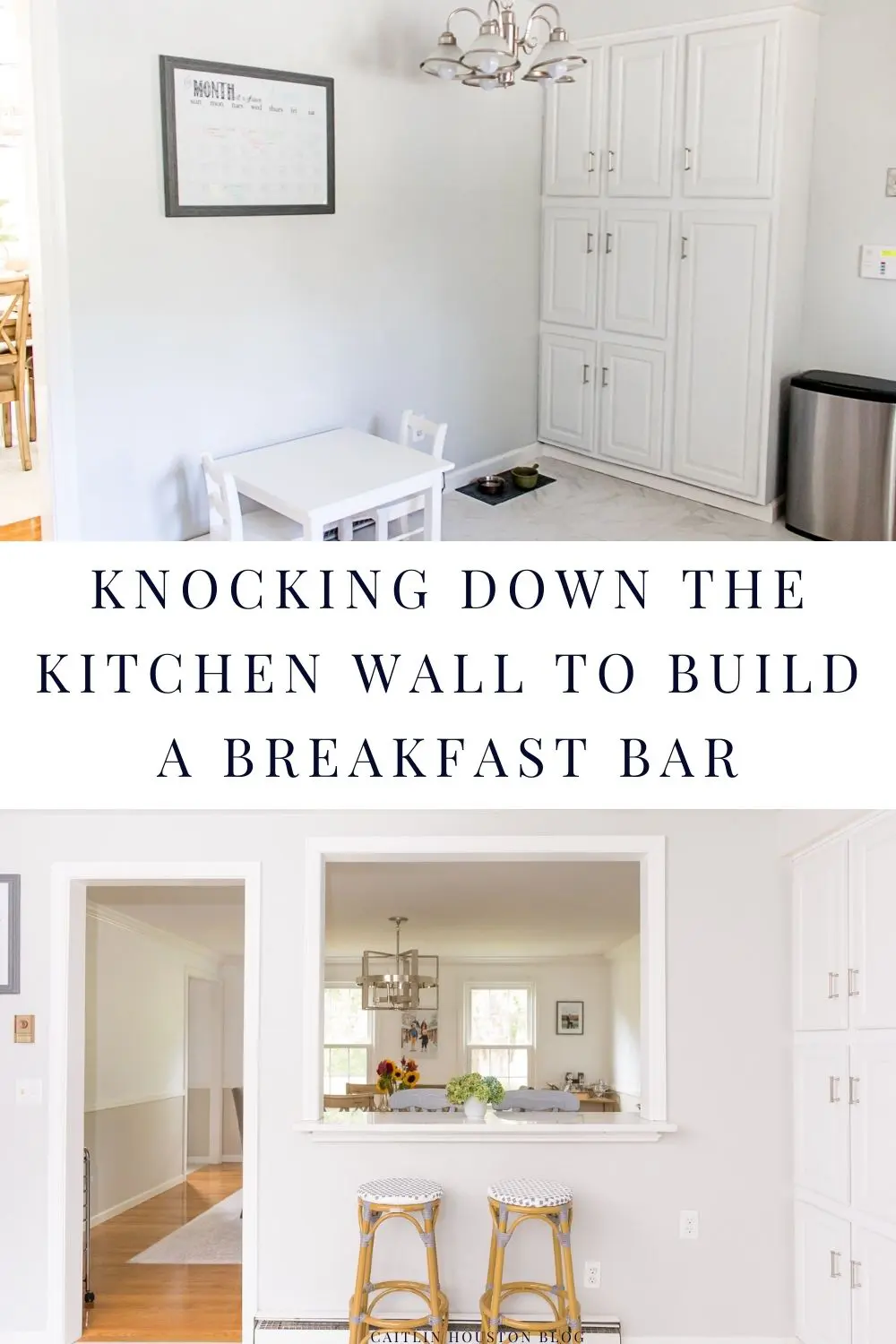 The kitchen in our 1970s home needed the least amount of work when we moved in two years ago. The previous owners updated the cabinets, floors, and counter tops from their original state. However, the wall between the kitchen and dining room was awkward and unnecessary.
The Kitchen Before the Upgrade
As you can see, there was very little space in the kitchen for a table and chairs. The kitchen was very dark and felt closed off. We made the best of the room though. Last fall I became creative with the wall space and created a family command center. The open area in the kitchen served as a place for the children (and the cat) to eat and dance.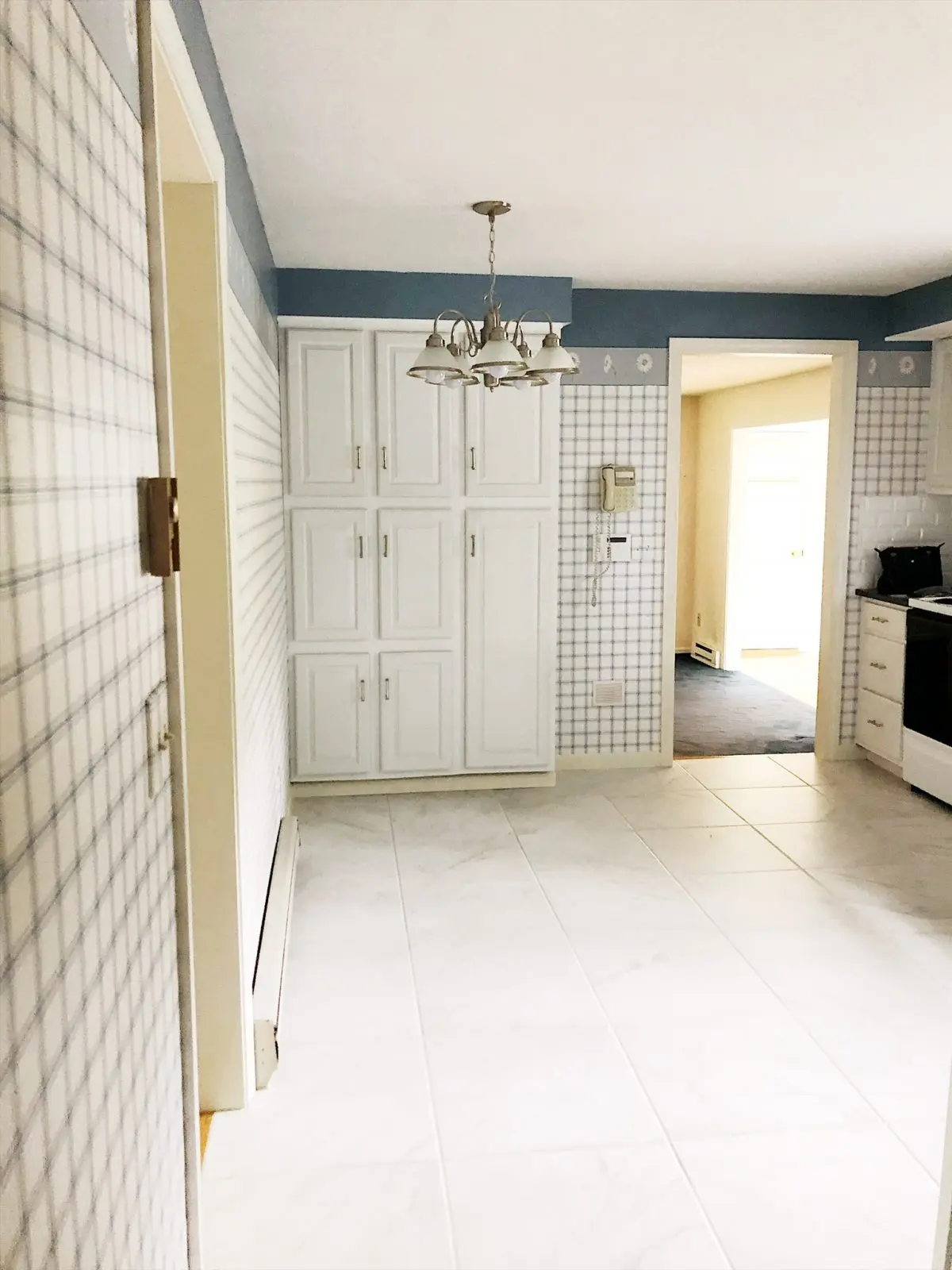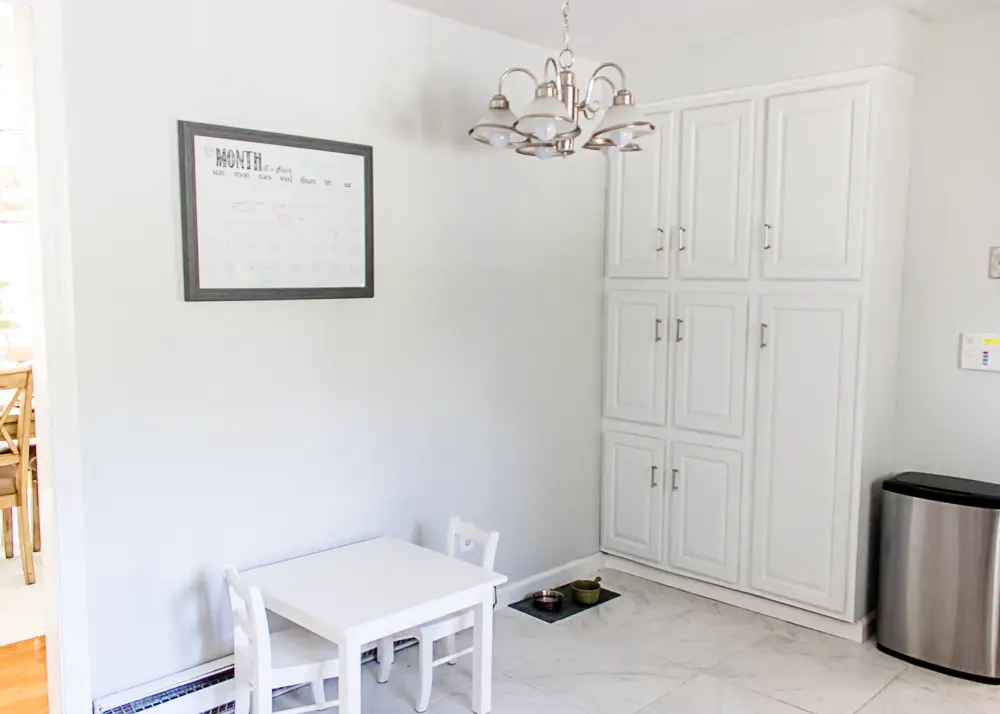 White Table // White Chairs // Trash Can
Should We Knock Down the Whole Kitchen Wall?
My sister's father in law has done a lot of the upgrades in our house. He presented us with two options involving the wall in the kitchen. The first option: remove the load baring wall entirely. The second option: knock down half of the wall and make a breakfast bar.
While removing the entire load baring wall would create space for an island, it would be a very complicated project. Taking down the whole wall in the kitchen would be more expensive, require new flooring, elaborate electrical work, and an island.
After much consideration, we decided the best plan for the kitchen would be to knock down half the wall. Once the wall was open, there were only a few minor electrical adjustments to be made. Then we could build a breakfast bar into the wall.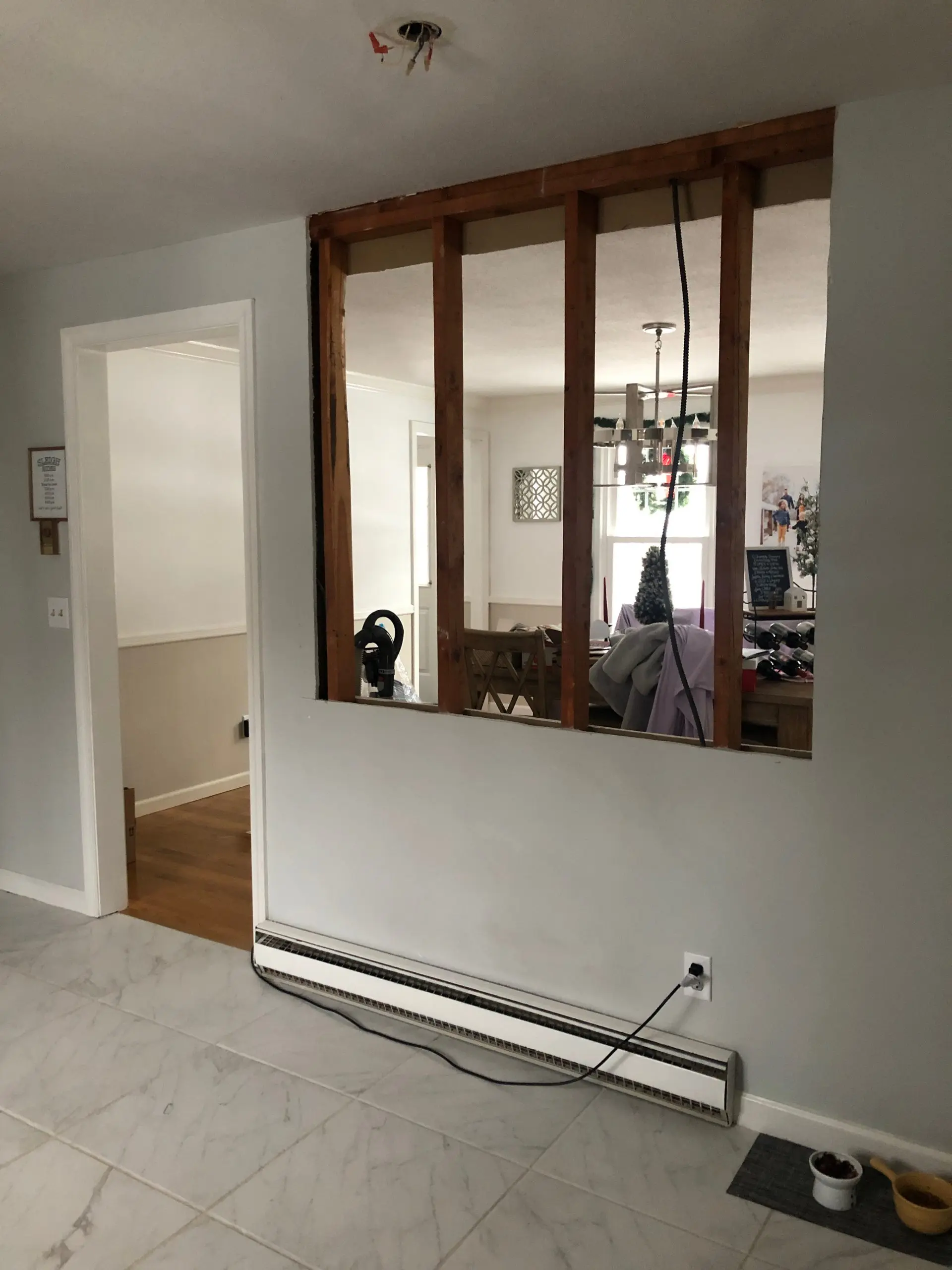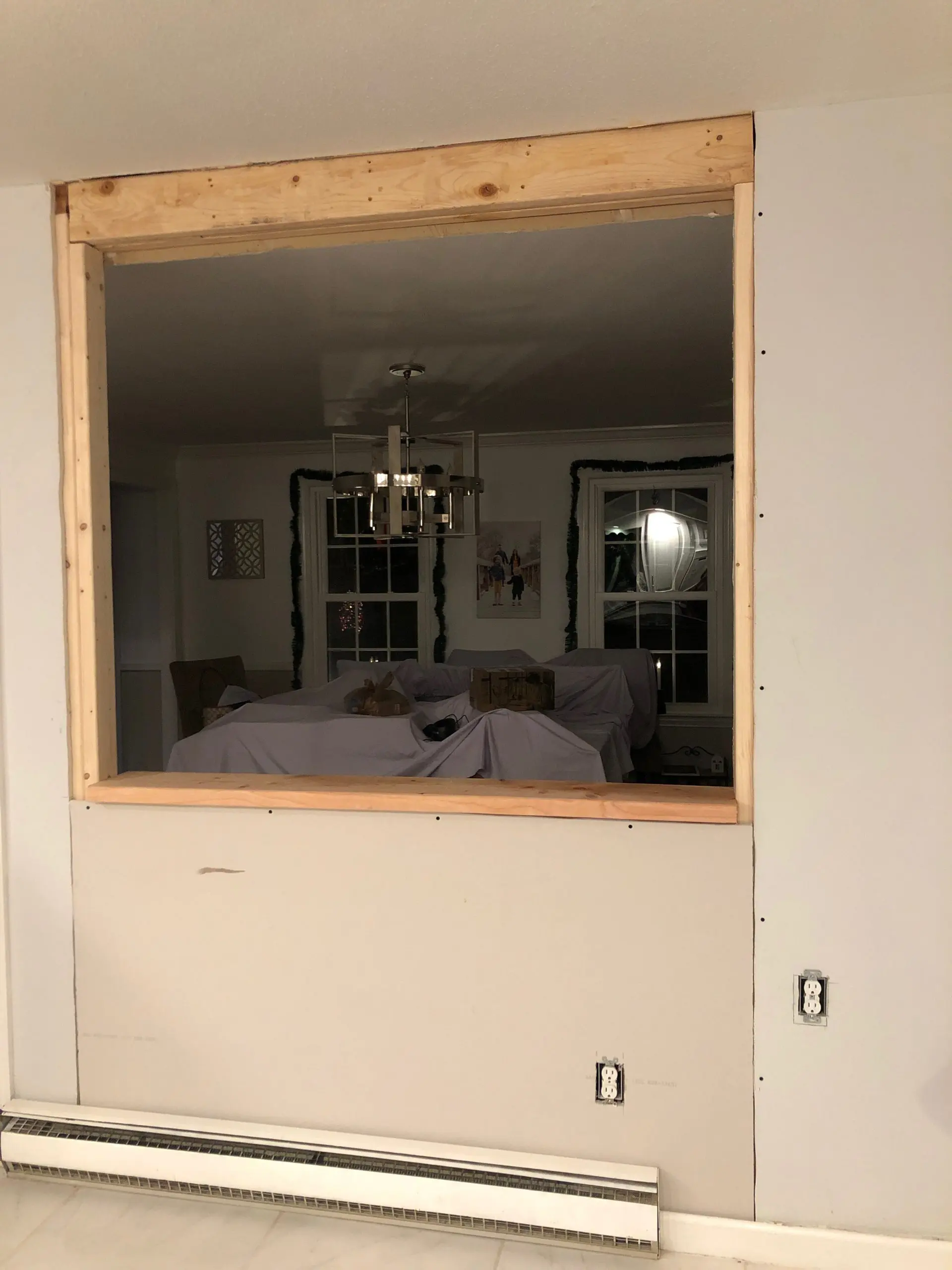 The entire project took a little over a week since the work could only be completed at night. Once the breakfast bar was framed, I took the measurements to a local stone company to order a countertop. We chose a custom cut white quartz countertop that cost $300.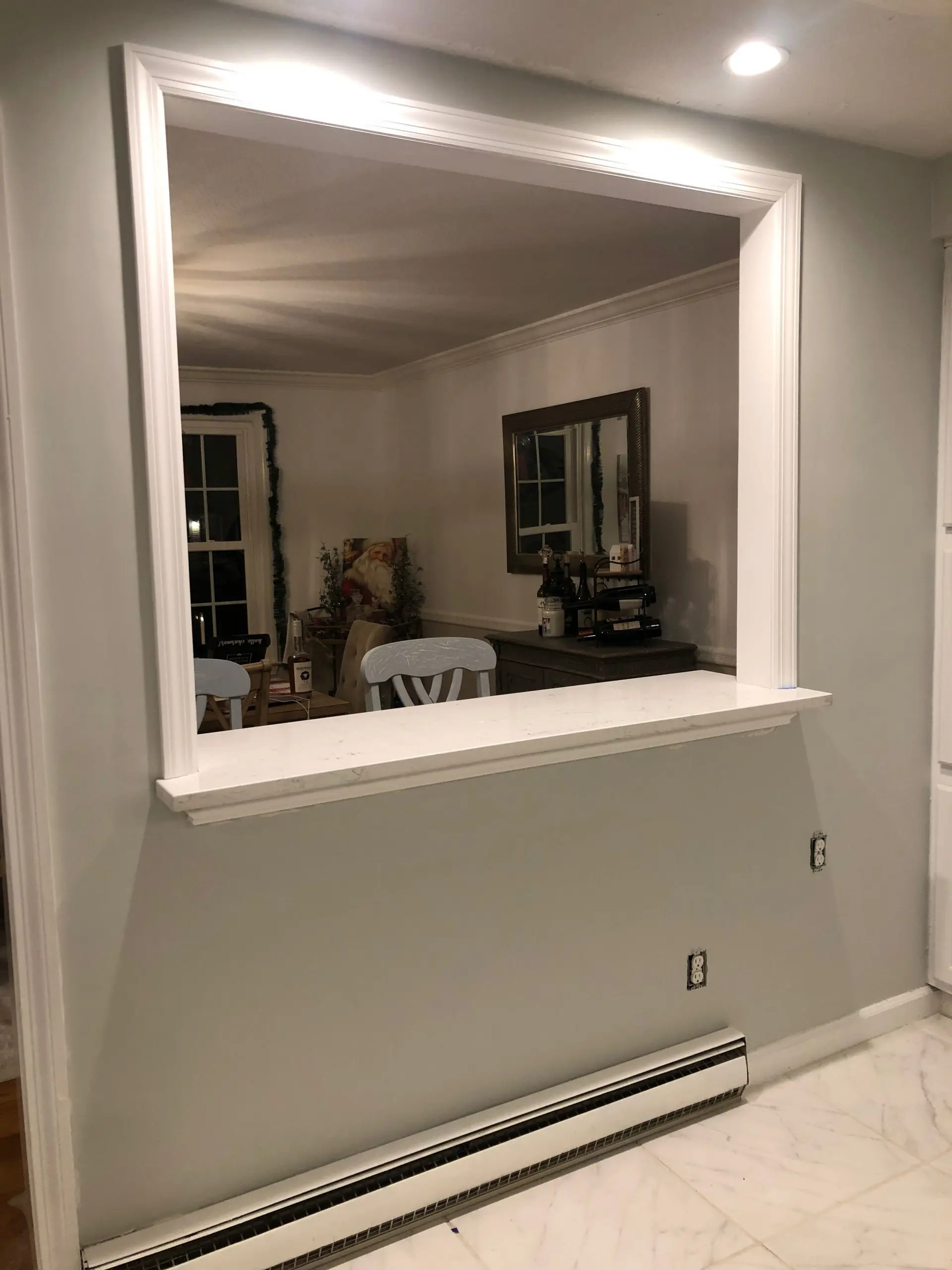 After the walls were patched and painted Benjamin Moore Wickham Gray the trim was installed. The project was finally complete!
After Knocking Down the Wall, We Build a Breakfast Bar
Our family doesn't just eat breakfast at the half-wall countertop bar in the kitchen. We added stools to both sides of the bar, so our family of four can enjoy any meal together. We have 30″ stacking stools on the kitchen side – they are a perfect Serena and Lily dupe. There are counter stools with a back (similar to these).
The dining room and kitchen are so much brighter without the wall. I love to see the dining room light fixture through the kitchen. When we host guests, the pass through window is perfect for appetizers or overflow seating. Every day, though, I enjoy working at the counter!