Ever play dizzy bat on a Sunday Funday? You know how to play right? Drink a few beers, put your forehead to a bat on the ground, spin around it ten times, then stand up and use the bat to hit the ball thrown at you? It's a pretty fun game. Especially if you hit the ball and then have to run around the bases. It's actually more fun to watch…sometimes too many innings of dizzy bat can make you puke.
WELL, I feel like I have been playing dizzy bat for three days now. Non-stop spinning and running and swinging. I am playing by myself too. What is even worse is that I haven't slept a full night since Saturday after the Red Sox game.
Insomnia plus dizzybatness = cranky hot mess bear who looks and feels like she is drunk without even having a taste of the good stuff.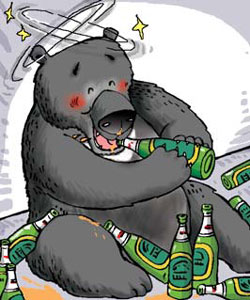 Example of Mrs. Bear's hot messness
Three minutes before I need to be in my car and on my way to work I realize I can't find my phone. It has either been stolen by the sock trolls or disappeared into thin air.
I rip apart the living room, bedroom, and bathroom… no phone.
I search the fridge, freezer, my closet, kitchen cabinets, the pantry… no phone.
I look inside my shoes, under the bed, in the toilet… no phone.
I start cursing up a storm, "Eff this effing messy apartment. Eff my effing piece of shiz phone I'm going to be effing late for effing shizzy a** work and I can't even effing call the effing family because I don't have their effing number. This is effing bullshiz. I am so effing pissed."
All of the "effs" and "shizs" and other words I can not bear to admit shouting at 7am in the morning start to make me super duper dizzy and sweaty.
Now I am pacing around my apartment like an alcoholic deprived of her sweet vodka – sweating, shaking, stumbling, mumbling to myself. Mr. Bear is looking at me like he is a bit scared… I am sure he is considering calling the police to report the crazy drunk lady foaming at the mouth who broke into his house and kidnapped his sweet bearish wife.
Just as I am about to throw the biggest tantrum fit of my life, I look in the dirty laundry basket. Actually, I rip through the dirty laundry basket, throwing clothes all over the laundry room, and just when I think I've made a mess for nothing, I hear a clunk... Yup…there is my phone… wrapped up in the underwear and sweatpants that I slept in last night.
How in the hell did my phone creep into such a place?
Maybe I need to embrace how I am feeling and have a bottle of wine….
Atleast then I would have an excuse for almost washing my phone with my dirty underwear.