When you're a busy Mom, there are days when you don't have time for multiple outfit changes. When I have to find an outfit to wear from day to night, I look for something comfortable, classic, and stylish. Even though jumpsuits are inconvenient for the bathroom, they are easy to style different ways. Today I'm sharing how to easily style a casual jumpsuit from day to night.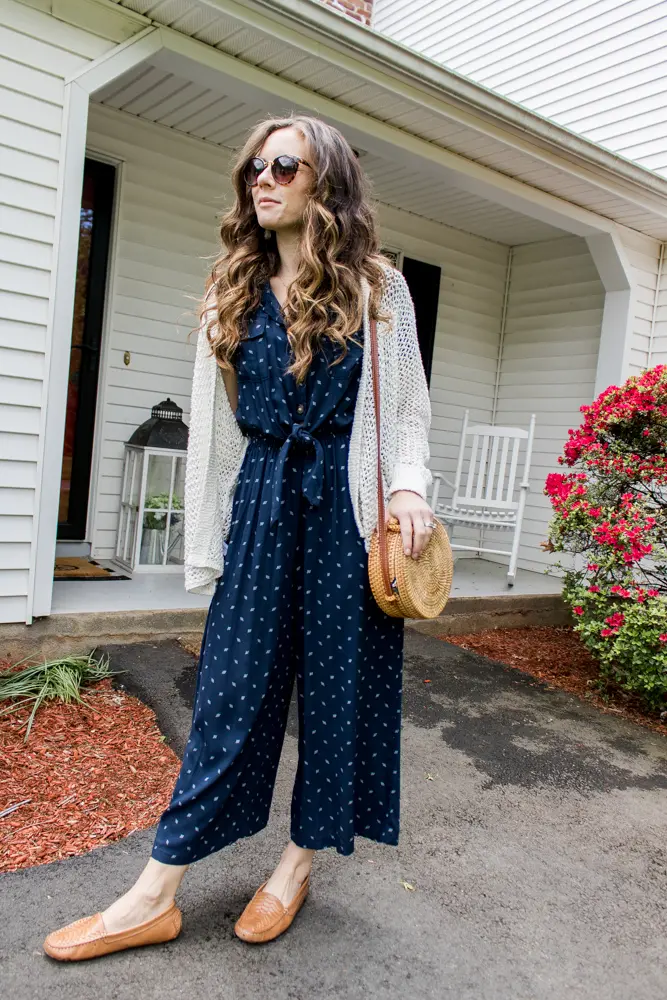 It's easier to chase after my daughters through the grocery store when I'm closer to the ground.
Whoever said you can't wear a loafer with a jumpsuit has obviously never tried them on together. Without dressing down the jumpsuit entirely, my classic leather loafers actually compliment the cropped jumpsuit. In my opinion, sandals would have made my outfit too casual for a work lunch.
Here are some comfortable, cute shoe options to wear with a casual jumpsuit:

Whenever I wear a slouchy sweater I feel less dressed up, so I rarely put one on for a date night. This cardigan sweater has been on repeat during the chilly spring because it's lightweight. Here are a few more summer cardigans:

Take off the sweater, put on a pair of heels, and you're ready for date night!
Bracelet // Earrings // Handbag
A low heel or wedge is ideal when you're dressing up a casual jumpsuit for date night. I love how an exposed ankle looks on a cropped hem (and my Mom always taught me to never cut your leg short!). Here are a few pairs of heels I'm loving:

I bought this particular jumpsuit a few months ago, but know it is still in stores. If I were a bit taller you would see there is actually a space under the knot at my waistline. If you're not a fan of this jumpsuit, I've rounded up a few other casual jumpsuits that will transition easily from day to night.