one. the BEST sippy cup ever.
Thanks to my friend Tina for introducing us to the Foogo by Thermos Leak Proof Straw Bottle. Annabelle actually stole Tina's daughter, Tessa's, when we were in CT and I had to pry it out of her little hands. The water stays cold, the straw is easy to sip from, and the bottle doesn't leak. Annabelle is obsessed with her sippy so much that we probably should buy at least five backups.
two. my favorite rompers.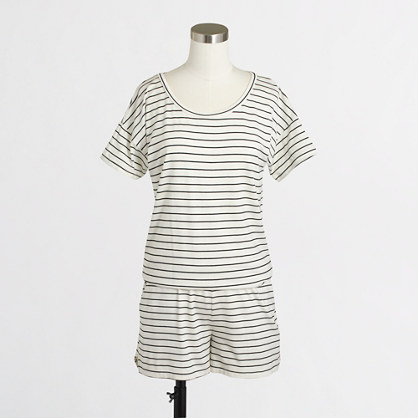 I never thought I would find not one, but two, rompers that are so comfortable I could live in. This J.Crew Factory Romper is stretchy, comfortable, and cut for a short person with short legs. That means there are no wedgies here. I own both colors and actually two in black (one in a larger size). The romper runs big, so if you can try one on, definitely do so before buying.
three. GOT finale.
Now that the HBO series Game of Thrones has caught up with the books by , how long are we going to have to wait for the show to come back on? Will the writers make up their own stuff, or will the author finish his next book? Even if he does finish the book, the bookworms will read it cover to cover overnight and it will be hard to surprise the tv audience.
four. summer storms.
Aside from Georgia's proximity to Florida beaches, the only thing I truly enjoy about summers here are the storms. I LOVE thunder and lightening! As long as the tornados stay far far away, and I have shelter inside, I don't mind an afternoon rumble and downpour. There is just something so cozy about a summer storm – but I feel bad for Annabelle, who is terrified of thunder!