Happy hump day! Do you notice anything different? Not only did I get a new layout
and a new name,
but now
I gots a new button (
w my new name on it
)!
Lisette
is pretty amazing….y'all should check her out.
If you are new around here, I started this link-up party many moons ago after I felt the need to get some of my sins off of my chest. Now once every other week, I confess my deepest secrets. I hope you decide to participate either in the comment area, or on your own blog! Just grab my button and link-up.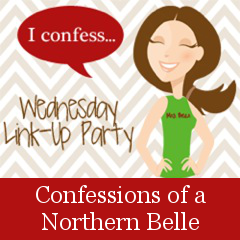 I confess… I went to karaoke on Saturday night and sang like I was Adele at the Oscars.
I am waiting for the day when Paradise tells me my voice is scaring away business.
I confess… I fell up the stairs yesterday. I whimpered softly, but then laughed really loud, so my husband couldn't come around the corner and make fun of me for really falling hard.
I confess… I have a problem with accidentally hurting myself. You can always find me with a bruise, cut, or burn on my body. It's inevitable, I'm a klutz!
I confess… I've been bumming that I have had a 60% off code for the ad space on my blog for over a month and no one has used it..


I confess… instead of picking up a new bottle of wine, I had a smorgasbord from four different half empty bottles I found in my house Saturday night.
Perhaps that could help explain the hangover from hell…
I confess… there were equal parts of butter and peanut butter on my english muffin this morning…ok, that's a lie…there was more butter than peanut butter.