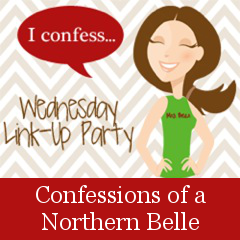 Happy Hump Day! It's a very special day here … I am celebrating Maryland's "FIRST REAL SNOW" in two years. That's a long time friends… especially for this Yankee who had a blizzard when she moved here and then saw nothing for a bajillion days. Look at how happy I was in that blizzard:
Anyways….let's begin.

I confess… I ate the whole jar of crunchy cookie butter.
I confess… I drank a lot of wine last night in honor of the impending snow storm.
I confess… I let my class watch Stuart Little because I was too excited about the snow to teach yesterday.
I confess… I smelled something gross yesterday while I was teaching…it was the sweater I was wearing…I forgot to wash it after I wore it last without deodorant.
And now…because my sister is here…she is going to CONFESS
TINE Confesses….

I confess… that after I ate my 10 snacks I brought to work, I stole snacks out of my boss' snack bag. He asked me what I was eating and I told him nothing….
I confess… I tell people that my boyfriend is an aspiring actor. He has no acting ambitions whatsoever.
I confess… I tell people my boyfriend can't read. Just for fun.